Search results: 948 found, showing up to 50
Mutantsteak wrote:

I dont like his legs, too furry imo
That was the way i wanted them and i like the furry legs
Thanks for comment though
Done, 20 hrs later!
Getting better
Heres an update, still not finished
FULL VIEW
ebug9 wrote:

Ecilop Murof wrote:

http://rwidmer.deviantart.com/art/Eva-mendes-is-smoking-hot-100523952

I'm a newb at this ;_;

Try and make the cut a bit cleaner next time. You can still see a bit of the white.

If you've got Photoshop CS3, click on the 'Select' button at the top and choose 'Refine Edge'

http://i34.tinypic.com/o58hth.png

A menu will pop up and you can choose to smooth the edge as well as contract/expand the selection.
The white line is from the sharpen filter, not the refine edge
Heres a WIP
FULL VIEW PLS
Is this a 2 scale or 4 scale map? If its 4, im very interested
Nothing i havent seen before, was a nice watch though
They have a right to that spot in the chopper as you do, i used to redline back in the day when i actually gave a shit about stats, if i get a really useless gunner i fly back to the carrier and do some crazy spins on the carrier
Ecilop Murof wrote:

WOoKie sniper mod I guess? The good ol' days..
The good ol days will be back soon enough
I wish i could bang out a painting in PS in just a few hrs...
I dont get what the blue and yellow balls are, and the lighting for them is in the wrong place, i like it could do with some more colors and textures though
Heres some inspiration for you just in case you have never seen this...
http://shirosynth.deviantart.com/art/Al … -3-3869587

Painted this for a comp this weekend, thanks for looking
hiberNative wrote:

WeBee wrote:

What about Assaults vs. Snipers? That would take the unfair advantage of Medics able to heal themselves and revive their teammates, but still they had the same weapons exept GL instead of Grenades. That would make it whole more balanced and probally more interesting imo. But hey, its your choice...

would be too easy for the snipers. m95s and svds. massacre.
Whats so good about the M95? I see no advantage in using it on Infantry Only...
1 is nice, you see the left square? maybe make it the same color as the BG (white) the off white color isnt doing anything for me + it would blend better into the white bg Keep the dark grey/black bits ofc
Mint Sauce wrote:

hiberNative wrote:

but "you're annoying me already"

Rite.
FYI, 2blacklines got kicked out of our clan, thats all im saying...
You could get corel painter X, you should try a free demo of it, its pretty much freehand painting though..

I have painter X, its more user friendly than cs3 (imo) but with less features
pyscofrawg wrote:

I'm Jamesey wrote:

I'd be mad at myself if I had that score.

Indeed.

I love reading all the arguing on this thread. I'm sure hint and sarciss get just as much amusment out of it as I do.

*edit* I've done some research (chemical tests, mathematical equations, etc.) and have come to the conclusion that twoblacklines in a complete douchebag, who also sucks at sniping. I don't know why, but I just realized that he was banned from our forum. There was a 3 month period when I wasn't a part of WOoKie and a lot could have happened then, but I don't know what. I recall him being a WOoKie at one point, and now he is not, is banned from our forums, and his sig here says too leet for WOoKie. I don't know what the deal is, but that just screams, "I'm a little kid who wants attention becuase I have no friends in real life." So explain why all of this has happened, or go die in a fire.
His ego was too big for the clan
[THE] comben wrote:

i had a mate who's dad worked with a guy who now works for disney (apparently.... i cant confirm this, but even if i could i still would'nt bother doing so lol) and in his words 'if u can get away with tracing anything...do it, because at the end of the day you get paid for the finished product not learning how to draw'.

also photoshop being what it is if a picture looks good i couldnt give a shite how it was done tbh. hmm here is something im working on atm. prolly wont finish it so u can have a gawp if you are bored.

[EDIT] jesus about 20 peeps posted in the time it took me to upload this pic lol, sorry if its a bit behind now lol. [EDIT 2] they didnt, i was just being an interweb nub

http://i211.photobucket.com/albums/bb38 … resize.jpg
Brilliant start, got a Devart profile? Id like to see it
EDIT: seen your sig
The first one defo looks like a trace, even the angle is exact, pretty lame if you ask me.... my respect for you as an artist just went to 0
Heres some stuff i painted earlier in the year, please full view them. I think i may have posted some before on another thread. I'm gonna pickup digital art again soon.
This thread needs a sticky imo
OmniDeath wrote:

OmniDeath wrote:

Go find human reference. Those faces need some work.

If that picture was your way of disagreeing with me.... it didn't work. The proportions are off and shapes are generic and plain. Really, just use reference, even if you have to trace the first few times, and see the difference in your work. You need to pay more attention to the position of features relative to each other and their size. Also, some value wouldn't hurt.
Some more shading would be nice too, and some texture, no one has a smooth face now do they
Barrakuda777 wrote:

bmd-es90 wrote:

I can say it is Barrakuda777, he just doesn't miss one shot

Heheheh, cheers, but im an SVD spammer, i miss lots

Kooda
You are unafraid of taking risks with your shooting, some people actually think accuracy means something. im at 33 acc with the rifle atm
.Sup wrote:

Nice!. Guys i need some help. I have PS CS3 now and i can't import images to it to make an animation. I can only open it so it puts them in stack but it doesn't put them in the animation bar.
You dont use photoshop for animations, use imageready for that.
Theres not enough pictures, it makes in un-smooth and slideshow like, if you recorded this at a low fps then that could be the answer. less images makes the animation more jumpy and less smooth.
Not enough slides in that
You need to get Photoshop MOAB, color your pics in real nice

You can also touch up your sketches then, sharper/neater lines, not that trad art isnt good though. Just some tips for you
SteikeTa wrote:

Nice thread revive but damn you should really start using punctuation makes things more easy to read and it looks better because without it just looks like one long sentence but alright if that's your style then ok you keep on doing what you feel is good for you and it will all work out just fine right yeah it will so have a nice day and good night
Take the piss much? Comment on the video or comment on nothing at all, taking the piss won't help anyone and you know it
Ive already stated my opinion on the vid.
If you didnt mess with the rotation so much you'd have a full server
The_Lance_117 wrote:

Is that a turd with eyes?

Lol jk
Took ages to do
Heres our logo for our Wake 64 player server

No shit either, LOL.
Ip if you dont believe me: 193.93.45.35:16575
I don't think a stopped clock hand would represent procrastination too well, would be hard to pull off..
I want bigger battles and more than 2 teams in one game, would be interesting

maybe 100 player servers, more customizable weapons, stats for each weapon, not just stats for the "assault rifle"

Just make everything a little better and ill be happy
simmy.uk wrote:

the shots at 4.18 weren't long range. ur a dummy.
Anyone can make those shots with the right knowhow and i mean anyone, the 800m kill im talking about, ill even show you if you like.
Freezer7Pro wrote:

I also got reset again - but I didn't even get them to "restore" my old stats! After 30h of completely legit play, I'm reset. Again.

I dropped them a mail:

Battlefield 2 reset - you have no excuse this time! wrote:

I recently got my stats hacked, along with the other 2000 in the bunch, and got reset - fair enough, was gonna request it myself soon anyhow, so I started over.

Well, now, after about a week and 30 hours, I find my account reset again. This time without being hacked, without being padded, and without doing anything that would account for a reset.

The accounts name is Freezer7Pro - I want to know what made you do this.

Also, you can take your automated replies and shove them up your arses. You get paid for doing this.

If I don't get a reply within a week, I'll send them five more.
Then you'll get 5 automated messages back, like i did
Pfft, that isnt long range
4 star gen would have been cool
Cyrax-Sektor wrote:

I've noticed some peops here getting their stats returned to a previous state. Tell EA about this and give a basic idea of your old stats. You just might get lucky! Best of luck.
i shall do that, thanks
What can i do about it?

3 yrs of sniping down the shitter


Hackers FTL
Chill out guys, just appreciate the MOD
There isnt enough difference between those sigs for me to pick one, they are all basically the same, you should change the colors a bit maybe.
¦TØP¦straz_mataz wrote:

but do u have it all fraps'd?

Most likely the footage would be boring anyway. I imagine that round consisted mostly of endless carrier, and arty island rape.
You are very wrong there actually, it consisted of loads of diff kills, mostly Blackhawks, not on fraps though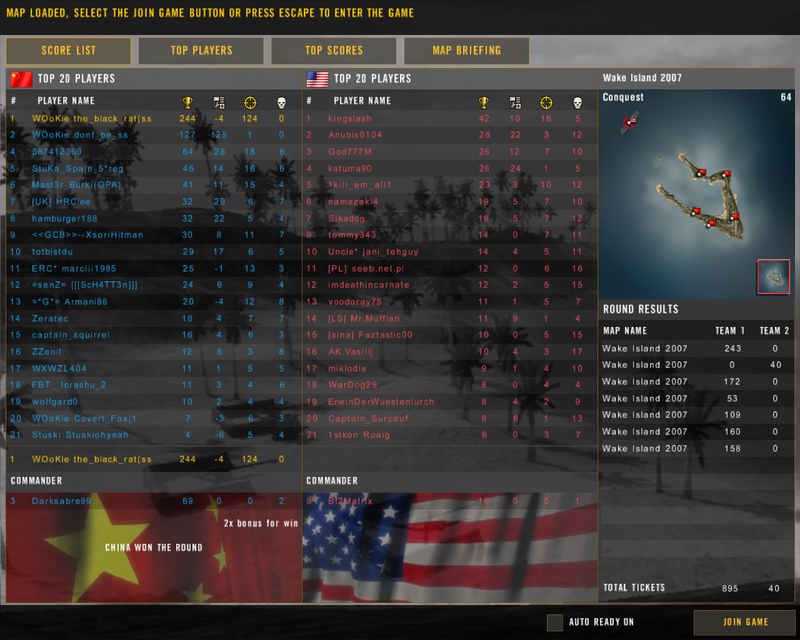 Five finger death punch - The bleeding


Tehremos wrote:

lol i wish, i've only killed the AI in singleplayer, they seem to nicely line themselves up lol
Use the scope dulletdrop markers, it practically kills by its self with the DSR1