Search results: 16,020 found, showing up to 50
fascism is a death cult and contains more than its fair quotient of the freudian death-drive admixed into all that political ideology. similarly, it is very libidinally driven, not to say homoerotic, what with all the focus on 'strong men' and tough guys tanking fatal respiratory diseases out of 'machismo'.

whether it's trump's america or putin's russia, you see this morbid streak in a lot of things. the great imperial state/great white western civ/etc require a body count and blood sacrifice.
a more pertinent question is why does elon musk and his people insert him into every single news story? literally every single topic or current issue has a tedious 'elon musk' take or element. the man is a pathological narcissist and the whole world is being inflicted with it.

school kids in cave systems in the far east; the ukrainian war; solar panels and unlikely commuter tunnels in LA; social media; swinging to vote republican because the democrats are meanies with their floated tax proposals … shit, you can't even enjoy dance music anymore without the dance music press being doused in articles about this guy trying to get into cool hipster clubs.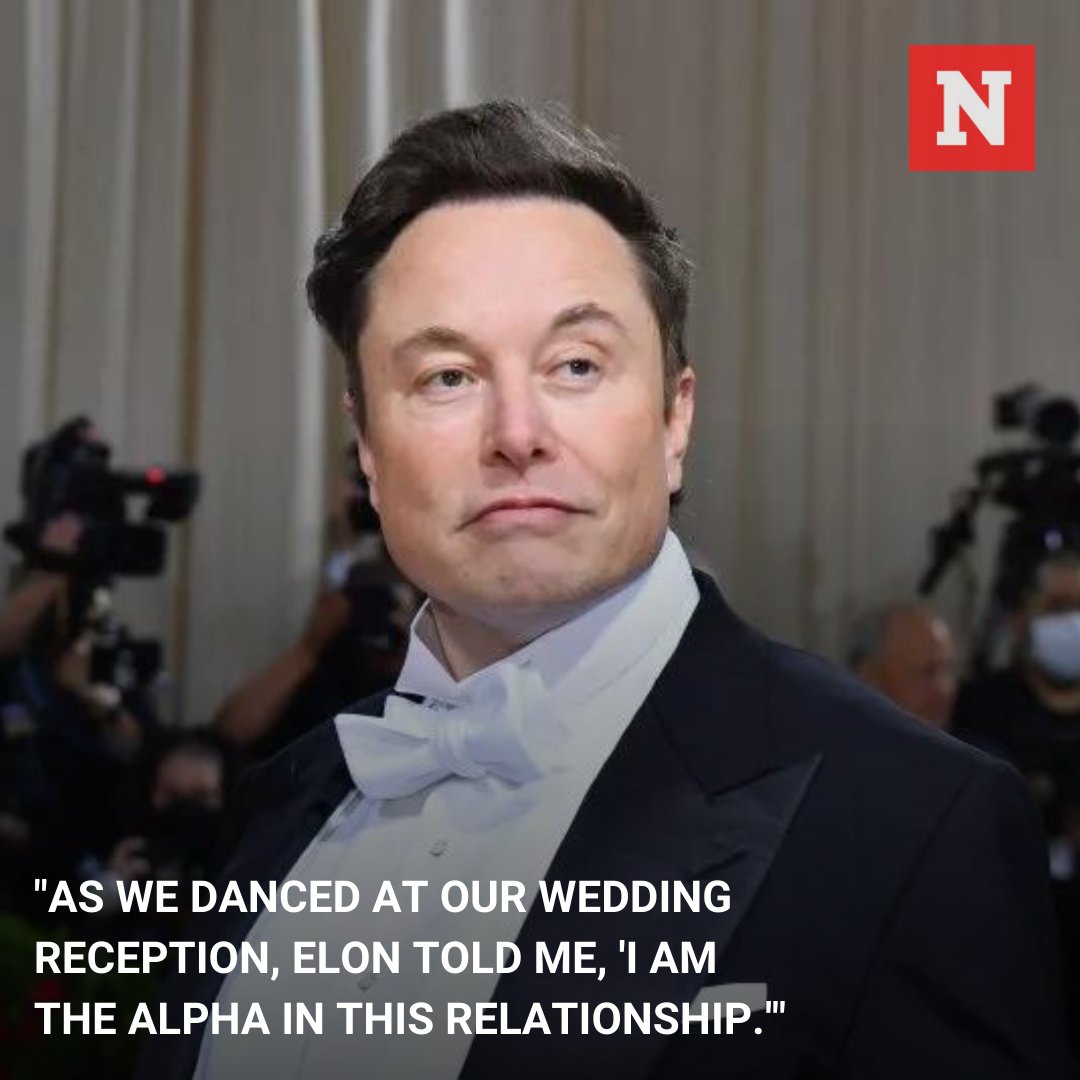 as reported by his first wife. he's very much in the jordan peterson–ben shapiro mould of cucked crybaby nerds.
he's also been taking a lot of recreational drugs in the last 2-3 years. grimes definitely introduced him to psychedelics. impulsive behaviour. it wouldn't surprise me if cutie elon did a few lines of coke that day and the usual daily power-trip did the rest.
crime and transgression from moral-ethical-social norms are perennial interests of art/entertainment. real-crime documentaries (or podcasts more lately), gangster flicks, nonfiction bestsellers about life in the italian mafia, etc. these things are as old as time. the idea that they 'corrupt behaviour' or 'promote criminality' is inane. people take a prurient interest in the underworld or want to know about the lives and psychology of people who 'cross' over some inviolable line into criminality and socially deviant behaviour. it's rubbernecking, basically. nobody actually wants to be in the car wreck or ruined lives.
https://www.theguardian.com/politics/20 … 1653043361
PM's father secures french citizenship.
you've got to love the fact that the elite ruling class who whip up all the xenophobia in the proles speak 2-3 languages themselves, own properties in the south of france, have turkish and french and german ancestry on their immediate family tree, etc.
all of the most vociferous campaigners and snake-oil salesmen for the business of brexit have quietly made business arrangements to shift their offices and tax registrations to ireland, etc. or in this case have literally tried to secure citizenship in EU countries.
an amazing swindle.
https://www.washingtonpost.com/technolo … n-twitter/
But Musk himself has been a beneficiary of mechanized boosting, researchers say, including through accounts that raved about his most valuable investment, Tesla shares, when the electric-car company faced negative news because of accidents, poor financial results and clashes with regulators.

These researchers say bots — automated accounts that are programmed to do pre-defined tasks, often at speeds faster than a person could manage — have been deployed to harass Musk critics, to trumpet the controversial takeover approved by Twitter's board, and even to present Musk as a model of manliness and the opposite of propaganda foil George Soros, a liberal financier and subject of viral antisemitic conspiracy theories.
imagine needing bots on the internet to tell people how manly you are. highly cucked 'i went bald at 28' behaviour.
elon musk's buyout of twitter was agreed at $55 per share. this week twitter's shares have dropped to $37 per share.
meanwhile, the stock value of the main source of his wealth, tesla, has dropped quite a few points too.
all this with the vaguest and most ill-defined aims for the buyout and ownership of twitter. the guy is prevaricating over the purchase because he's 'unsure about bots'. lol. didn't he say he was going to solve the bot problem in week 1 of his ownership?
good evidence that a lot of pro-musk bots have been astroturfing his reputation and working in his benefit all these years, too.
'STEM inventor genius'.
there are some really nice standalone mp3/wav/aiff/etc music players. they cost more than your ipod though and don't come with the same ease-of-use and integration with apple's ecosystem. marketed more at the audiophile or music enthusiast market.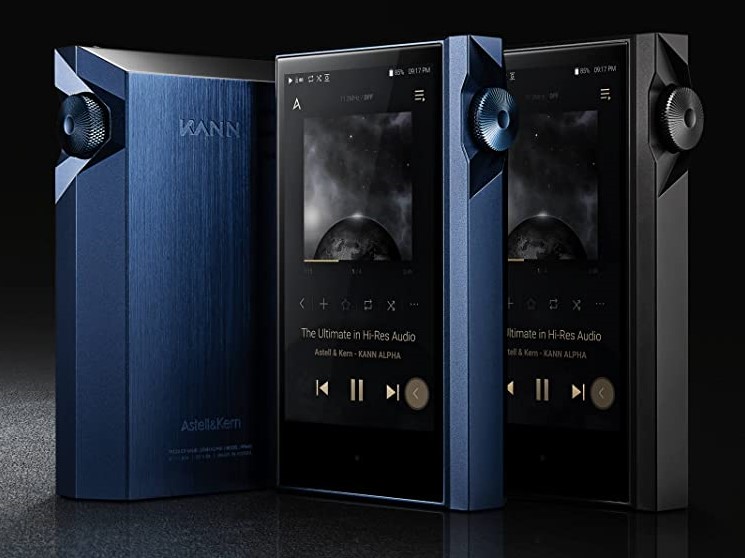 these A&K players are really nice. i'm happy enough with my iphone, though, for convenience's sake. have about 100Gb of music on it.
africans did have civilisations and evidence of advanced craftwork and building. we have been over this so many times now.

geography accounts for a lot of it. when you live in an area that is inhospitable and requires an immense amount more daily labour to make up your calories, then you have less time to do the high-tier civ stuff.

the idea that africans have different mental hardware from east asians or white people is pseudo-scientific nonsense of the very worst order. next you'll be telling me that their skull shapes are the key to understanding their 'racial intelligence'.
wireless earbuds are rubbish unless you are really attracted by the wireless phone/handset capabilities, incl. incorporation with smart watches too.

the idea of buying a specific phone or ecosystem to access the ear buds is crazy. definitely stick with what you have. the ear buds are overhyped status-symbol nonsense. remember when the plain white apple earbuds were 'cool' too? those things were worth like $6 and sounded like listening to a concert being played by ants inside a tin can.
i don't think they're made-up diseases. i just think each revision of the DSM seems to inaugurate a new period of diagnoses. new medications and innovations from the pharmaceutical or therapeutic POV also cause swings in trends and diagnoses. psychiatry is not exactly a rock solid science. i'm not being overly cynical or dismissive when i say that.
children being over-medicated and needlessly diagnosed has been a debate in medicine for at least 15-20 years. i guess culture warriors and the professionally, letter-writing/newspaper-commenting 'concerned' classes have moved onto fretting about kids being needlessly pushed into hormone treatment and the whole trans thing.
a lot more people could be helped with mood stabilizers and antidepressants.
ehh i doubt it. 'prozac nation' was a thing in the 1990s, wasn't it? americans have been pilled up to the eyeballs since depressed housewives were handed amphetamines and dieting pills in the 1950s. i would not be so blasé about consuming drugs that fuck with your seratonin levels in the long-term. i'd rather say that a lot more people could benefit from being open and proactive about their mental health. that involves a whole lot more than taking a handful of pills every morning to 'level out'. avoid.
you live at home with your parents and no woman wants you. it doesn't sound as though you even have friends. i'm happy with my lifestyle.
Dilbert_X wrote:

America was a slave-filled colony, so was Australia, look at them now.

How can this be explained?
in the space of a human lifetime korea went from centuries of hanging out at the bottom of the global table to being g10. world leaders in high-tech.
50 years ago most people were living in poverty and working in agriculture or primary production. now their children are electrical engineers.
how do you explain this? did the generations of koreans born after 1960 experience a sudden 'evolution'?
use your thick fucking head.
the ipod is totally classic. shame it got replaced by an era of shitty and unsustainable streaming services.

it's sad that something as shit as the apple music store/service lives and yet the ipod has been sent to the farm upstate.
ODD is is over-diagnosed in black children. it's this decade's ADHD, which was massively over-diagnosed in spoilt middle-class white kids.
lol elon musk a tech genius.
you drink alcohol.

it damages the brain (and body).

read a book.
i posted it for dilbert's benefit as he's obviously not interested in reading anything. would you guys prefer if i linked 3 academic monographs?

nobody claimed that african-american culture in new jersey was linked to angolan agriculture. only dilbert thinks that black skin therefore creates a universal type of human behaviour/intelligence. i was engaging with his own ridiculous cod-science when i yoked BLM and african nations together. i don't think you can even compare african-american to british-african culture ffs.
a case is a law. that's what case law is. it sets a precedent. otherwise, no further objections ya honah.
yes, paying workers higher wages will disincentivize trust-fund babies who inherit emerald mines from commandeering other companies boards.

you sure know what you're talking about, lickspittle.
you have AIDS. ask dilbert. for some reason he's read 2 books on this subject. he's an expert.


lmao it's almost as if people have been making these shitty pseudo-scientific arguments for 180 years now.

imagine thinking a societal pivot from widespread agriculture which started ca. 70-200 years ago has a 'genetic' basis. yeah, i don't think you understand evolution. homo sapiens hasn't diversified and formed separate species with different abilities in the timespan of the industrial revolution, retard.
so your argument is that africa, a continent that has been derailled by european colonialism for the last 200 years, is full of people who are 'genetically' incapable of building stable and prosperous states. lmao. hahahahahahaha
your edgelord STEM billionaire class could probably redistribute the 'profits' (ahem) from their enterprises more fairly with their, you know, value-generating workforce.
'express readers' are a pretty fair straw-poll for brexiteers in general.

didn't i literally tell you that insisting on 'knowing' brexiteers thoughts and wishes is a highly fraught affair?

most of them are disilusioned that the great british empire hasn't been restored and their lives made awash with milk and honey. and an even smaller fringe nut minority, which you maybe will find on the express, thinks brexit hasn't quite been hard enough. that's the group who wanted to expel everyone with brown skin. because, you know, they came from the EU.
what are you actually on about? this crackpot theory is far out even as far as victorian eugenics go. 'africans can't form communities'. lol. haven't you just spent the last 12 months fearmongering about BLM and black panthers? so people with black skin can form well-organized communities that strike fear into your heart when it suits you, i assume?
yes you're a real model of community spirit mate.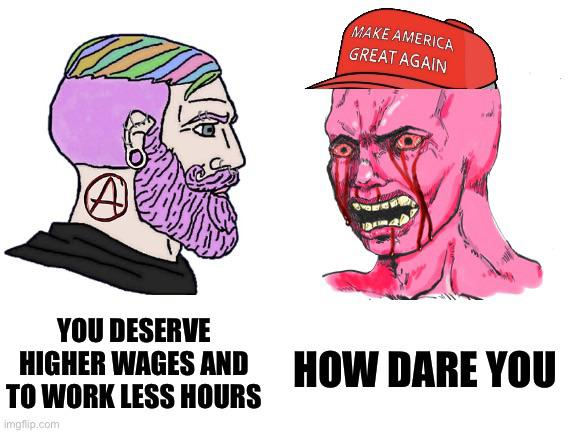 the baby formula shortage is caused in large part by a ridiculous regulatory capture mechanism which prevents the US market from importing (perfectly good, if not actually healthier and better-regulated) formula from other markets, e.g. europe. i'd say young mothers who are dealing with malnourished infants and potential health complications are entitled to 'bitch' about america's usual 'free-market' monopoly bullshit.
to be fair, war man is probably ignorant about breastfeeding because conservatives get really upset when women do it in public. how can they be expected to know about the stuff they banish to behind closed doors?!
they had to move from africa to accept slave labour in london because your emissions ruined the crops on their ancestral homelands for 6 straight years running.
pretty sure i saw him touring on the back of the same release. about a decade ago sounds right: i was in college and super got into his stuff then (saw deerhunter, animal collective, wild nothing, etc, in the same era … good time for college-radio indie rock).

i don't besmirch him his success. it's a neat life arc. i think he was a forklift driver in philly or pittsburgh or some p-town that reminds one of armpits. now he's a rock star who is doting on his kids. there's an audience for that. good for KV.

the war on drugs are another pretty good associated act, as i'm sure you know. only caught them in passing at a large outdoor show.
uber? the predatory capitalist app that undercuts local cabbies?

why do you hate poor people dauntless? why do you want to cause famines in africa?
i like KV, two early albums especially, but he's also been an anti-charisma zone when it comes to live. i saw him on one of his first international tours and the meekness and mousiness was the whole draw … i really don't know how it translates now that he's several massive albums down the line and has tried his hand at MOR stadium rock stuff.

i bought a ticket for a 3-day outdoor electronic music festival in the korean mountains. have a friend from the UK coming. first music festival for me in about 4 years. going to a similar thing in the mountains of japan later this year, in october. ambient, techno, choice company …
" The formula shortage is an example of how free market capitalism does exactly what right wing fear-mongers think socialism will do."
found it repetitive for my tastes.
we get it, you're upset that your first korean flame used you for a lay and then found you lacking. koreans have high standards. with some self-improvement and patient work, perhaps one day you'll have korean ladies pursuing you, too.
where am i the arbiter? twitter arbited their own community along quite commonsensical and legally prudent lines.

now your special snowflake musk hero wants to unban trump because he likes being in the news. sad! if only nerds were invited to more social events in school, we wouldn't have to suffer this whole over-confected 'controversy'.

and it's probable he won't buy it after all. like most things, this is musk grandstanding and feeding off the attention. weird how you middle-aged types all glom together in your dysfunction, isn't it?
don't recall telling anyone to kill themselves after the trollsome peak days of bf2s. you sound upset. why are you still so upset about internet trolling on an unofficial EA game forum? but you're so sanguine and triumphant about a musk-trump twitter? you know, which actually did lead to people being killed?
unnamednewbie13 wrote:

It's a thing, like CRT, that means to them whatever they want it to mean. Freedom of speech, also only for them and people who agree with them.
Dilbert_X wrote:

uziq wrote:

where did i say the government should takeover twitter? i never said any such thing.

uziq wrote:

the majority of the world's population don't use a version of the internet based on corporations and the free-market
you must have intense difficulties with reading comprehension. because that second statement is in no ways an argument for a government takeover of twitter? i was merely pointing out to you that the idea that the internet is a zone of private ownership and free enterprise is factually wrong for the majority of the world's population. it was a small point rebutting your statement, not a claim that the CCP should run twitter. ffs.
where did i say the government should takeover twitter? i never said any such thing.

trump broke their private terms of agreement and he got banned for it.

changing the rules to unban someone ... okay, classy. 'why do you hate rich people enjoying their money to do what they want?'


you copy+pasted a paragraph from a work email onto a dead forum to talk how much about how much you 'love being a nerd'. lol.

like that basic paragraph was so impressive to you. frames of reference! woahhh!

yes i'm insecure
we're talking about twitter's ownership and its ramifications on 'public discourse'. it is precisely about when a business entity and platform requires wider responsibilities, i.e. acting in the capacity of a media outlet or news source. this has been the basic grounds of debate for all of these discussions around facebook/twitter/etc in recent years. do keep up ... why would anyone care who owned twitter if it didn't have these very public implications?

confusing freedom of speech with the freedom to incite violence and get people killed. oh boy are we going into this one again.

the EU/UK framework on this isn't the same as the US's enthroning of free speech above all else. the UK has strict libel laws ffs. some context and detail matters in this discussion. i'm fine with 'freedom of speech' but not when it crosses over into politically (or racially) aggravated assaults and murder. you'll notice that the previous owners of twitter agreed with me ... as they banned trump and intended for him to stay banned. evidently your favourite human, elon, has an enlightened and superior view of free speech that involves letting riot-inciting blowhards do their thing. ok. you can stop whining about BLM protestors setting fire to mailboxes though.
i'm happy to say i don't work in a workplace full of insecure dweebs who rant about STEM vs. humanities. when you're publishing work you require the skillsets of both types of people. imagine having a 'culture war' insecurity at your workplace ... how exhausting and very, very boring.

it's funny that i work with world-leading astrophysics PhDs every day and none of them are anywhere near as contrived and insufferable as engineers are about their 'science smarts' though.
bow to STEM people? i don't think you understand the relationship that authors have to their publishers. there isn't much bowing.
surprisingly, the world leader in neoliberalism doesn't have state-run media, no.

have you used a thing called BBC news recently?

if social media companies like elon's newest toy, twitter, want to partake in the same public space of news-providing and public communications, they should be held accountable to the same standards. which includes forbidding people from inciting hate speech or calls to violence. you know, like trump. who should remain banned. for getting people killed. you remember, right?