A while back, Heggs made a topic cataloging the various topics made by Supah during his brief time with us. Many laughs were had. Unfortunately, his topic was lost in the Great BF2s Crash of '07. This topic will aim to forever preserve his topics, and provide a brief glossary of some of the more popular terms / jokes to stem from the shenanigans of this charlatan. Hopefully it will bring smiles to old members, and enlighten new members so they may no longer be confused when someone says "MALARKARKARKI."
The Topics
post wat u think dise stands for
- Supah asks people what THEY think "dise" stands for
dose anyone one have teh PEO torrent yet? i heard
- Supah wonders if people have a torrent for the Point of Existence mod
do i u know how to get a beta key
- In classic Supah-lish, we are asked if we know how to get a 2142 license key for the beta that happened over a year ago
how do u chat
- Our friend wants to know how to use the chat function in... something
hase anyone one played POiNT OF EXiSTANCE mod yet?
- His most infamous topic, Supah asks if we have played the PoE mod yet. This topic is the home of WarpaQ's infamous speech.
Terms and PeopleBarbra
- Supah's supposed mother, who later was revealed to be a foster mother of his at the group home he lives in. Supah's line, "MY MOM IS NAME BARBRA" was a smash hit.
Chiciago
- Supah's interpretation of the spelling of his home city, Chicago
THAT IS A LOAD OF MALARKAKAKRARKARKI
- The spelling of MALARKAKRKARKI changes often, but the message is clear: Whatever you just posted is bullshit. Used in WarpaQ's speech.
if u dnt like wat u see get ouf og the kitchn!
- This quote once baffled historians and scholars, who struggled to decipher its meaning. In 2007, it was finally unlocked. This line, once part of supah's sig before the Gibson crash, meant "If you don't like it, leave!"
driving in cars slowlw
- What supah's brother thought "dise" stands for.
WHY ARE MY LETTERS BIG WH
- Supah's reaction to his accidental activation of Caps Lock.
email ur reply back asap
- Supah's "sign off" line.. he would end almost every one of his posts with it. While he meant well, he should have taken note that you do not use e-mail on web forums.
this is my dad, he has medal from real war
- The picture this line comes from explains itself: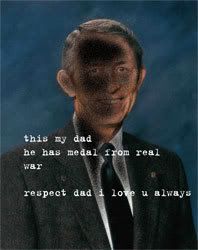 WarpaQ
- While it was never confirmed, WarpaQ claimed he was supah's brother. He had a propensity to type in all-capital letters, making long speeches about things that made him look batshit crazy. While he wrote many speeches (one can be found in "post wat u think dise stands for"), this speech is his most memorable for his threats towards forum member Stryyker and perhaps all of BF2s:
WarpaQ wrote:

YOU THINK JUST BECUASE MY BROTHER IS ANNOYING THAT HE NEED 3 DAY BAN???????????? THATS A LOAD OF MALAKRAIRIRKRIKARIKARAIRKARAIRARKI I WILL SUE YOUR ASS OFF HEH EVER HEARD OF A LITTLE THING CALLED AMAERINCAN DISABLAIALITES ACT 4 OF 2 ????????? THATS RIGHT A**HAT YOU CAN BE DISMSINANITACGRATING AGAINST US JUST BECUS WE ARE HAVE THE DISAPLBITES> THATS ILLEGAL AND YUO WILL GET SUED AND GO TO JAIL BECAUSE OUR DAY IS A WA R HERO AND YOU THINK ITS FUNNY AND OR A JAKE TO MAKE FUN OF HIM JUST BECAUSE HE HAS A BIT OF BLACK FACE WHAT THE F*CK MAN WHAT KIND OF WORLD ANYWAY THIS IS THE DEAL YOU SHUT IT UP AND DEAL OR ELSE YOU GO TO JAIL WE HAVE CONNECTION WE HAVE PEOPLE WHO DEFEND US IN COURT YOU SEE ILL WIN AND BE RICTH OFF YOU BECUASE WE HAVE WAR HE DAD LOEV U MUCH RESPECK DAD YOU DONT DARE DISRESEPCT OUR DAD WE WILL AND WIN SUE YOU YOU SEE DO YOU SEE I BET YOU DO THATS WHY THE CIA IS RESPONSIBLE FOR ALL OF THIS OK WE LIVE IN A WORLD CONTROL BY THE GOVERNMENT AND WE HAVE CONNECTIONS WE HAVE ONNECINGS DO YOU UNDERSTAND WE WILL SUE YOU IF YOU DO WILL WIN BECAUSE WE ARE THE CIA WE CREATED THE CIA WE ARE THE CIA DONT YOU GET IT WE WILL WIN SO DONT YOU DARE DO ANYTHING IF YOU DO YOU WILL HAVE YOUR INTERNT REVOKED AND DESTORYED OK SO DONT WE DONT REALLY WANT TO GO THROUGH THE PROCESS OF WINNING OK WE DONT WE DONT WE DONT
Death
ain't so supah
- Just kidding, sort of! While he didn't die, supah was eventually banned from BF2s. Forum member Tahadar discovered that he had an account on the Point of Existence forums where he posted in coherent English and exhibited signs of intelligence. He was swiftly taken out by chuyskywalker himself.
Rest in Peace Supah
August 22, 2006 - August 31, 2006
Last edited by HurricaИe (2008-01-10 16:56:22)