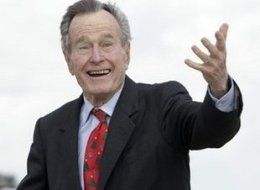 Memo to Mr. Bush;
You guys have done enough damage, now go fuck off.
On "Fox News Sunday," former President George H. W. Bush said he's ready for another Bush in the White House. He hopes his son Jeb runs for Senate in Florida and one day for president.
I think he'd be an outstanding senator ... I'd like to see him be president some day," Bush said. "Right now is probably a bad time because maybe we've had enough Bushes in there."
Fool me once...shame on you. Fool me twice.................................can't get fooled again.
http://www.huffingtonpost.com/2009/01/0 … 55073.html