larssen said my gf wore 'dr martens' when she has nice designer boots he's a big meanie.
uziq wrote:

larssen said my gf wore 'dr martens' when she has nice designer boots he's a big meanie.
yeh thats not very nice he should apologise.
in saying that tho i only got two types of shoes 1. ultraboosts (star wars edition hehe) and RM william boots for work/dress occasions. i am a cookie cutter aussie corporate man.
merry xmas, you bums.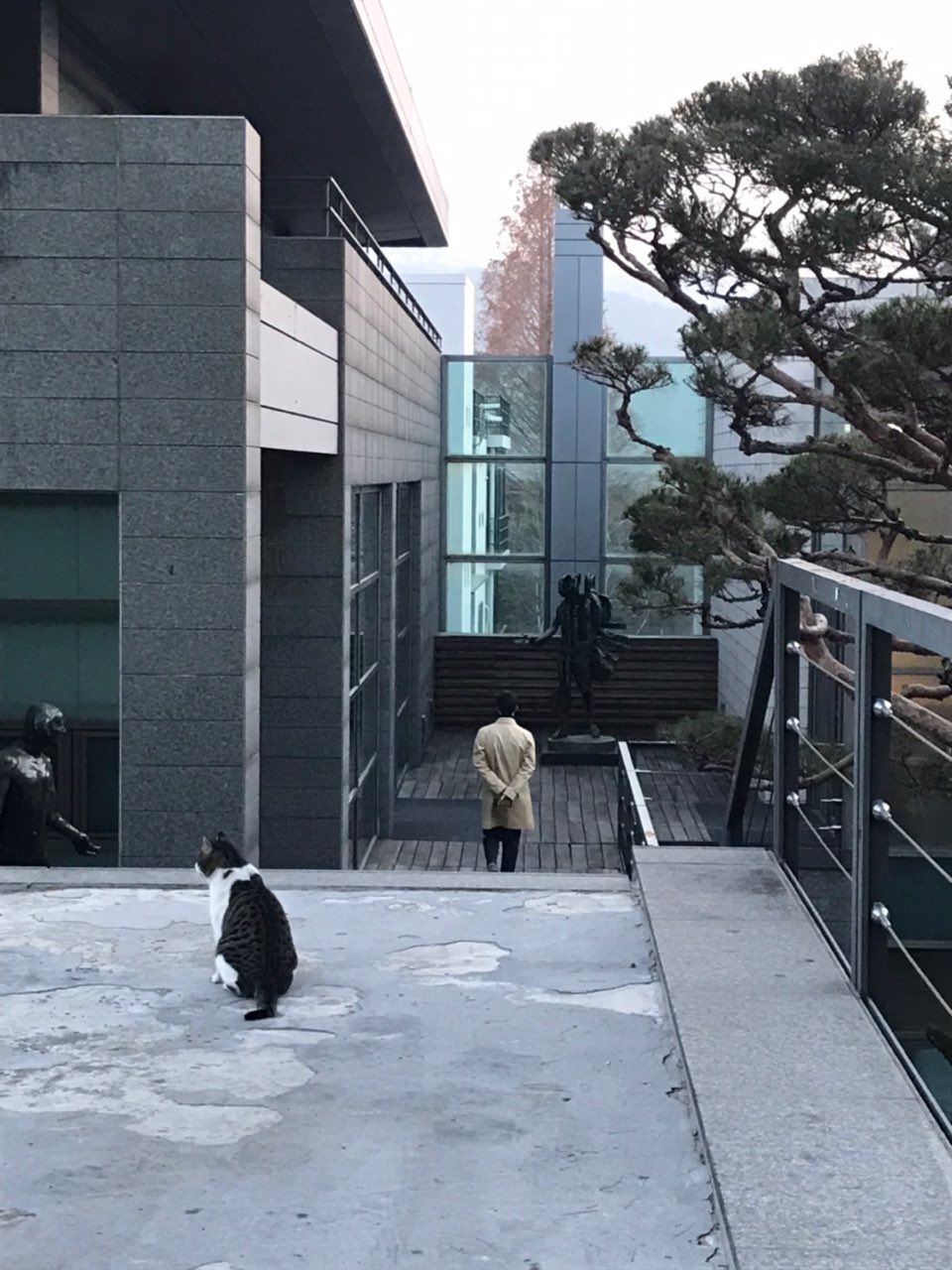 Русский военный корабль, иди на хуй!
ETA just lost my monthly donation.
Not actually me, I should get one of those though.
Русский военный корабль, иди на хуй!
i did consider getting a balaclava this season. first time i've ever needed serious winter clothing. not sure i could have carried it off though. might have elicited a bit too much suspicion from the locals.
carried off a chic his-n-hers look instead.
Y'all better have some gloves out of shot.
thermal pockets on my jacket mostly. have some basic wool gloves though!

should start to thaw in march … god i hope.
Even though you must've posted about how cold things are in Korea at least two or three times now (snrk snrk), I will kindly overlook it and respectfully engage to say that I do not miss the frigid winter of Chicago and having to stomp through a weird pancake of several layers of ice and slush just to get from point A to point B, or seeing in the news that another local was impaled by a falling ice missile.

I used to say how the cold didn't bother me much, but that was run-of-the-mill Washington cold, not supernatural freezes with a windchill in the negative double digits where I'd consider traveling to Mars to warm up. Give me cold weather kit, spare me those people who walk around in shorts in below freezing conditions as a weird point of pride.

I even have a pair of driving gloves to keep my knuckles from frosting over.
I seemingly was far better off in college when I was at least half a mile walk from the campus and did that in rain, sleet, or shine. Often had a fleece or hoodie under a shell jacket and was a fast walker anyway to get that active hyperemia up, and I don't recall it being too bad except for freezing rain flying in your face. When I started commuting in a cold car and business casual attire, I have frequently considered how fucked I would be in any extended cold scenario. With my longer commute, I did keep an emergency blanket, heat packs, and a sleeping bag in my car if ever I got stranded but luckily that didn't happen cause now I'm a big puss who complains about walking in from the parking lot (which to be fair, is further from the building than it has any right to be).
You're all faggots.

As a child my bedroom windows would typically have ice on the inside, I used to go mountain-biking in the snow.

Of course these days no-one believes a word of it.
Русский военный корабль, иди на хуй!
Not much to brag about there. Ice on the inside your windows is a sign that you probably need work done on your house to keep it from deteriorating even further, and *shuffles papers* stop wasting so much energy on inefficient heating. I've seen chintzy single panes that didn't ice up inside. I guess they were sealed properly.
No we were just too mean to spend money on heating.

When I lived by myself I was also too mean, IIRC double-glazed windows had ice on the inside on a really bad night.

Apparently a great-aunt used to take a piglet to bed to keep warm in the depths of Wales.
Русский военный корабль, иди на хуй!
ok, boomer.
it regularly hits -15 in the evenings here. you need winter clothes, especially if you want to hike or do anything outdoors in 3 months of the year. this isn't the mild english winter.
i did hear about families still living in caves and lean-tos in the severn vale and welsh valleys well into the 1960s in the UK. makes a lot of sense that your family used to sleep with farm animals a century after scots like robbie burns did the same. explains a lot about you.
Last edited by uziq (2022-02-25 23:21:27)
The boast was probably in jest, but ice on the inside of windows really is a sign of a cheap or indigent owner who won't or can't afford to winterize or repair. Allowing it to continue, just makes future repairs even more expensive. Some people take a perverse poverty-pride in living in these rotting, unsafe buildings with unaddressed vermin infestations, especially in a country that should have first world dwellings as a rule. "Growing up we shared one bathroom between 15 children!"

Did Dilbert's family even bother to rethatch their hut, ever?
Erm nothing wrong with the house. It was too big to realistically heat more than a couple of rooms.

Come to think of it I did sleep with the window open whatever the weather, I hate stagnant air.

Also I went camping as a child and nearly froze to death - never felt cold again.
Русский военный корабль, иди на хуй!
Windows shouldn't be frosting up on the inside like that. Those conditions will start to eat at your interior, and probably already had been. Add poor air circulation to the things wrong with that place. Cold, wet, and stagnant. Sounds great.

Frostbite can result in permanent nerve injury, fun fact. I know a couple people desensitized to temperature. Grab a steaming bowl out of the microwave and wonder why their hand has a burn on it later. The overconfidence from numbness leads to incaution, I think.

Opposite effect for me after Chicago. Was a kick in the butt, reinforced by more time later spent in the snow. Bundle up as a matter of fact for that nonsense, more a sign of common sense in avoiding tissue damage, than a "weakness." You didn't get mutant physiology from a camping trip.
fine piece o' footwear ...
Last edited by uziq (2022-05-27 22:25:49)
There he is! The Suffocator of Seoul. The British Butcher.
Last edited by SuperJail Warden (2022-06-01 15:16:59)
you still dating the skin of the rice pudding that you find on FB dating? or waiting for another supply teacher to show up?
my own personal bosnia, this.
Picture of myself taken before my date Saturday. I posted it to Facebook and I think the single mom saw it and decided to message me.