96 degrees tomorrow. Schools are canceling or releasing early due to extreme heat. Never seen that happen before.
Really? I think I had a few while in school, and heard stories of heat wave school cancellations since.
Fuck this winter, coldest I can remember, I'm literally dying.
Русский военный корабль, иди на хуй!
The coldest you remember? Are you serious? That's closer to people's AC settings than freezing. I can imagine climatologists tiredly typing out explanations that global warming isn't canceled because there's a cold spike.

Looking it up, NSW logged -23C somewhere for 1994. That's a soft nope from me.
36 degrees today, muggy, overcast. weekend was a cessation in the monsoon rains. was torrential all last week, and will be more with thunder storms next week. too damn hot!
That kind of weather just makes me want to schlep up the Cascades and chill at the banks of a stream somewhere. I will brave the bears, just get me out of the lowlands.
People always joked that Europe would turn into Arabia. They probably didn't expect desertification to be the way it happens.
it's a pretty weird feeling seeing americans on my various timelines, making jokes about wildfires and heatweaves in europe which are mild in comparison to, say, phoenix or dallas. as if normalizing drought and conditions which are dangerous to human life, literally outside of the 'climate niche' for our optimal functioning as organisms, is somehow part of your national identity now. 'tough guy texans laugh at fag spaniards'.
meanwhile americans are all sat in vast membranous complexes of perma-on AC, shuttling around their inhospitable baking cities in personal vehicles, consuming more energy – and emitting more guff back into the climate – than just about any other nation on earth. most european homes don't have AC units, and a lot of europe's urban and suburban populations rely on public transport networks, etc. it ain't the same as shuffling from your home spread with 15 AC units to your F-150 to get food at the drive-thru before going to the office, guys.
and, of course, just the general spectacle of americans and europeans finally 'taking notice' of climate change, calling this a 'wake-up' call', because some grass caught fire next to a motorway in the UK or something. the climate emergency has already been here for most of the world's population for years, if not decades. of course, it doesn't matter when people are being displaced from the equatorial belt. we're deporting boat people to rwanda now!
Last edited by uziq (2022-07-19 19:48:48)
Americans are some of the last people who should be making derisive climate/environment jokes. Perpetually on fire and running out of water.
Nothing gets done until it directly affects people, and the important people at that.

When the AC of rich people melts then something might happen, until then the decision-makers will continue circling the world in their govt jets and nothing will happen.
Русский военный корабль, иди на хуй!
COVID directly affected a lot of people who still wouldn't change their mind on stuff.
At least they owned the libs.
Русский военный корабль, иди на хуй!
The year is 2052. There is one gallon of water left in Nevada. It goes to the golf course.
As long as its not to the libs.
Русский военный корабль, иди на хуй!
definitely one of the most extreme typhoon storms i've experienced since being here. torrential all day. so LOUD.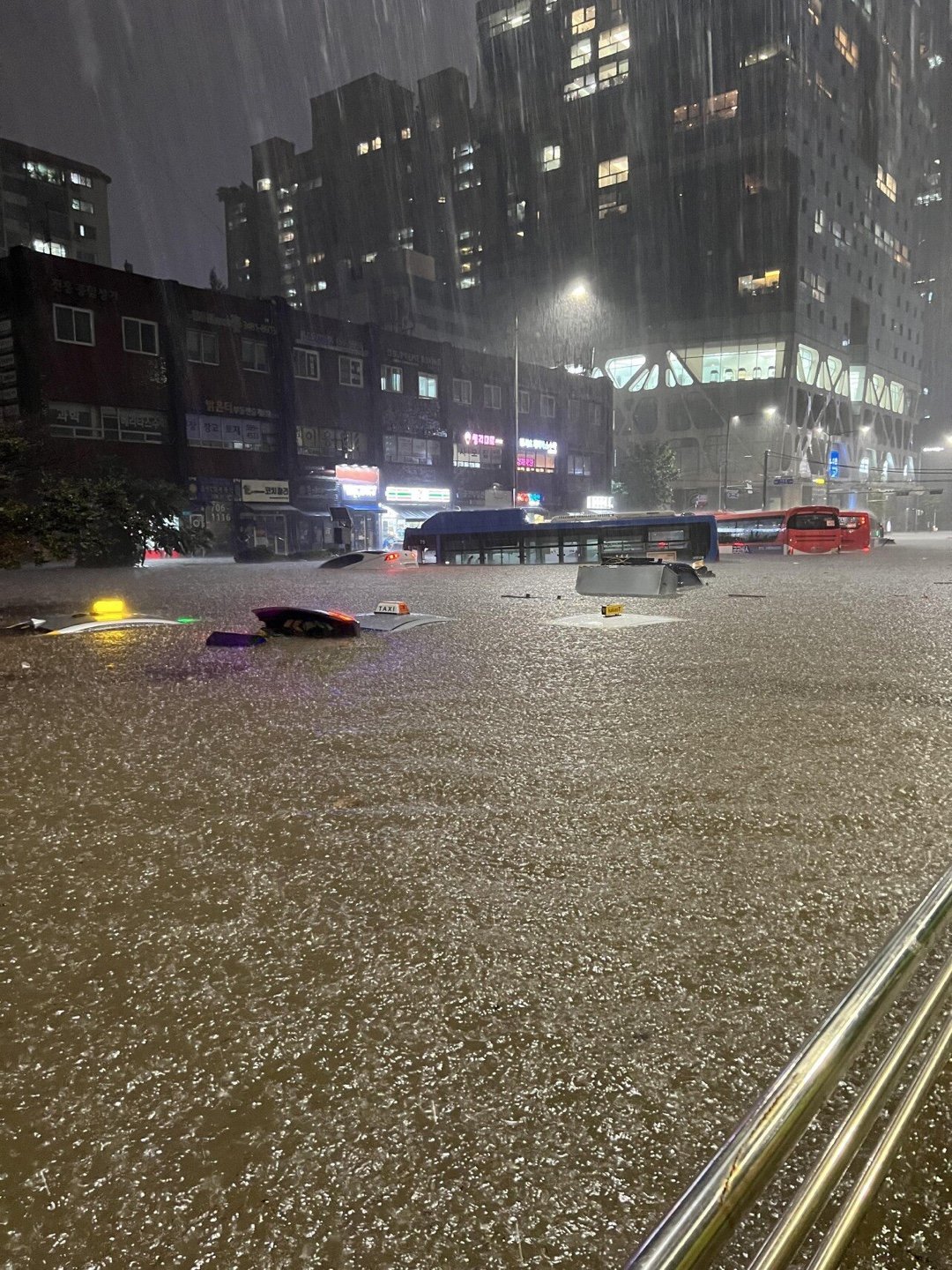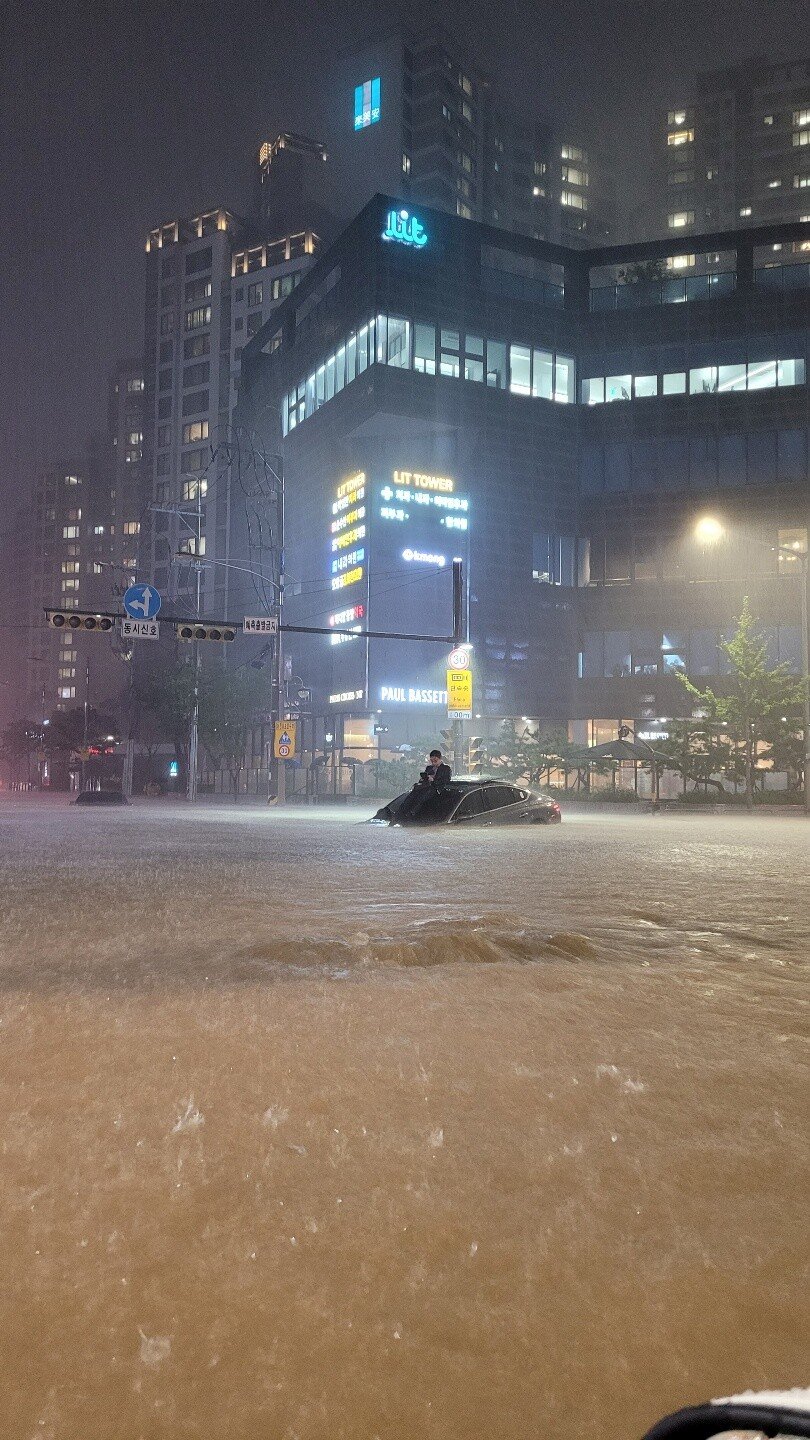 perhaps not the best idea to build the most expensive real-estate on the flood plains of the river.
Some of the people in these photos just look so over it. I remember the one of the Filipino I think it was who was still on LoL or something at a netcafé with water nearly up to the keyboard. IIRC one of my friends who lived down there jokingly commented on it being proper etiquette.
it's the heaviest rains in 80 years here. it's definitely not a routine occurrence to see flooding in seoul. the han river has decent levees and pumping systems. obviously things are forecasted to get worse with continued climate change and extremes of weather, etc, etc, but it's not like they've getting flooded on a yearly basis each and every typhoon season.
My state gets a lot of coastal flooding and snowmelt. Videos of people stranded on top of their cars are common place during seasons for it. I remember one of a guy was just smoking a cigarette on the roof of his car while floating down what might have still been the road, or just some field somewhere. State was cut in half earlier this year as the passes through the mountains (as expected) closed. Imagine that being your commute, what then.
You drive by death valley anyway.
uziq wrote:

perhaps not the best idea to build the most expensive real-estate on the flood plains of the river.
The entire history of humanity has been building cities on the most productive farmland - productive because its a flood plain.
Русский военный корабль, иди на хуй!
Dilbert_X wrote:

uziq wrote:

perhaps not the best idea to build the most expensive real-estate on the flood plains of the river.

The entire history of humanity has been building cities on the most productive farmland - productive because its a flood plain.
no, not all cities have been located where they are because of river access, let alone building high on their flood plains. it's one reason among a possible 10 or so for siting a settlement of that scale. and building huge housing developments and corporate centres on flood plains is still considered bad planning.
what if i told you … seoul existed as the capital of korea for 700 years, and a major settlement for 2000, before they ever built on the flood-prone floodplains to the south of the river? literally every single royal palace and major administrative institution is far in the north, well away from the floodplains.
the upscale shopping neighbourhoods and luxury apartments of gangnam didn't even exist until the 1980s. it was a huge expansion of a city that had always used the river in the south as a natural perimeter. all the ancient cardinal city gates are north of the river – including the 'southern' one. the southern floodplains didn't have high-density settlements until the 1980s ... because they're fucking floodplains.
once again you know everything it's always a perfect own goal with you.
Last edited by uziq (2022-08-09 04:00:49)