you'll maybe get into microalgae heaven where you belong.
Last edited by uziq (2022-07-12 14:33:18)
Hurtful. My life matters. My lived experience matters.
SuperJail Warden wrote:

I am going to heaven. I believe in Christ our lord and savior.
as a catholic you should know that belief in christ is not sufficient to get into heaven. sola fide is a protestant/lutheran-reformist concept. you need good works to get into the blinged out catholic VIP members' lounge. and fornicating with low-IQ substitute teachers are not good works, my friend.
I do good works. I do charity stuff. I give out school supplies to small children.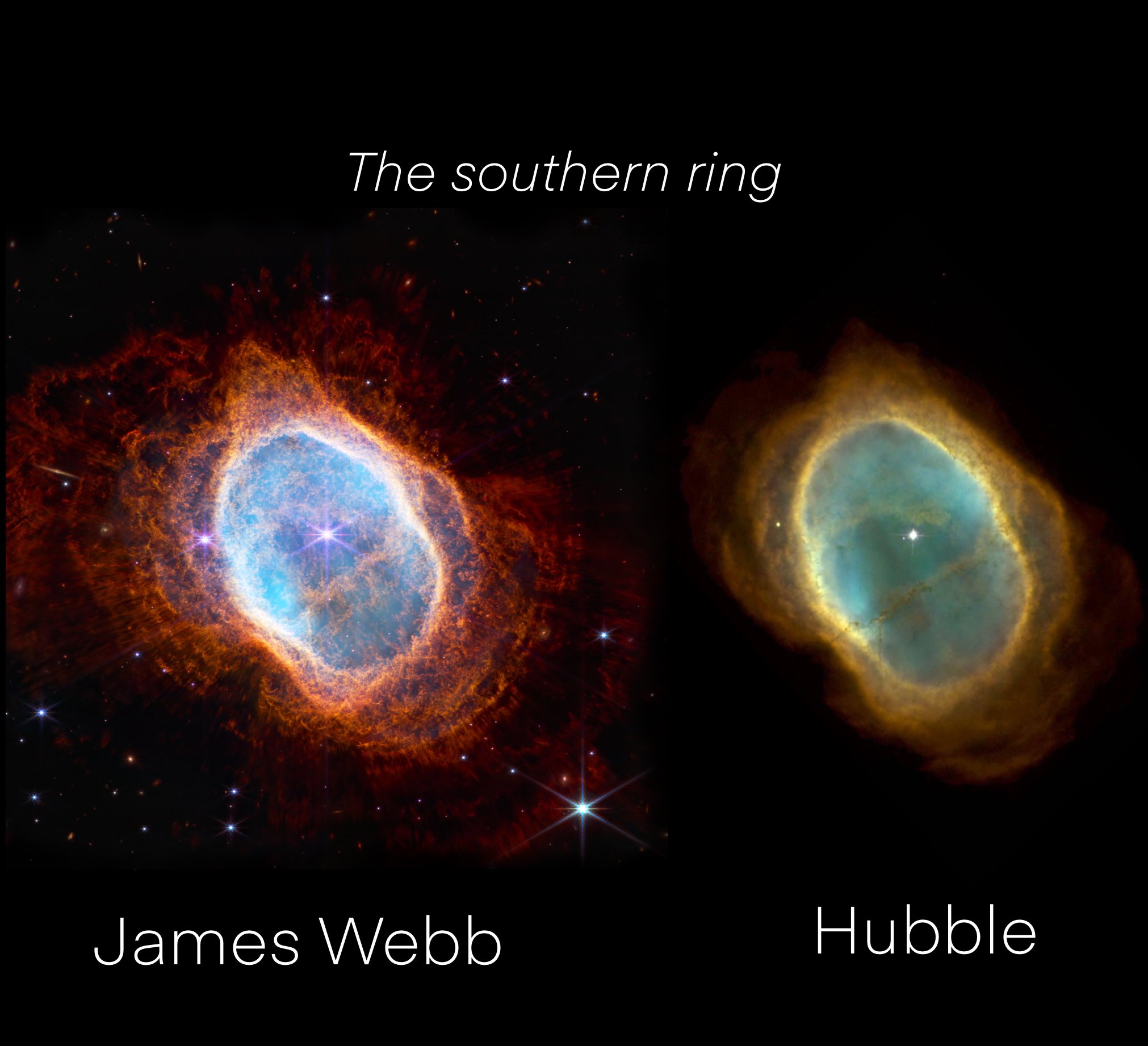 uziq wrote:

it took us until very recently to even get that sort of detailed information about, say, the moons of jupiter, like the galilean moons, using physical probes. it's going to blow the doors wide open.
It's huge progress, and in my lifetime. It's stunning to think that in the 80s I was looking at a lot of artists' depictions of stuff mixed in with older photographs, and descriptions of the solar system in terms of confident finality when we're still discovering and naming dwarf planets here.
It is stunning to think you remember events from the 80's.
Don't you remember events from the 90s?
uziq wrote:

hubble was definitely a paradigm leap, but JWST is just leagues ahead on so many fronts beyond basic optics/range.

JWST's research projects are firmly part of the AI/machine-learning era. there have been several massive all-sky or similar surveys undertaken in the last 20-30 years, e.g. sloan digital sky survey, the gaia survey, etc, that has fetched data on billions of galaxies. using cutting-edge AI algorithms we are able to find interesting candidates, e.g. of gravitational lensing or potential quasars, etc, to generate shortlists of targets for JWST's 'shotgun mic' option. a lot of research into quasars or exoplanets before AI and big data, using teams of human researchers with primitive technology like radio arrays on earth, made the mostly manual search for space objects a bit like fishing for samples in the pacific ocean using a thimble.

ditto for exoplanets, which is where JWST is really going to deliver. massive projects like TESS, the transiting exoplanet survey satellite, have been generating shortlists of potential systems with exoplanets in them. JWST will, for the first time, be able to zoom-in to these planets at an unbelievable level of detail, so that we can confirm suppositions about the chemical signatures of planetary atmospheres for the first time with high-quality data. exoplanetary research is one of the current forefronts of astrophysics, a very young field comparatively speaking. we've only found about 5k exoplanets in the milky way and a handful of 'extragalactic' exoplanets. JWST is going to be a huge boon to that research.

pretty sure in the next few weeks a lot of papers are going to be published identifying faraway exoplanets with confirmed water signatures, if not even potential markers of biological processes. on planets potentially even in other galaxies. it took us until very recently to even get that sort of detailed information about, say, the moons of jupiter, like the galilean moons, using physical probes. it's going to blow the doors wide open.
Its not too late to retrain as a STEM person, you could be worshipped as a god, I enjoy it.
Русский военный корабль, иди на хуй!
i like learning about new things, believe it or not. curiosity ... how about that, dilbert?

i have no desire to be a STEM person. i respect the work they do; and respect that i wouldn't want to do it. the actual experiments, data sifting, waiting months for progress, endless grant writing ... it's not all that glamorous or exciting, really.

i really don't know why you have this bipolar view of the world. sciences and the arts compliment each other, and deepen understanding and appreciation each to each.
pirana6 wrote:

Work is flying me to our London office in July/Aug. Will be the first time I've left the country since the virus.

I haven't been since 2004 but when I was there I did quite a bit of touristy stuff so this time I want to do the less-traveled touristy stuff but also just eat a bunch of food
For real, which side of the sidewalk are you supposed to walk down here? In the US it's walking on the far-right (relative to your direction of course) and passing just to the left of walkers in the middle of the sidewalk.
Here in London I'd expect it to be either the same but on the left - like driving. Or just on the right like in the US, but there seems to be no rhyme or reason
stick to the right on escalators. pavements there isn't really a convention, just make eye-contact and adjust accordingly.

one of the first aspects of culture shock i notice when i go to a new city in a different country is managing pedestrians in the street (as well as crossing roads). the implicit cultural language is all garbled. eye contact in the UK might mean 'i'm getting out of your way' or 'i'm giving way for you to cross the street', but in another country it means you're about to get mown down. lol. it just takes some acclimating.

stay right on stairways and escalators. people who want to walk up/down quickly 'pass' on the left.
They've got escalators nailed down here. And same with driving (when you're outside of the city traffic), I was amazed at how drivers actually used the far right late for passing only then moved back over. Both of which is a "do whatever the fuck you want, don't worry about anybody else" rule back in the US.
Which is why I was thrown by how disorganized pedestrian walking is.
it is organised but, as i said, it's culturally intuited. it takes a while to get the know-how about how to pace yourself and pass/move on the streets. that goes for anywhere.

for my first 3 months in korea i was constantly colliding with people and walking every which the wrong way. pedestrian flows are like some sort of fluid dynamics shit.
I'm surprised, but maybe it has something to do with the US system mirroring the car-centric culture so you grasp it early on. I remember in college being thrown because a lot of the Chinese international students seemed to be exactly opposite and walk on their left, which I also would have expected the UK would do.
A charity event I did last year (we gave school supplies away to children) actually had an article written on it. I am right in the middle of the picture that shows up in facebook preview. My name is there too.

Leaving a positive mark on the internet and world. Just what I do.
If only they knew about you womanizing the staff, they could have written about that too.
Once I become assistant Superintendent of Special Services in the year
2025
they might get a chance to write about it.
Not so much "especially good" as "mildly pleasant," but I finally experimented with dynamic collections in the steam library. Works (mostly*) as intended, quite responsive, immediately sorted like 10 games into it based on a store tag. If only the rest of that platform worked so well. Might have to convert my other tabs so I can empty out my "junk drawer."

*That said, it's Steam so it missed a few titles it should have gotten, and this feature should have been pre-2010 in the first place.
I bought plastic cups and fork/spoon/knives and plates. So I don't have to do dishes anymore.
Whole foods is double bagging with paper. I thought it was weird for an "eco"-facing store.
BF2S pages loading normally for me now, some weeks after hosts-blocking that site that kept trying to be accessed here caused pages to load with a 5 second delay. Yay!

Dilbert, does your Norton trigger now if you remove exceptions?
I uploaded my 2nd SluttyConfession. Labor day story. Like, comment, and subscribe for updates.
I am actually becoming a good writer of erotica.