Women should be respected at work.
Last edited by SuperJail Warden (2022-03-10 09:12:23)
Good work news...one of my students graduated from the SpEd program. He is an A+ student. Well aware of what is going on. Takes part in class discussions. Ask a lot of questions. He talked about wanting harder classes and I encouraged him to ask for those classes because he is definitely capable of it. So his schedule next year are all classes in general education.
Found a really nice pilsner, and its locally made so I don't need to feel guilty about shipping, and cans not bottles which are better environmentally.
https://www.pikesbeercompany.com.au/
Last edited by Dilbert_X (2022-03-21 23:30:04)
Русский военный корабль, иди на хуй!
I woke up today at 7 AM and haven't gotten high all day. It is 2 PM and I have gotten a lot of important errands done. It feels great being sober and productive.
It's the GF's bday today so one of my presents was a Cameo from Joshua Malina (of the West Wing, Sports Night, etc).
She loved it but I can't tell if it's cool-futuristic to have an actor reach out say some nice things you ask (pay) them to, or dystopian-hell to pay someone already rich to read a script about someone they'll never remember 5 minutes after it's done.
Ah well, she liked it and he seems like a cool dude.
Imagine how happy she would have been if you got the island boys or Cmac Da Loc
We don't have a "great things that have happened in your life lately" thread so I wouldn't have been able to post about it here. That's why I chose someone more mundane like Josh Malina
Things are going good right now.
Last edited by SuperJail Warden (2022-04-07 10:46:51)
Today my boss came into my office and told me I'm doing "outstanding work" and gave me a 12% raise. I haven't even been here 6 months. Feelsgoodman
I wish Jay was here to see you doing so well.
What a weird thing to say
Macbeth needs Jay back so he can get advice on air conditioning and decks.
Since I got my time out box for my vape, I have been having a more productive life. I spent all day running errands and getting important things done. It is amazing what you can get done in a day when you aren't on drugs.
Got my first paycheck #feelsgood

One weeks induction, one weeks sick leave and I get a months pay - a few more months of this and I can go to the telstra shop and start picking out an iphone
Русский военный корабль, иди на хуй!
Congratulations. I hope this new job works out well for you.
Last edited by SuperJail Warden (2022-04-13 14:52:17)
I currently have a Ukrainian robot engineer doing some work for me

So this is how it feels to be Howard Hughes
Русский военный корабль, иди на хуй!
In the 2 weeks I have been at my new place, I have had sex with two different girls including a Korean girl today. I am probably going to get serious with the Korean girl but if I didn't plan to, I could probably keep finding girls on Facebook dating and getting laid.
I feel good. Honestly pity people who haven't stared into a girl's eyes while yadda yadda yadda. Online dating is so easy.
Newbie wrote:

Why would you want to get serious with a girl who had sex on the first date?
Well, it is not like she made it easy. I had to work for it. She went "We can't kiss on the first date" to "I want you inside me".
That doesn't seem like a question I'd ask. I'm mostly curious why you were thinking about getting serious with the soldier's wife. A perpetual side guy for the chick who doesn't even want to call her kid by name.

I couldn't care less about people having casual friends with benefits relationships or even one-night flings. It's 2022, well past time for people to have a healthier relationship with sex. Speaking of, I do raise an eyebrow though when it's a work thing between two people with significantly different amounts of power/influence at their jobs. That can turn into a toxic nightmare fast. Very creepy vibes.
I think everyone should be treated with respect at work.
Last edited by SuperJail Warden (2022-04-24 17:21:13)
It's already bizarre hearing about your storage room flings with underlings even under conditions of functional anonymity. Someone is going to remark that what you were doing was a little fucked up, y'know. Even if fake news, kind of a slimy story. Stop acting like you're being bullied or gonna be doxxed or whatever. I don't even care enough to open your edit history when you change it to something like "be kind to one another." Probably going to be something cringe.
Probably indeed something cringe. Share some of your stories? You must have stories.
Also stop bullying me.
Last edited by SuperJail Warden (2022-04-24 17:26:00)
This one time I was going out with someone who wasn't working under me, and who wasn't married. We took turns paying for stuff. Had fun for awhile and then went our separate ways. It was pleasant while it lasted, and I am not tormented by fears of vengeful cuckholds or summons to HR.
What was she like?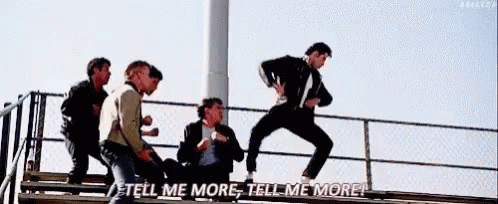 Last edited by SuperJail Warden (2022-04-24 18:03:06)
Self-sufficient, movie buff. Thought some of the same movies I thought were stupid were stupid (came up in a convo before I'd brought up a few of the titles). Casual, good disposition. I don't really think of people in a way to fold them into Trumpian locker room talk.
Isn't this the lady you played video games with who had a kid?