Do you like Slayer?
i feel like slayer have too much good humour to hate on. they all seem like really nice guys who understand that what they basically do is panto for frustrated dweebs. it's fun.
i barely ever listen to metal anymore. did in my teenage years, though. wouldn't knock it.

i do revisit lots of indie rock and college-era music from back then. but metal, no. there's something faintly ridiculous about all the anger and mock machismo.
i can appreciate that rammstein probably put on a big spectacle. it's precisely very panto, though. fine if you're seeking theatre, flames, bright lights, and so on. but i don't really go to music shows for that. they're a sort of low-culture wagner in that regard. i will not try and spell the word 'gesamtkunstwerk'.

i've been rewatching a lot the radiohead live recordings they made. around in rainbows/king of limbs era. just some of the best live stuff i have ever heard.



for proper stadium appeal, it's hard to beat things like this:


uziq wrote:

i feel like slayer have too much good humour to hate on. they all seem like really nice guys who understand that what they basically do is panto for frustrated dweebs. it's fun.
I don't know. I don't follow metal music at all but the last time something about Slayer came across my desk, it wasn't good.
Sandra Araya, wife of Slayer frontman and bassist Tom Araya, has in recent days been using her Instagram platform — which has more than 32,000 followers — to post memes and messages expressing blatant racism, opposition to the Black Lives Matter movement and support for law enforcement. Her posts also condone the conspiracy theories that the coronavirus pandemic is a hoax, former Secretary of State Hillary Clinton ran a child sex trafficking ring and more, as well as support for the fringe alt-right conspiracy theory group QAnon.

We shouldn't be too surprised that Sandra's political views fall on the right-leaning side of the spectrum — her husband has often used the language of the right in the past, such as calling liberals "snowflakes" and "crybabies," supporting private gun ownership and implicitly backing Vice President Mike Pence's anti-gay record — but perhaps we should've known something was up when Araya claimed, in 2017, that there was a liberal conspiracy to scrub the internet of an obviously Photoshopped picture of Slayer with Donald Trump.
https://www.metalsucks.net/2020/06/05/w … ial-media/
You can't judge the whole band for their wives but Slayer has always been sus.
metal has always flirted with far-right iconography. even punk did it and it was as anti-fascist and anti-establishment as possible.

part of it is to do with it being outwardly transgressive and serving a function, not only of rebellion but also 'épater les bourgeoisie', so to say.

slayer in no ways has been a 'neo-nazi' band.

unfortunately a lot of musicians go/have gone down the wormhole of conspiracy theories and suss political opinions. but i can't use that against a whole band. plenty of completely banal MOR-rockists like eric clapton have been behaving like assholes during the pandemic, also. does it mean they are part of a shadowy, toxic political fringe? nobody should be looking to rock stars as founts of political knowledge.
I am really in no position to judge people using Nazi aesthetics for their whatever. I acknowledge that things in the 70s and 80s was much different. Boomers back then probably rebelling against the Greatest Generation's 'back in my day' stuff.

There was an article I saw that looked into possible connections to Nazism and the bands Joy Division and New Order both of which I love. New Order denied their name then and now had anything to do with Nazism. The article ultimately came to the conclusion "The name is a reference to Nazism. The band was being edgy back in the 80's. There's no evidence they are a Nazi band. They would have picked something different if they could do it all over again" I wonder what Ian Curtis has to say about this.
I admit I am probably much more sympathetic to Joy Division/New Order since their discography is much better than Slayer's.
slayer were mostly 90s to be honest. end of 80s was really the high-point of 'classic' metal.
not a great deal of nazi iconography in the boomer or post-war generations. it was the people after punks.
right that a lot of post-punk, new wave/no wave, goth, etc bands toyed with nazi imagery.
the most notorious genres for it were industrial and neo-folk. there were lots of groups in the industrial scene that really were nazis and did move in those circles, putting out records on white supremacist record labels, playing gigs at skinhead shows, having fans with nazi insignias tattooed on them, etc. a lot of the neo-folk stuff quickly leans into weird esotericism and mysticism and taps into that deep wellspring of blood-and-soil stuff. you only have to look at some of the names of prominent industrial groups: front 242, einstürzende neubauten, laibach, deutsch amerikanische freundschaft, etc.
some of it slaps. in a sort of 80s action movie over-the-top kind of way. this stuff has a very 'starship troopers' aesthetic.
compared to this scene, american heavy metal groups just seem like innocent panto. slayer is closer to meatloaf and broadway than they are to fringe extremist ideology.
there's actually a 'queer' angle to this which is really overlooked. lots of bands which flirt with nazi iconography and fascist aesthetics actually appeal to gay people and have prominent gay musicians. it's part of the 'esoteric' underground history of the culture; apparently they are trying to reclaim the 'left nazi' aesthetic of the SA. the leader of the SA who got assassinated by hitler, thus quelling the 'socialist' strain in the NSDAP ideology, was notoriously very flagrantly homosexual. i guess there's supposedly something dark and libidinal about all that freudian death-drive fascist aesthetics.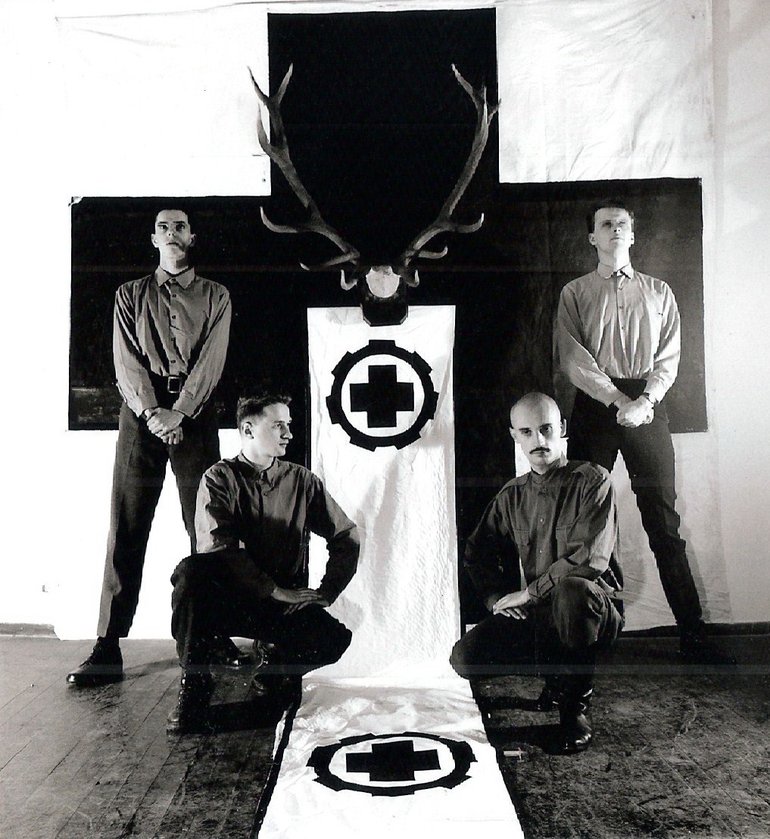 two totally unrelated groups. both very fascist and both very gay.
Last edited by uziq (2022-02-22 10:55:52)
Last edited by uziq (2022-03-02 06:33:37)
yeah my social circles are up in arms about it today, haha. lots of producers.

someone said something along the lines of "EPIC games acquiring bandcamp was not on my apocalypse bingo card". it's so ... random.
the caretaker returns to soundtrack these times.
Last edited by uziq (2022-03-05 15:38:14)