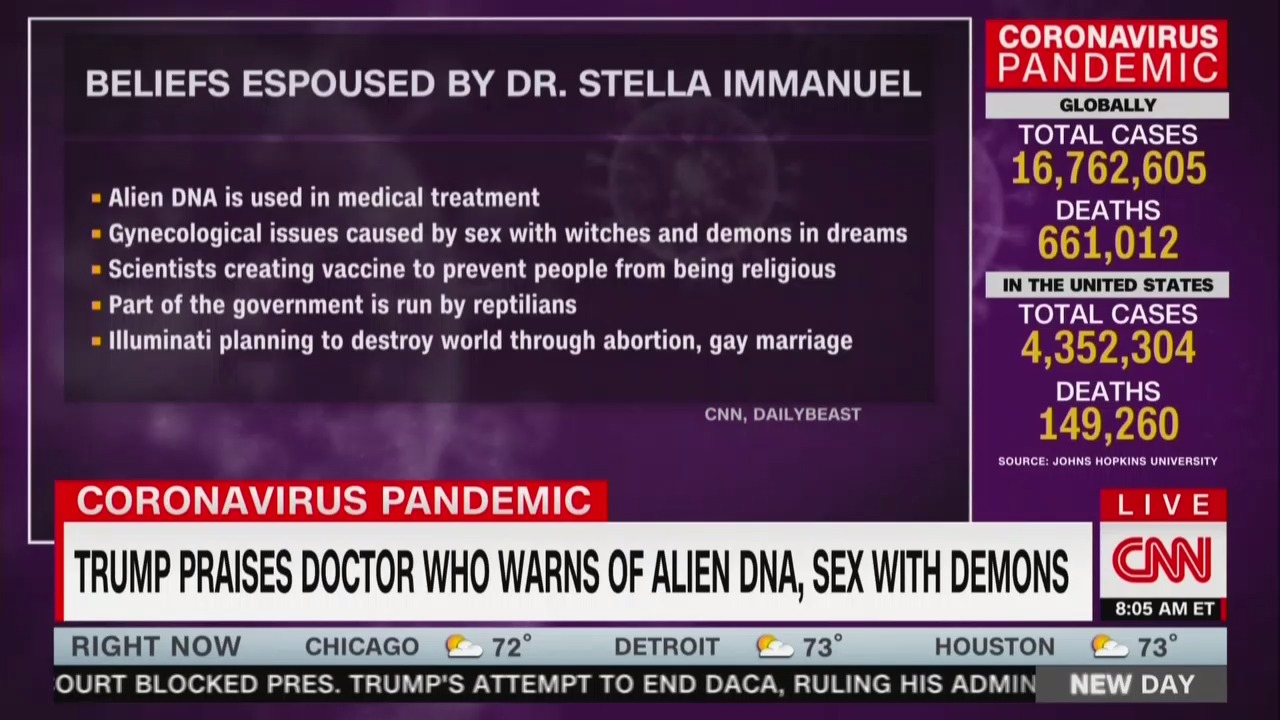 world's no. 1 country.
What's the point of CNN reporting this? Yes, we all know those positions are nonsense. This does nothing to further any rational discussion.
because trump was retweeting this woman on his twitter feed? and getting into public debates with fauci over the 'cure' she was promoting?

what's the role of leadership and communications strategy during a pandemic? maybe trump should stop spreading dangerous advice on his main platform?
Yes I know the backstory. CNN loves to "own Trump" but all it does is rile up the people who hate Trump. It doesn't actually serve much purpose at this point and time. I'm not trying to trivialize Trump's inability to understand basic medicine (or his blatant rejection of reality).

What is CNN trying to accomplish? Are they trying to disseminate correct information? I don't think so.

Trump should absolutely stop spreading dangerous info. Media should be promoting earnest journalism, not 30 minute 'gotcha' segments. CNN is beef garbaggio.
i see funny chyron, i link it. it's like something from a badly written black mirror episode to see that shit on television. who cares if it's media spin, the president is literally retweeting the medical advice of a lady who believes in alien DNA medicine. you couldn't have written the 2020 novel at the start of the century.
Last edited by uziq (2020-07-29 13:14:40)
It's a conscious tactic of the alt/new right to retweet 'interesting' conspiracy or outright insane shit that 'make u think'. They draw on the nutter-vote (which is disturbingly large), it helps them establish themselves as outsider politicians, while also distancing from it or avoiding the topic when questioned. Sadly, it's not unique to Trump. Many of the new right nationalists in Europe use the same tactic, some of them supposedly actually well educated and well spoken. It's awful stuff. Opportunism in overdrive.
Last edited by Larssen (2020-07-29 13:35:37)
it also serves the purpose of wasting resources "fact-checking" insane positions and statements. CNN focuses on the latest stupid tweet instead of substantive statements and decisions.

People who love Trump will fall back on their usual dismissals. Trump haters will put this in their scrapbook of "stupid shit Trump says/does".

Look at that screenshot- is CNN interested in real conversations around COVID-19 response and policy decisions or are they just promoting and profiting off FUD?
Yes the amount of stupid stuff Trump says and tweets and the ideas he adopts is exhausting. Yes his circle of goons, kiss-ups, nepotistic position stuffing/creation, and the dry rot in all kinds of government agencies and bureaus as a result is regrettable.

Yes, the press is going to talk about it, and talk about it a lot, because:

a) this year has been an unmitigated disaster
b) he is the president of the United States
c) we're coming up on election

We're living in an Onion pocket dimension right now, spun out of a Simpsons-predicted reality. The president formulating opinions and making decisions based on the thoughts of some conspiracy quack, that could impact the lives of millions of American citizens? Sure, report that too.

Is the president himself interested in "real conversations" around the COVID-19 response?
I agree though that this development probably won't sway Trump's core supporters. But should manipulating that really be CNN's job?

That other people are expressing frustration with and are tired of seeing this news though suggests to me that perhaps his strategy of burying the country in digital fecal matter is working. I don't think it can be easily argued that President Tweetsalot is using his social media powers for good, though. And Twitter's response seems a bit too little too late. Also, how many other accounts could have gotten away with some of that nonsense?
I question the sincerity or goal of what CNN is trying to do. In my opinion, they've long ago jumped the shark regarding actual news and reporting and exist as sort of the opponent of Fox News in some bizarre political arena. I've experienced in my lifetime the slippage of MSM from functioning as the fourth estate to functioning as a smokescreen for neoliberal policy.

CNN has been covering Trump and stoking this since before the election. CNN is a big part of why Trump won. Trump is good for CNN's business, and as such CNN will cover Trump through the lens of profit, not through the lens of journalism. A funny chyron is a funny chyron, but this current state of news media in the US does not make me laugh, and that's what I take away from this more than anything else.
The information on that screen cap could have literally come from any other news site in the world. It wouldn't even seem out of place on Fox, which clashes with the president from time to time.

"Trump retweets crackpot doc-minister-demono/alienologist. Here's some of the crazy stuff she believes:" is basically a gift-wrapped piece, whether you're a for-profit agency or not.
Except no other respected news site covered it like that. Thats my point- CNN as a news org is as good (read: bad) as Fox.
I think Trump news can read like tabloid and satire because his presidency isn't far removed. I would find it hard to dispute nose wrinkling over these events even if it is in the form of a powerpoint template.
Epstein didn't kill himself
I may fucking cry here, guys. Seriously. DS&T'ers identifying and discussing actual problems with so called "free press". Holy crap.
if you open your mind too much your brain will fall out.
shahter, nobody in the west thinks we have some unbiased, perfect, free press. i don't know why you always think western people are 'mindwashed'. amongst the intelligent, reading classes, at least, everyone is completely fucking aware that their news sources have slants, special interests, editorial mastheads, etc.
there are entire disciplines here in western universities that teach this stuff. media theory, mcluhan. chomsky, manufacturing consent.
the 'fourth-estate' and a 'free press' are ideals, but everyone is well aware that journalism is frequently implicated in the dark arts of politics. you do know the most celebrated film of all time in the west is 'citizen kane', right? you do know there are entire best-selling genres of noir cinema, detective thrillers, etc. that deal with the seedy underbelly of journalism, the free press, etc.? the popular imagination was obsessed with press barons in the early 20th century, just as there's an interest in the murdochs, bezos, etc. today. people aren't blind to this stuff.
remind me about your average russian's attitude to their own media, again? please don't act like your own shit doesn't stink. putin's control over the media in russia is like berlusconi's italy on nasty amphetamines. journalists here at least aren't assassinated and murdered quite as nonchalantly as they are in russia, for going after those in power.
the point, really, is that we do at least
have
a fourth estate that is meant to hold power to account. in russia you have putin, an orthodox church (first estate) an oligarch and mafia class (second estate), and a media that all collude in the same way. you have fascism. and all you have ever done about liberal papers or investigative journalists in russia is spit and pour scorn. you're all-so-clever, evidently!
Last edited by uziq (2020-07-30 03:16:08)
Uzi, sweetheart, I never in my time posting stuff on these forums said or even remotely implied that our own shit doesn't stink. Why do you keep bringing that up?
My point had always been that there's no difference whatsoever in the press controlled by Vladimir Putin, and the press controlled by Rupert Murdoch (or whoever else you have in there)
No difference. None. Zilch. Nada.
You know how I know that? Because I read a lot of that crap, on both sides, in their original languages and intended formats. Do you?
You also don't probably know this, but in Russian universities thay teach exactly the same shit about so called "principals of free press". But as long as the press remains an information manipulation tool in the hands of ruling capitalist elites it doesn't matter one bit what they teach those starry eyed dipshits and in which university. Those, who pay for the banquet get to choose the music - that's the rule in Russia or in the West.
Last edited by Shahter (2020-07-30 03:49:58)
if you open your mind too much your brain will fall out.
i see you've come very far from your 18-year-old nihilism. still saying the exact same stuff as you did on this forum over a decade ago.

yes, there is a difference between papers ran for profit and commercial interests and papers ran as puppets to a political regime. a very big one.
What do you think are the goals of political regimes run by capitalist elites?
if you open your mind too much your brain will fall out.
i was referring to putin's control of the media in russia, your sham elections, sham reporting, etc.
Uh-huh, and what are the goals of those, who pay their jounalist puppets for sham reporting?
if you open your mind too much your brain will fall out.
can you really not see the difference between a political elite controlling the media towards their own political ends, and capitalists who want to enrich themselves? do you think putin only seeks permanent power for himself because he wants to enrich his bank account? do you think that's the only danger that poses to national and international order?
power and wealth might be related but they are NOT the same thing.
sorry but this 'no truth so long as capitalism exists' shit is teenaged bullshit.
Last edited by uziq (2020-07-30 04:16:47)
Russia China-flu figures flat like Russian beer.
Russia Strong!
Epstein didn't kill himself
Thank you. You can clearly see none of those news sites/articles are reporting in the same way CNN is. I'm glad you were able to distinguish the nuance between how those sites are reporting this vs. CNN.
Cain was admitted to an Atlanta-area hospital on July 1, 2020 for treatment of COVID-19, two days after he was told he tested positive for the virus.[104] His staff said there was no way to be certain where or in what way he contracted the disease.[104] He had attended a Trump rally in Tulsa 12 days earlier without wearing a mask or socially distancing.[105] Earlier on the same day he went to the hospital, Cain praised South Dakota Governor Kristi Noem for not requiring masks at an upcoming Trump campaign event, saying "Masks will not be mandatory for the event, which will be attended by President Trump. PEOPLE ARE FED UP!"[106] Four weeks later, he was still hospitalized and being treated with oxygen.[107] On July 30, 2020, news media and Cain's Twitter account announced that Cain had died.[108][109]