i think that dog has become a scapepuppy for all of your frustration, woe and anxiety.
Macbeth was really nice to talk to
that dauntless guy though...a real shithead

speaking of which, aren't we supposed to be sharing a beer right now? Where you at?
Ya i'll be in San Fran from the 24th and LA from 28th
damn i will be in SF next week. Leaving for Chicago on 4/5. How long you gonna be in LA? Maybe we can meet up weekend of 4/1
Only a few days.. I'm in Vegas on the 31st
SuperJail Warden wrote:

I am the nicest person you guys will ever meet. Just because I want to kill a dog doesn't mean I am a bad person.
Violence against domestic animals is a textbook indicator of psychopathy & sociopathy. So yeah maybe you're not fundamentally a bad person, you're just mentally way messed up, either because you were born that way(psychopathy) or you experienced some sort of severe trauma or neglect(sociopathy).
I am not torturing the dog. I am simply trying to kill it. It is the same thing as hunting deer.
except your parents don't keep a pet deer and lavish it with love and affection and consider it part of the extended family unit.
do you want to adopt a dog?
Why not get to know the dog, it can be rewarding looking after someone/something more vulnerable than you.
Epstein didn't kill himself
The dog doesn't like me. He barks at me. Runs away when I try to pet it. The other dog likes me. So the other one gets to live.
I think Mac just realises his parents love and care for the dog much more than do him.
SuperJail Warden wrote:

The dog doesn't like me. He barks at me. Runs away when I try to pet it. The other dog likes me. So the other one gets to live.
this is like that part in a bad tv show where the dog can tell the girl's boyfriend is a rapist or the new friendly neighbour is a serial killer.
that mutt has an instinct for it. he can smell you macbeth.
A man was stabbed to death in Manhattan last night. The killer used a gladius. A short roman sword. I found that novel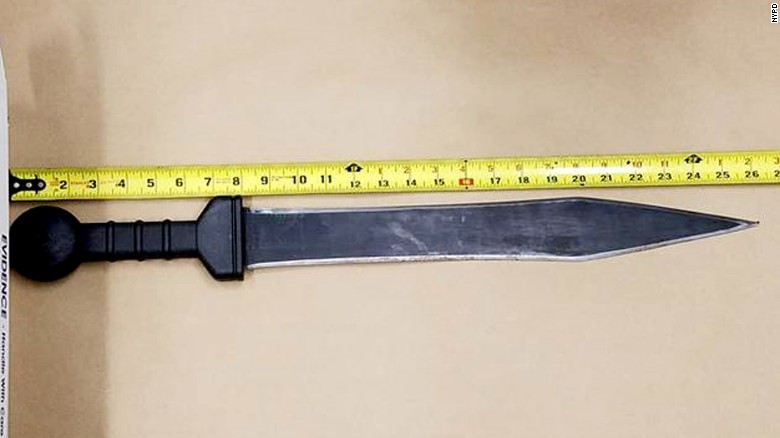 https://en.wikipedia.org/wiki/Gladius
I won a Stoeger P350 pump 12 gauge for $50 last year at an auction. It's now my favorite gun (mostly because I'm lazy and don't have to clean it after every outing).
Sober enough to know what I'm doing, drunk enough to really enjoy doing it
Last week I finally got my first pistol: a Glock 23 Gen 4 in .40 S&W

I also found a guy in Nebraska who's willing to buy & fix my broken 870 but trying to figure out what I need to do to ship a gun and seeing how much it costs is all making my head spin.
I will buy it. I will even drive down to Maryland to pick it up.
Why would you want a broken shotgun?
Epstein didn't kill himself
So he can shoot his dog, threaten his mum and take a Filipino girl hostage to get hooked on heroin and force her to become a domestic slave, all because hes the nicest person you'll ever meet.
Last edited by DrunkFace (2017-04-01 06:52:33)
I have accepted to just let the dog live and learn to like him. Getting a gun permit in NJ is too much work.
Bought a Rock Island Tactical M1911A1 for my birthday. Now to soak it in mineral spirits and get all the factory grease off of it.

Also the ATF says it's now legal to shoulder a pistol brace again.
I don't get why people like 1911's so much. Every time I have shot one, I have been annoyed by the amount of recoil it has compared to a 9mm. I don't see how it is fun to shoot or a good choice for personal/home protection.
Because a 9mm takes 6 hits to stop someone while a .45 cal takes one. That recoil is a good indicator of stopping power.
"Ah, you miserable creatures! You who think that you are so great! You who judge humanity to be so small! You who wish to reform everything! Why don't you reform yourselves? That task would be sufficient enough."
-Frederick Bastiat
Pretty much that, 9mm goes a lot faster so it does better against body armor but unless you're some kind of VIP, nobody who can afford body armor is going to be breaking into your house, some people still prefer having more bullets in a magazine though. .45 goes slower but makes big holes in people and because almost all factory .45 loads are subsonic, they work very well with suppressors, and some people will really go to that length for home defense so they don't have something that gives them hearing damage when something goes bump in the night and they can't reach for ear-pro.
1911s in particular have a few small quirks though that don't lend themselves to home defense. They don't always feed hollowpoints well unless the barrel is modernized with a different ramp, and hollowpoints are more ideal for home defense because they do more soft tissue damage and are less likely to overpenetrate. I've read that they don't like being fired at 90 or sometimes even 45-degree angles, it causes jamming and if you're firing around a corner this could potentially be a problem. And the standard mags, because they're single-stack, are only 8 rounds, whereas a Glock 21(full-sized .45 Glock) will hold 13 in a standard magazine, a USP 45 will hold 12, a Smith & Wesson M&P 2.0 will hold 10, and so on. You don't need a lot of .45s for a single guy unless you're a bad shot and/or he's a bigger guy but if you have a few armed people at once in your house, you'll want all the bullets you can get in a single mag.
Makes me think about switching to a Glock 21 for HD when I eventually have to move into a shitty area because I can't afford to live anywhere else in this state.
Last edited by _j5689_ (2017-05-07 12:31:07)