As part of the mod team, I felt it my duty to bring to you, 1.3 with a TON of improvements over 1.2 such as new vehicles, better handling of aircraft, de-nerfed weapons, etc... get it, play it, love it. Thanks for reading ~ HJ-Cerberus (below is from teh updated readme with eyecandy provided at bottom of post) NOTE: HJ mod is no longer, nor ever will it be affiliated with WCC squad anymore, for those of you wondering.
Mod can be obtained here:
http://www.hardjusticemod.com/
(registration is free of course)
Introducing the Hard Justice V1.3 Custom Mod Update for Battlefield 2
Mod Description
Authors: Ziggy / Radar O'Reilly / Cambo / StrykerJ / CDN-Biggdogg / Toetagger / Sugartooth / Ut-Oh / Cerberus
--------------------------------------
Here's the change list for: 1.3
--------------------------------------
A big Thanks to NAW for the use of some of their vehicles.
A big Thanks to SatNav for the use of some of his vehicles and weapons.
Thanks again to Chullster for the use of his account to test kit unlocks!
CHANGES:
- For the first time in Hard Justice history we will be releasing a Linux version. (by Cerberus)
- Most ground and air vehicles have been recoded for better useablity.
- Unlocks added to all armies! (US CH MEC 2 and 3 kits and CA EU kits)
- Added 5 more seats to APC Cobra and APC CobraAT Vehicles
- Added 2 more seats to Bradly
- Completely recoded the lean for the Dirt Bike for much better stability!
- All handheld weapons accuracy, recoil and damage have been adjusted.
- Mp5 smg added to US CA EU assault kits with G3 and sniper kits with L96A1 and M24 in place of the pistol.
- Type85 added to CH MEC assault kits with AK47 or AK101 and sniper kits with Type88 and Dragunov in place of the pistol.
ADDED:
NEW Items:
- Designator (Original concept by BiggDogg, coded into game by Ziggy and BiggDogg) We're really excited about this addition! The Designator places a laser target where the user wants a laser guided bomb to strike! Sticks to objects (i.e. Artillery) and buildings but doesn't stick to soldiers! They are located in the Spec Ops and Sniper Kits. The MH6 Transport Littlebird pilot is also able to designate targets!
NEW vehicles:
- Jeep Technical (models fixed and finished by Radar O'Reilly, coded into game by BiggDogg)
- Woodys Wagon M109 Mobile Artillery (models fixed and finished by StrykerJ coded into game by Ziggy)
NEW vehicles from the NAW Mod:
- Quad500cc (recoded by BiggDogg)
- Quad125cc (recoded by BiggDogg)
- Quad250cc (recoded by BiggDogg)
- HMMWV with MK-19 grenade launcher (recoded by BiggDogg and Ziggy)
- AA Technical (recoded by BiggDogg)
- Tow Technical (recoded by BiggDogg)
- SU25 Frogfoot (recoded by Ziggy)
- SU25SC Scorpion (recoded by Ziggy)
- Apache (recoded by Ziggy)
Unfinished Models from Naw Mod:
- Baja Bug (models fixed and finished by Radar O'Reilly, coded into game by BiggDogg)
- Challenger (models fixed and finished by Radar O'Reilly, coded into game by BiggDogg)
SatNav Weapons:
- Javelin Top Seek(recoded by BiggDogg and Ziggy)
- Javelin Direct (recoded by BiggDogg and Ziggy)
Added maps:
- Highway Tampa
- Juno Beach (by Toetagger)
- Harbour (by StrykerJ)
- Desert Shield Advanced (by StrykerJ, Desert Shield Revisited Redone!)
NEW Sounds Added:
- Dixie Horn (coded by BiggDogg)
- Challenger Engine Sounds (coded by BiggDogg)
StaticObjects from Radar O'Reilly:
- concrete_airstrip_long_endstr (coded by Radar O'Reilly)
- Canadian Team
- fire_hydrant (coded by Radar O'Reilly)
- wood_fence (coded by Radar O'Reilly)
- wood_fence_post (coded by Radar O'Reilly)
- us_ShutupSign (coded by Radar O'Reilly)
- end_of_track_bumper_24 (coded by Radar O'Reilly)
Vehicles BundledMesh-
- bradly BGM_71A_Launcher (by Radar O'Reilly)
- Bradly Rear interior (by Radar O'Reilly)
- m270 rgm109h_Pod added tomahawk (by Radar O'Reilly)
- jeep_technical and textures (by Radar O'Reilly)
Animation-
- Challenger 3p_driver_challenger_animSys.inc (by Radar O'Reilly)
- Challenger Passenger animation (by BiggDogg)
- Jeep Technical Rear Gunner animation (by BiggDogg)
- APC Cobra(AT) Passenger animations (by BiggDogg)
- Bradly Rear Passenger animations (by Radar O'Reilly)
missiles-
- rgm109h_tomahawk (Model made and textured by Radar O'Reilly, coded by Ziggy)
Added Objects from StrykerJ:
- Defense Gun (coded by Ziggy)
- tire_shop (coded by StrykerJ)
- wood_barrel (coded by StrykerJ)
- market (coded by StrykerJ)
- tent (coded by StrykerJ)
- mill (coded by StrykerJ)
- Metal_Fence (coded by StrykerJ)
- Metal_Fence_Corner (coded by StrykerJ)
- Metal_Fence_dbl (coded by StrykerJ)
- Metal_Fence_End (coded by StrykerJ)
- cargo_container (coded by StrykerJ)
- sign_25mph (coded by StrykerJ)
- barrel_black (coded by StrykerJ)
- barrel_black2 (coded by StrykerJ)
- barrel_blue2 (coded by StrykerJ)
- barrel_orange (coded by StrykerJ)
- barrel_red (coded by StrykerJ)
- barrel_red2 (coded by StrykerJ)
- barrel_yellow2 (coded by StrykerJ)
- cart (coded by StrykerJ)
- chain_fence (coded by StrykerJ)
- pipe (coded by StrykerJ)
- barrack (coded by StrykerJ)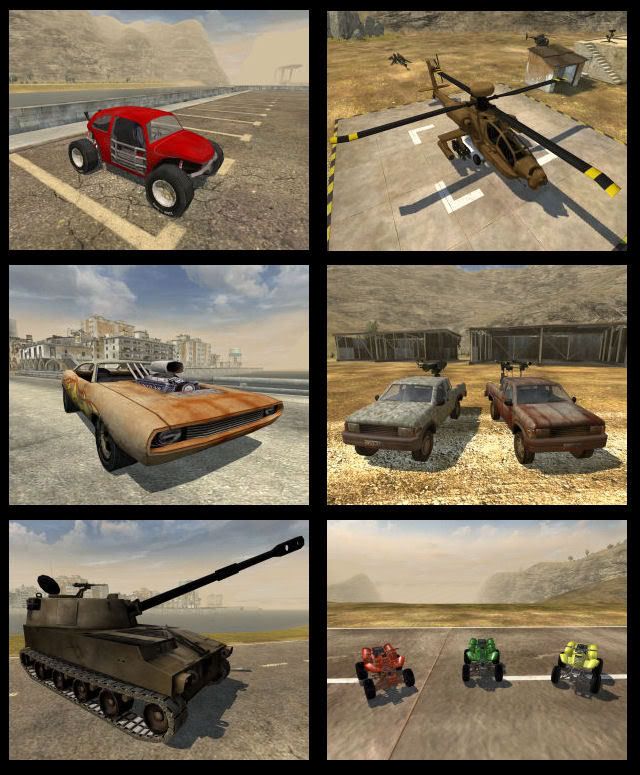 Last edited by {KHI}Cerberus (2008-03-01 14:58:19)