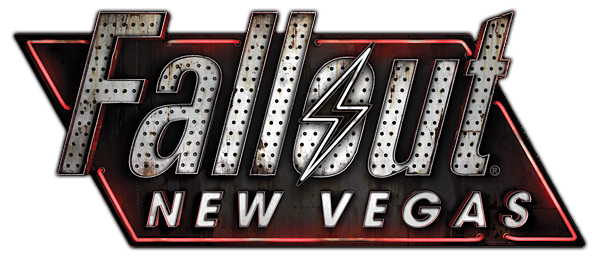 Developed by:
Obsidian Entertainment
Published by:
Bethesda Softworks (US, UK), Namco Bandai (EU, AU, NZ)
Platforms:
Xbox 360, Games for Windows, Playstation 3Release Date: Fall 2010
October 19th, 2010 - NA
October 22nd, 2010 - EU
Official Teaser
[video]http://www.gametrailers.com/video/debut-trailer-fallout-new/61576[/video]
Official Trailer
[video]http://www.gametrailers.com/video/e3-2010-fallout-new/101172[/video]
Game Information - What we know so far:
Thanks to FutureTrunks on GameTrailers for this leaked information so far:
More details emerge on Fallout New Vegas

Looks like some magazines have jumped the gun and subscribers have already started receiving their copies of the Fallout: New Vegas issue. Have a look in this thread at the Bethesda forums. Here's what we know so far:

* There is an optional hardcore mode, the character needs to drink water, ammo has weight, healing isn't instant etc. Normal mode is more similar to Fallout 3 gameplay.
* The storyline is focused on the New California Republic vs. Caesar's Legion vs. New Vegas residents.
* You are not a vault dweller but are given a Pip-Boy by someone who is one.
* There is a screenshot of a vault suit as well.
* There is an assault rifle looking like the M4, as well as a new big gun with a backpack, held like a minigun.
* There are special moves for melee weapons in VATS - specifically a move for a golf club called "Fore" which seems to be a groin shot.
* The Hoover Dam is in the game and is supplying electricity to the city.
* There is a quest to rescue a ghoul from some super mutants. The ghoul can then become your companion
* The Geckos are back.
* There are both dumb and intelligent super mutants, including the elite Nightkin.
* Some super mutants look similar to the ones in Fallout 3, while others are new. There is e.g. a female super mutant with a 1950s hairstyle who apparently is one of their leaders.
* Screenshots include a guy with a beard and straw hat, a ghoul an NCR Ranger
* The only picture of New Vegas itself is concept art and not a screenshot
* Some location screenshots include a huge model dinosaur advertising a hotel, some satellite dishes, an array of solar panels
* A character generation shot showing a "vigour machine" instead of the skill book
* NCR base is the McCarran Airport, Caesar's Legion is based in the Vegas Strip, while super mutants are based in a place called Black Mountain. There is also a town called Fremont and another called Primm. A topless reuve is mentioned as being in the latter. Area 51 also appears.
* NCR Ranger armor is similar to a brown combat armor with sleeves, there are concept arts of a Ranger
* Skils have a bigger effect on conversation choices. E.g. someone with a high Explosives skill may be able to have a coversation about explosives where appropriate.
* There is a Reputation system in adition to Karma.

Thanks Ausir!

In addition:

- First-person action RPG with the same engine as Fallout 3 (sorry, Van Buren fans).
- Set in the Mojave wastelands. Vegas didn't get many nukes. More intact buildings, as well as desert vegetation. Vegas itself is mostly intact.
- You don't play a Vault Dweller (or descendant of one) but a courier, left for dead and saved by a friendly robot.
- The overarching story is a struggle between the locals, Caesar's Legion (a faction of slavers from the east) and the New Californian Republic. Vegas itself is mostly intact.
- Both karma and reputation are tracked. If I'm reading it right there's separate reputations for each of the settlements, as in 1 and 2.
- All dialogue options are shown to all players, regardless of whether you have the stats to succeed or not, though there's no punishment for failure.
- Bartering is not just lower prices but negotiating for better rewards.
- VATS returns, and melee weapons have special moves in it. The golf club has "Fore!", which is a shot to the golf balls (so to speak) that knocks the opponent down. Weapons also now have knock-back upon death, with shotguns sending mans flying.
- Super Mutants return, but in two varieties - the smarter ones from Fallout 1, and the idiot ones from Fallout 2. On at least one occasion you can convince them to fight amongst themselves.
- New weapons include what appears to be an M4 and a grenade machinegun.
- Followers can be managed through a context-sensitive menu, with orders like "follow", "stay" or "attack".
- Hardcore Mode! In this mode, Stimpacks heal over time (as opposed to instantly), combat is tougher, ammo has weight and you can suffer dehydration, so keep some water on you!

One of the screenshots has a Super Mutant with a blonde wig and pink heart-shaped glasses.
Leaked info from January:
• Similar to Dragon Age: Origins, at character creation the player can select from different background stories. The first few hours of the game are different depending on which background you choose, and you get some unique perks based on your background when the main game begins.

• One background story is shown, Chinese Agent. The background story takes place before the bombs fell. The player is part of a team of Crimson Dragoons infiltrating Hoover Dam. You manage to sneak through the Americans' defenses, set explosives, and head to an extraction point, but your escape is cut off by American soldiers in Power Armor. The player and other survivors of the Crimson Dragoons take refuge in a cave in the canyons, where they commit hari kari with cyanide capsules. The player about to do the same when the bombs fall. The background story ends an indeterminate time later, when the player exits the cave, removes his helmet, and sees his ghoulish reflection in the waters of the Colorado River.

• The background story segues into character creation. The player can customize the appearance of the ghoul, and you see you start the game with two unique perks. One, similar to the Ghoul Mask in Fallout 3, makes Feral Ghouls non-aggro. The other makes the player immune to radiation sickness and allows the player to discharge accumulated radiation in a blast similar to a Glowing Ghoul, healing the player and any mutants while damaging all non-mutants in range.

• By default, the Chinese Agent has the skills Sneak, Small Arms, and Explosives tagged and SPECIAL stats set, although the player can modify their tagged skills and stats if they don't like the template.

• One character background option is Lone Wanderer. This selection has no background story or template and is a complete blank slate for players.

• The SPECIAL system used will be similar to Fallout 3, but skills will be harder to cap and one character will not be able to become a master of all skills. The article is not very specific because apparently it's something the developers are still tweaking.

• Gambling will return, but not as a skill. Your Luck stat will effect gambling results. You can attempt to cheat at cards using your Sneak skill or hack slot machines using your Science skill.

• There will be vehicles. The desert of New Vegas dwarfs the Capital Wasteland and you will need transportation to get around and explore it. You will acquire a vehicle several hours into the main quest. You can customize your vehicle with parts bought at shops or won through racing circuits and quests. Vehicles will not be common, but you will encounter road gangs, merchant caravans, and other vehicles in the wastes. The open desert is home to some very large mutant creatures, like giant radscorpions and sandworms, that will attack your vehicle.

• New Vegas has a coliseum run by a slaver gang called the Caesar's Legion. You can gamble on and participate in arena fights.
Figured we needed one of these if this game reaches even anywhere near the excitement Fallout 3 got. Will update with information as it comes in.
News Feed
http://epicbattleaxe.com/tag/fallout-new-vegas/
All known images to date:
http://epicbattleaxe.com/image-gallerie … new-vegas/
Last edited by Poseidon (2010-07-18 16:15:53)