Okay children, gather round, and listen. Because I'm fed up of seeing people wasting their time recording at low resolutions and low graphics while they play, producing bad graphic videos with poor frags because the game isn't running smoothly. There's no need.
Unlock the secrets of the RECORD command. What this does is it records all your movements in a game, and ever-body elses. You can then play this demo back time and time again, and, here's the best part, whilst it's recording it doesn't steal your FPS! It doesn't lag! You can play low graphics in game, for better fps, and record at high graphics!
First of all, go into Options, Game Options, and make sure "Enable Console" is set to yes.
Start a game in which you would like to record, then go into the console by hitting the ` key. It's beside the number 1 on the left of your keyboard. Type
'/record' without the quotes. You can even give it a name, for example, '/record vacantpublic'. You can't have spaces though

Once you are done in that round, bring up the console again and type '/stoprecord'.
Open up your perfectly legal copy of Fraps (if you don't have one I'll help you out with that, just PM) and make sure the settings are as follows: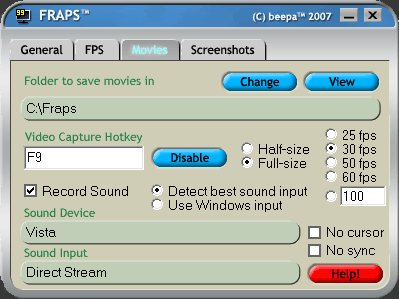 If you are running anything but Call of Duty 4, then skip this next part.
Then you need to go
here
and download CoD4 Player. Once unzipped, open up CoD4player.exe and click on the keypad to the right. Unless you have a dual monitor, you're going to have to memorise these buttons.
If you have a dual monitor, just drag it to the monitor you don't use for gaming and just read the commands off the screen.
If you've got a slow computer, you might need to run the demo you're recording at
1
/
4
of the normal speed to achieve enough frames per second. To do this go into CoD4 Player and click 'Setup'. Change "Slow Speed Ultra" to 0.25. When you want to record, hit 2 on your keypad to slow it down, then hit F9 to record with fraps. If you get anything over 7 frames per second you should be fine. If you're getting 15, but nothing above that, then only press 4, which will slow it down half. You can speed it back up in a media editor. If you can get a consistent 30 frames per second whilst recording, you've spent too much on your computer. Just record at normal speed, unless you wish to do a slow motion effect whilst editing. If you want to do so, hit 4 to slow it down half, or however much you want so you can slow mo without getting juttery video.
One last step before we get recording, open CoD4, make a new profile, call it '(yourname)2' and then exit. Download
this file.
Go to C:\Program Files\Activision\Call of Duty 4 - Modern Warfare\main\players\profiles\yourname2 and paste the file into there. Then click back, and open up "Active". Replace whatever text is there with whatever you called your second profile. Quit all windows 'cept CoD4 player & Fraps.
Once you've memorised (or not) the commands on CoD4 player, click OK. Then click Open Demo. This will take you to your demos folder (C:\Program Files\Activision\Call of Duty 4 - Modern Warfare\main\demos). Select your demo.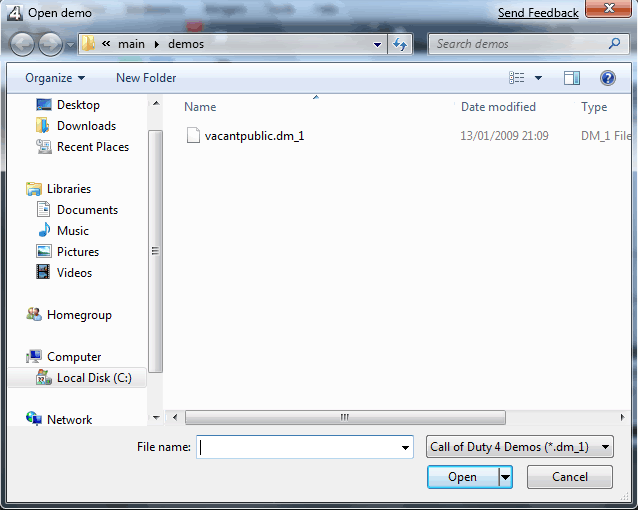 This will open up Call of Duty 4, and load the map "Shipment" (this is only to enable developer mode) then it will load the map you recorded on. You will then see every one of your actions, kills, streaks and noscopes. Hit F9 when you want to start recording, and use the keypad numbers to change speed. When you're done recording, press / on the keypad. This will exit CoD4.
If you are running CoD4, skip this next part, but if you're not, read it.
As of this moment, I am unaware of any other programs that do the same as CoD4 player for other CoD series. But you can still use the demo function! You'll just miss out on being able to slow it down/speed it up.
Go into game and open the console. Type '/demo vacantpublic' or whatever you named your demo.

Then record the parts you wish, free of lag and sloppy frame rates! Okay, the slow frame rates might be there, but at least you've already made your kills.
Everyone read now
There you have it, you've got video of you kicking some ass, stored in C:\Fraps, you just need to edit it. I'd recommend using something professional like Sony Vegas 9, which you can get a free trial of from the Sony website (or from me if you want the full version, just PM.)
Now stop making crap movies and start making epic ones.
If you notice any mistakes, or wish to add some info, just post below and I'll add it in if I think it's worthy.