Exclusive video of tweaking Uzique explaining to the police how they cannot arrest him.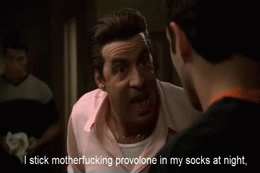 lmao. i wasn't on anything like so strong enough to tweak. i think they turned up expecting that, though. bath salts zombie trying to eat faces. what they got was a very surprised guy on his bed listening to music.
uziq wrote:

lmao. i wasn't on anything like so strong enough to tweak. i think they turned up expecting that, though. bath salts zombie trying to eat faces. what they got was a very surprised guy on his bed listening to music.
i'm surprised dilbs even thinks cops won't 'bother people without reason.
my guy aussie cops literally strip search 13 year olds to try and 'find drugs'.
https://www.theguardian.com/australia-n … ear-period
it's fucking hilarious to me that dilbert is still trying to 'GOTCHA!' me over the details of a small peccadillo, which took place over a DECADE ago, and meanwhile he doesn't even have the most elementary grasp of policing or the law ... ?!? like what the fuck lmao. why is he being such an inquisitor when he doesn't even realise that cops will book you and take you to the cells for processing overnight if you're caught with suspicious white powders? hahaha. 'it doesn't make sense'. er, yes it does, to literally anyone, dilbert.
the funniest thing is that everyone involved in the incident was thoroughly embarrassed for about 3 months and then got over it. i've had a great relationship with the girl involved through my 20s. we keep in touch, as i said. if i truly did threaten her with a knife or commit a serious crime against her person, then this long-distance, remote, 10-year-long relation we've entertained since must be the most extreme case of Stockholm Syndrome ever recorded.
that or ... maybe dilbert just has no knowledge of what he speaks?
It took her a month to respond?
she reacted to an insta story. we talk on whatsapp too. i'm not posting my entire chatlogs, you psychopath.
clearly this is what happens when you nearly murder someone with an 8 inch blade. and have your daddy pay to make it all go away. or something.
meanwhile ... on planet earth.
Well thank you for being the bringing the receipts. Good stuff.

Without naming names, I suspect some of the members here are still incels.
i'm endlessly amused about being told what my own criminal (non) record consists of and the supposed 'abuses' i meted out to my ex-girlfriends. whilst they still talk to me weekly in a perfectly amiable, if not low-key romantic, fashion.
as ever, it's Dilbert Knows Best. because of a few PM's he screenshotted in 2011!
you can't make up how snivelling and impotent this sort of behaviour is. sad!
meanwhile, speaking of race relations ...
https://imgur.com/iQNQav0
https://imgur.com/DFT5bkX
yours sincerely,
a drug-addled domestic abuser.
ya looooooser!
"Assault and harassment", 8" 'butter knife', completely bemused why the police were called, no idea why you were put in the cells and bailed for a month, thrown out of your house over 'nothing'.

OK sure.
Русский военный корабль, иди на хуй!
FWIW, I don't think a guy is sexually active unless he has a few stories of fucking over a woman. It is like rolling a 20 sided dice over and over again. Eventually you will hit the 20 that makes you do or say something to a girl you know is hurtful.
...
I told the celibate girl she is not going to find a guy who will go at her pace. That is after she twice contacted me asking why I stopped talking to her.
i was bailed for 3 weeks whilst they tested the mysterious white powders. nothing on any record, caution or otherwise, about 'violence' or 'assault'. they were called to my address with reports that i was making a lot of noise with very loud music and anti-social behaviour, possibly under the influence of drugs. they came to my room equipped for a drug bust. police dogs and a chap in riot gear. they were expecting a violent maniac on a drug binge. they found me, about 2 lines deep, listening to music at a loud volume to drone out the sound of my ex-gf and her friends in the loft conversion directly above my bedroom.

i was bailed for 3 weeks because, believe it or not, you can't keep someone in custody over suspicion of class A drugs. it's a bit worse than a ticket, dilbert, but not quite bad enough for a maximum custodial stay. i'm not a shoe bomber or a terrorist.

you really don't understand the law at all, do you? why the fuck are you arguing
Dilbert_X wrote:

no idea why you were put in the cells and bailed for a month, thrown out of your house over 'nothing'.

OK sure.
i certainly wasn't confused as to why i was thrown out of my house. the local 'pastoral' care officers from the university came to my house the next day and contacted my landlord. standard operating procedure. they wanted to check on my welfare after being bailed. i expressed anger and frustration that they had come, because they were escalating a very silly situation and i didn't want the university administration, nor my landlord, finding out about it particularly. i was, believe it or not, the star student in my cohort at the time. but it's standard for the local police to contact the university when their students wash up in the cells.
the landlord didn't want the hassle or reputation hit so he asked me to leave. it was about time i took a time-out from living with my ex-gf and her new boyfriend, anyway. i went home, took antidepressants for 6 months, mailed in my remaining essays, and passed the year with a first-class mark. it was a sleepy village in one of the richest pockets of england. i'm not surprised the landlord kicked me out. the neighbours were already tugging at their fine curtains and gossiping. as for the university: no consequence whatsoever. i graduated top of my year and was given a scholarship. ain't that a bitch? this is the part i love reminding you of most of all: the party-guy didn't get his 'just deserts'. lmao. eat shit, cuck
Really? This is what you told us at the time.
Maybe one day you'll tell the truth.
Meanwhile it seems a bit unlikely you were arrested etc for being depressed.
Русский военный корабль, иди на хуй!
i was arrested for having 5 grams of a mysterious white powder in my room.

do you know anything about how policing works? i never claimed to be arrested because i was depressed. i was arrested because i was in possession of something that looked 99% like cocaine, and i was high. i spent a night in the cells sobering up, they sent the powder away for bail, they gave me a 'psychological evaluation' in the morning to make sure i wasn't still fucked up from the (mild) drug dose i took ... and they sent me away.

3 weeks later i got a letter saying the lab tests returned negative on all known classified drugs. i walked away with zero consequences.

i wasn't 'walking around a house with a blade'. what fucking blade would i have had? i was 19 and living in a quiet surrey village. they took a knife (and a book i had secreted a drug package inside) as part of their 'evidence' package. i'm guessing they took everything they could find because it's no small thing to forcibly enter a property with a sniffer dog unit and a riot shield. they needed something for their paper trail. what they found was about £90 of perfectly legal substances, rather than the £1000 in equivalent Class A that the same weight would have totalled (i.e. a decent custodial sentence for 'class A with intention to supply').

the assault and violence part was a total confection on my part. why the fuck would i try and fight my own ex-gf and a roomful of 4 men with a butter knife that i'd been using to crush up my crumbly powder? i took 2 lines of a mild amphetamine, i wasn't psychotic. if i was, incidentally, i would have been committed.

i keep telling you, dilbert: occam's razor.

what's the most likely explanation, if i've managed to pursue postgraduate study, enter a prestigious career, and now travel abroad with highly restricted visas, without any hindrance or legal hiccup? maybe .. just maybe ... jussssst maybe ... i didn't commit those heinous crimes you keep salivating over.
Uzique has been devastated.
I think the most likely explanation is you've told so many stories we'll never know the truth.

What I do know is the police don't send riot police and sniffer dogs out to 'forcibly enter' to check on a depressed kid.

Thats the thing, every time you come up with a new angle you just make it more clear that you're frantically back-pedalling.
Русский военный корабль, иди на хуй!
i freely admitted to signing up to this forum in a persona and amusing myself by trolling for a while. for about 3 years i was an oxford or cambridge aesthete like oscar wilde talking down to everyone. if you match the post date to the biography, you'll figure i was about 15 years old. it was amusing for me.

as i said, if you can't understand why a 19 year old going through Some Things would fabricate and embellish his tales to make it seem more heroic or rockstar-esque than it really was, then you really need to see a doc for your aspergers. teenagers exaggerate. and that entire farrago was very much a consequence of my supreme immaturity.

it was a decade ago. i don't have a single ounce of shame or guilt about it. why should i? nobody got hurt and it led to no lasting consequences for anyone. i still make sweet love to my university flame, from time to time. my life worked out just fine.

meanwhile you're a crippled and bitter cuck who is pedantically going over a chapter in my life from a decade ago. why do you care so much? get a girlfriend man, this isn't what a 45-year-old highly successful Imperial grad is meant to be doing with their lives. it's not in the prospectus.
SuperJail Warden wrote:

Uzique has been devastated.
yeah, sure. 'facing up to 5 years' to 'not even a caution and nary another word said about it, ever'.
ask a lawyer for those odds.
What I do know is the police don't send riot police and sniffer dogs out to 'forcibly enter' to check on a depressed kid.
i don't know because i wasn't in the roomful of people who called the police and phoned it in. that was my ex-gf and her roomful of sycophantic males.
i assume they communicated the idea that i was an ex-bf, rubbed the wrong way, that i was sealed in my room playing music very loudly, and that i'd been known to take a helluva lot of drugs in the last 3 months.
the police came accordingly.
i wasn't 'wandering around the house with a knife', jesus christ. do you think i would have been taken into custody in such a peaceable manner and let go 12 hours later if that was the deal? make fucking sense dilbert
You would have been killed in America. Turned into a hashtag.
we had this convo before. 'if you were black and it was a frat house at montclair state ...'.

well, guess what, i'm not. i'm british. our queen just died. accept your place in the pecking order of life.
I did a semester and half at Seton hall. I understand the law as a concept
Dilbert_X wrote:

Thats the thing, every time you come up with a new angle you just make it more clear that you're frantically back-pedalling.
or i'm just continuing to live and enjoy my life, barely thinking about that minor episode ... and sprinkling extra details for you when you're clearly begging for them.
really make u think.
'frantically back-pedalling' ... from what? losing face in front of an incel fascist mummy boy? if i had a more serious criminal rap sheet i wouldn't be ashamed of admitting it here to 4 regular readers. the simple fact is i don't. my very BEING resident in korea is a clear and obvious proof that i don't.
you claiming i could 'pay' my way out of it or had 'special privileges' really is just such nonsense. yes, a 19-year-old drug-addled kid had the powers and influence to make a MURDEROUS KNIFE THREAT go away.
you are clueless.
Exclusive photo from the time Uzique's tinder match told him she didn't care for the queen
well, in that case she asked for it. i must defend my qwene's honour.