Easter is too religious of a holiday. It should be more commercialized so that we can all enjoy it. There needs to be some sort of gift giving part of it.
We have two chocolate holidays, I think we need a third, maybe halfway in between.
Christmas to Easter is too long without a chocolate binge, chocolate gifts etc

Also a proper international drinking holiday, St Patricks is not bad but always ends in fights and if you don't know any Irish people to drink with you feel a bit stupid
Here we have Australia day - could everyone adopt Australia Day as a drinking holiday?
Русский военный корабль, иди на хуй!
but wait, i thought drunken violence wasn't a problem in the white master race?
Stumbling alcoholics who are drunk on the regular don't need another booze holiday, imo. A sweets holiday that encourages people to shop for candy made without slave labor would be nice.
Could call it "stop being a prick" day.
Last edited by unnamednewbie13 (2022-04-17 05:13:05)
uziq wrote:

but wait, i thought drunken violence wasn't a problem in the white master race?
Irish aren't part of the white master race.
Русский военный корабль, иди на хуй!
st. paddy's day. famously only celebrated by native irish people.
On that note, Cinco de Mayo here is another excuse to drink and party, even for northern-born white people. Alcoholics drink on so many holidays. Asking for another specifically for booze is like a kid asking why there's no Child's Day. The comeback is going to be "every day is Child's Day."
???
Wtf?
The irony of guns, is that they can save lives.
I have no idea what's going on here without being able to read the stuff at the weird marine crucifix shrine.
Jesus was a sailor. Good on water, good with wood.
Why are Republicans like this?
Christian School Headmaster Arrested For Allegedly Whipping 4-Year-Old Child
https://www.huffpost.com/entry/louisian … a811ca603d
A Louisiana Republican official and pastor has stepped back from his post as headmaster of a Christian school after his second arrest in two months over alleged cruelty to children.

John Raymond, pastor of Slidell's New Horizon church and an elected member of the St. Tammany Republican Parish Executive Committee, was arrested Monday by the Slidell Police Department and charged with second degree cruelty to juveniles.

The arrest stems from an incident at Lakeside Christian Academy, a kindergarten through 12th grade school that he founded and led. Raymond is accused of abusing a 4-year-old pre-K student on multiple occasions, including holding him upside down by the ankles and repeatedly whipping him on the buttocks.

The school sent a letter to parents and staff Monday saying that Raymond was taking a voluntary leave of absence, NOLA.com reported.

Last month, Raymond was arrested on three counts of cruelty to juveniles after he was reported for allegedly taping three students' mouths shut as punishment for "excessive talking" the month before.

Since that arrest, other witnesses have come forward to report additional incidents, some dating as far back as 2017, according to a news release from the police department.

There were several reported incidents involving the pre-K student. Police said the child would sometimes have "tantrums" where he would cry and scream. To prevent the boy from doing so on one occasion, Raymond allegedly placed his hand over the child's nose and mouth until he went limp.

According to police, a staff member told Raymond to stop after observing the boy was having difficulty breathing and was unable to stand. In another incident, the child was allegedly dragged across a floor by his ankles after he refused to leave with Raymond.

…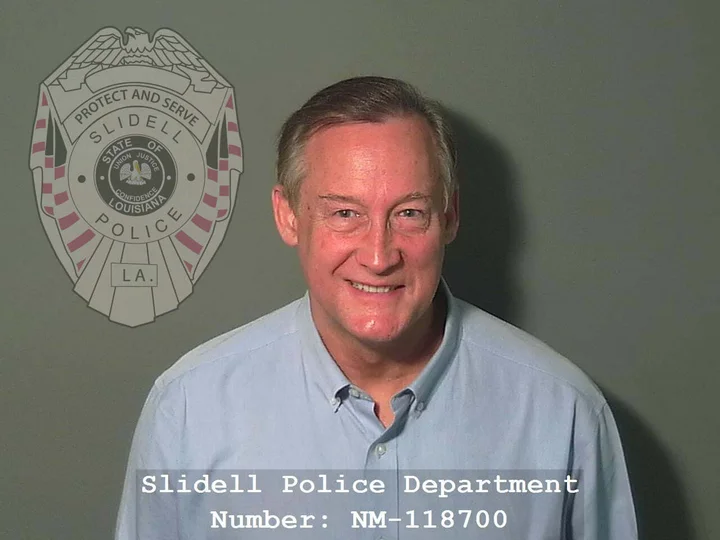 Looks like he wants to burn your house down, with the lemons.
"No Atheist Has Done This Much Damage to the Christian Faith
Leaders of the Southern Baptist Convention reportedly chose to protect their denomination by hiding abuse—and then attempted to destroy the victims."
https://www.theatlantic.com/ideas/archi … rt/630173/
Same people will keep going nuts about gays in schools and other silly nonsense. Deplorable. Clinton was right about that.
SCOTUS said a coach can make a show of praying with his team after a high school event. Disgusting on so many levels. I really dislike this sort of performative Christianity.

Didn't Jesus tell people to pray in private? They also gave this guy a private place to pray but he made it a point that he wanted to do it publicly at the middle of the field.

Time for highschoolers to pull out the prayer rugs and pray towards Mecca at midfield at the end of the game
I hope lightning strikes him while he is in the middle of a field prayer and survives. No way to misinterpret getting struck by lightning.
Boebert says she is 'tired' of separation between church and state: 'The church is supposed to direct the government'
https://thehill.com/homenews/house/3540 … overnment/
Rep. Lauren Boebert (R-Colo.) says she is "tired" of the long-standing separation between church and state in the U.S., adding that she believes "the church is supposed to direct the government."

In a Sunday speech at the Cornerstone Christian Center in Basalt, Colo., ahead of her primary election on Tuesday, Boebert argued that "the government is not supposed to direct the church," falsely claiming that dividing religion from the system of government was not what the Founding Fathers intended.

"I'm tired of this separation of church and state junk — that's not in the Constitution. It was in a stinking letter and it means nothing like they say it does," Boebert said, earning a round of applause from the audience.
beyond lol
great. so tax all the megachurches and gospel of prosperity goons.

america achieves socialism at last!
Not really sure what everyone is complaining about, everything the hard-right alt-christian nutballs are pushing has been mainstream normality in islam, and a lot in judaism too, since forever - and still we tolerate them.
Русский военный корабль, иди на хуй!
It's a lot more emboldened now than in years prior. Imagine getting a bunch of Republicans together and proudly declaring yourself the American Taliban … in 2002.
I like how the Taliban are angrily demanding western help when they've aggressively driven their country into the stone age.
Русский военный корабль, иди на хуй!
Dilbert_X wrote:

Not really sure what everyone is complaining about, everything the hard-right alt-christian nutballs are pushing has been mainstream normality in islam, and a lot in judaism too, since forever - and still we tolerate them.
you're talking about these groups as if they are monolithic. they are not. there are 1.8 billion muslims in the world. the style of government and principles of civic life in indonesia are not the same as in saudi arabia. you know this, but you're yet again being an intellectual runt.
jews and muslims coexist in secular democracies and abide by the legal and institutional frameworks of those liberal democracies. despite the spate of early 2000s tabloid articles about 'muslamic shariah law being forced upon leamington spa', that's really not the aim or expectation of 99.998% of muslim citizens in those countries. ditto with jews: europe and north america have had 'secular' jewish citizens since the middle 18th century, for christ's sake. there is a huge and active tradition of anti-zionism or critique of israel's policy within 'secular' jewish populations. many people identify as jewish as an ethnicity/background but practice no jewish religion whatsoever. they are completely normal, law-abiding citizens of their democracies. again, you FUCKING know this.
as for how the hardliners do organize their societies ... that's of rather less consequence than the world's pre-eminent superpower and most influential democracy pivoting to hardliner christo-fascism and qanon-adjacent madness. and it's possible to deplore wahhabism in the arabian peninsula AND evangelism in the american heartlands at the same time, whilst keeping their relative harms in just proportion. why do you always subscribe to this utterly stupid reductionism? you sound like one of those guys who people every comment thread on the CCP or russia–ukraine, pointing out that 'actually, the US accidentally dropped a missile on a civilian target in afghanistan one time too ...'. great job, genius.
as for 'not sure what everyone is complaining about' ... imagine saying that literally the week that roe v wade is repealed and half of america makes abortion illegal, all thanks to the fundamentalist christian far-right's 'long game' paying off, after decades of finagling, lobbying and political positioning. IMAGINE rhetorically dismissing the concerns of tens of millions of young women so that you can get off some totally banal cheapshot at 'those barbarian religions we tolerate'. and you wonder why you're lonely? it's because you're such a fucking kook with your anti-semitism/anti-islamism that you say utterly reprehensible things. EXAMINE yourself, for god's sake.
Last edited by uziq (2022-06-29 03:12:58)