The needs management/building stuff suits me more than Bethesda fare. Gather resources, build a shelter, build stuff to make gathering resources easier. Story is very optional and there's usually no "end" to work towards. I can play it and quit without remorse. Not that they respect my time any more, but I don't feel the need to savescum because some rando dragon killed a quest NPC.

Colony Survival was fun for awhile.
Rome Total War Remastered: They fucked it all up.
Steam reviews are mostly positive. They used to be 'mixed' but I guess some people came around. I will not be one of those people.
They changed the UI. THEY CHANGED THE UI. If you spend X00 hours in Rome Total War, you will need to learn an entire new UI in order to play the remaster. They even changed the unit cards. I was hoping to sit down and get right into the game. I don't want to learn an entirely new UI. Having toi learn new UIs is actually one of the biggest hurdles preventing me from getting into new Total War games. Why would CA do something like this?
I'm over weird decisions that they make, really. Why would you have to choose between a barracks and a bath in a city that is larger than a tiny desert island. The city planning in Rome 2 was just Bad, caps intended.

Take a look at the C&C Remaster, it's pretty cool.
One of the Rome mods for Mount & Blade had them beating their swords on their shields and stuff. Don't remember which one it was, and can't find the video.

I think I'm about at the point where I'll exclusively keep to Bannerlord and its mods.
RTHKI wrote:

I can't get into Rome 1 or Imperator Rome so I'm trying Rome 2 for the 5th time lol
Imperator is infamously shit among Paradox fans. I think the steam reviews are actually 'mostly negative'. Not sure why it exist since there is nothing unique in there that can't be done in Crusader Kings with some skin mods.
Hearts of Iron IV: I realized another problem with the game is that it is over far too quickly. The whole war wraps up too fast. The time spent preparing for war takes longer than the conflict. There is also no ebb and flow to it. One side gets an early advantage and then the war becomes a stalemate as neither side can make it across the English channel. It is especially embittering that by the time the stalemate period happens, you are drowning in equipment you will never use. At least in Crusader Kings, the late game is broken up by waves of Mongols to keep the game interesting.
Maybe I will get back into Crusader Kings 3. I would have to buy a crusader helmet for it though and I have no place to put one.
OK, I'm going to go all Paradox Forums for a moment. You should just get better at invading England. I've seen multiple successful playthroughs using trade interdiction and keeping your navy uncommitted to the North Sea or English Channel until you've sufficiently bombed the resistance out of the English fleets. UK invasion has been asked about like a thousand times and answered two thousand.

I'll concede that CK series does a better job of telling more human stories. HoI, thanks to the scale and logistics, is dehumanized in comparison.
How about Stellaris, though?


Stellaris: I checked Steam and I have 204 hours in that. I liked the original few Stellaris but after they changed how some systems fundamentally worked I dipped out. I do have some shiny achievements which is what I am all about.
I would need to really sit down and commit time to learning the new systems before I can post hate playthroughs here. Maybe over the summer. I just finished the World War 2 unit at the Missouri library service I work for so I am probably going to lose interest in World War 2 soon.
The development team for that game smartly realized the need for a late game adversely. I like how the Crisis and Fallen Empires gives you a late game challenge. Maybe that is what Hearts of Iron 4 needs: An Alien Invasion.
Speaking of the Paradox forums, did you read the apology by the developers for like 3 years of EU4 DLC?
Haha, no. They did that? Maybe I read it but just forgot. High hopes for Vicky 3 but we'll see.
Leviathan was one of the worst releases we have had, and follows a long trail of low quality releases starting back with Golden Century for EU4.

As the Studio Manager and Game Director, at the end of the day, this is my responsibility, so I have to apologize for this. This is entirely my fault.
https://forum.paradoxplaza.com/forum/th … n.1473454/
I can't believe they still have those stupid badges on that forum. My experience is that they're used for gatekeeping. You won't be taken seriously until you have a certain amount of them, but if you unlock too many then you're just showing off (or obviously you bought $500 of games in a single day to win an argument on the internet).

Worst case on the apology is maybe that maybe people were no longer allowed to complain about it as an unspoken rule. Just a guess, though.
Subnautica: Below Zero comes out on Friday, so goodbye weekend.

Untitled Goose Game until then. Hadn't opened it until a few days ago. Good light-hearted fun.
I played a lot of SBZ in early development, and a bit after they decided to revamp the story. Long break, looking forward to release.

Between that, Valheim, and Satisfactory updates, I probably won't have time to do all three as much as I want.
Recently released TC for HoI4 I might take a look at. It's nice to see people making halfway serious content for games that aren't just limited to stuff like "lol Shrek is president now portrait mini-mod." Looks really involved though, might save it for something to do after my second vax dose.
Palpatine's Gamble
https://steamcommunity.com/sharedfiles/ … 2477222513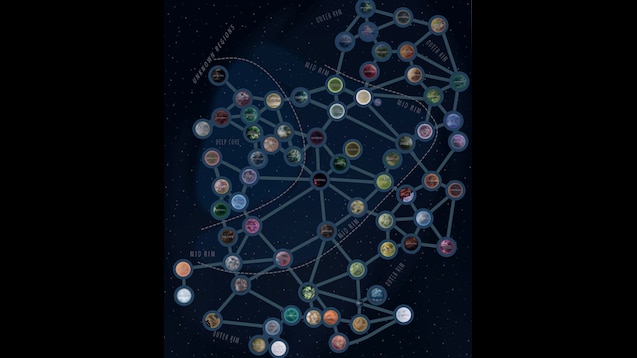 I had an email that made me aware that Mechwarrior 5 is available. I went to the steam page and found a negative review saying it's joystick support was unintuitive and awful. Joysticks have been sold in like the 90s for Mechwarrior games. Joysticks are still used for simulator stuff. Would it have been that hard for them to just make sure that stuff worked?
I am the most easily pleased person here.
Unless you're shopping for magic cards at your local comic book store.