I remember having a bunch of old games including Chip Challenge inside a floppy disk tray.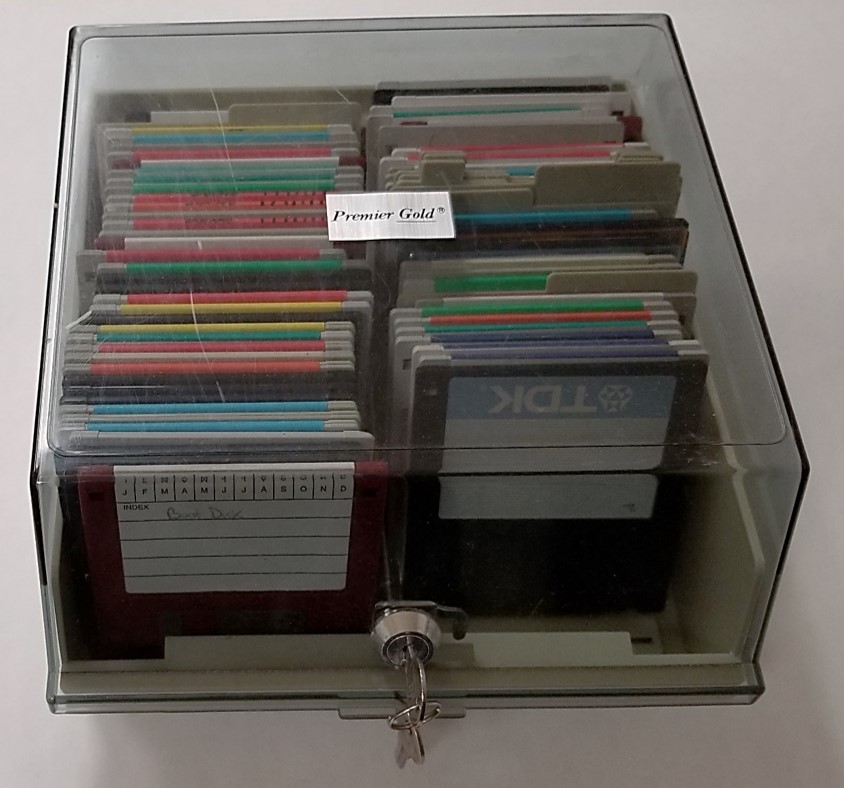 Damn, I wish I had that tray.
I still have one somewhere in storage. Probably a lot of MS DOS, boot disks, and a few "shareware" games that cost almost as much as the retail. My best "bootleg" is a copy of an old overhead Battletech that I got from a buddy in junior high. Very good game, RPG elements. Couldn't find in stores.
Have you ever installed Doom II using floppy disk?

Definitely installed shareware Doom using floppy. I think Doom 2 and from then on was mostly CD-ROM.
g/z dooms, Brutal Doom and the laundry list of associated mods and maps are sure a love letter to the old series. I still need to play the one that turns Doom into an uninterrupted map.


Speaking of CD-ROM, do you remember how awful it was having to have a disk inside in order to play a game?
A lot of what I remember IRT that, is being for things like cutscenes and music, a CD still represented a significant portion of your mechanical storage potential. Multiple discs made it a little annoying, but at least gave you a good intermission spot. "Wow I'm on disc 2? Better go eat lunch" vs "just another 5 hours straight and I'll beat this campaign."

Maybe it was worse for console. I stopped at SNES and picked it up again on PS2/3.
HOI4 campaign. Will post screenshot later? It is '46 and NATO and the Comintern are locked in war in Europe. The U.S. directly controls Spain, France, Italy, Germany, Japan and the U.K. The Soviet Union has Poland, Austria, the Balkans, India, Africa and parts of Asia as puppets. When the war started, Canada, Japan, and Mexico were part of the Comintern but were defeated very quickly.

Europe is a stalemate now. Both sides have a tremendous amount of troops on a long front. NATO can see Warsaw and Vienna from their lines but can't advance. One major issue is that the communist have air superiority on most fronts though they leave one front without air support. They stick a bunch of troops in the Graz region and allow me to nuke them over and over again there. Pretty funny watching the casualty numbers on their side go up by 300,000 from single nukes.

I have an advantage in overall troops numbers for now. I plan to keep Europe frozen while using my huge navy to pick apart Communist territory in Indonesia, Africa, and Latin America. I need to take over the rubber and aluminum in those places in order to break the air superiority of the communist through attrition. Hopefully by then i will have collaboration governments in Germany, France, Italy, and Spain which can build themselves up to break the stalemate in Europe.
Sounds like things got wonky pretty fast.

I played one recently where the US ended up in control of much of Africa and Southeast Asia. Turkey was in control of much of the surrounding countries. Both ended up in separate wars with the Comintern, Axis, and Allies. The US had lend-lease to countries it was technically at war with, because they were at war with other countries it was at war with.

Germany folded at about the same time the Turkish expansion collapsed, and nations formerly under its control sprouted up as a new Axis comprised of democratic, fascist, and communist governments. London was the first city nuked, a few months before Japan folded (retaining control of the South Korea area and ceding a ton of Pacific islands to the US). World War 2 ended. The Soviet Union split up into its component nations, and all that was left of Russia was a US-supervised government in charge of a strip of land stretching from Europe deep into Asia. No enemy soldier ever set foot on English soil even after the bombing, and the UK maintained national integrity. Comintern is extinct in the wild. The US hosts Communist China as a government in exile. Axis countries are spread all over the place. What remains of Turkey stabilizes, and the war against an expanded Greece and New Persian Empire ends. The few remaining spot wars were between countries that had no way of reaching each other, except for Pakistan and the US. There was a beach landing opportunity but the Americans never bothered in like two years.

I strongly suspect that the War Plans branch of the US focus tree are a tad bit yank-bias.
I picked up Assassin's Creed Black Flag a while ago and finally got around to playing it since it always had good buzz and... I don't think it's that good. The setting is fairly interesting, albeit none of the locations have the same cache as Florence or Rome, but there's a shitload of long, drawn out cutscenes for so many actions (only some are skippable) and it's too damn easy. Everything is really dumbed down compared to, say, AC2. The parkour, the puzzles, the combat, even the assassination missions. Most of the time you can stab a roof guard and ice your target with a musket and get full credit for "avoiding combat".
Some years back I finished most of Black Flag except I think a couple of the ridiculous four corners boss fights. I enjoyed floating around and getting through maybe 30 seconds of a shanty before cutting it off by leaving the wheel to go swimming for a collectible on a sandbar (repeat like 50 times). I'm a pirate ship captain, why can't I just send some guys over on a boat with a ladder to go grab the thing up in the trees.

The non-ship parts felt underdeveloped, I agree. "Sneaking" wasn't very good. If a game's going to have stealth mechanics, it should aim for some fusion of Thief and Hitman. Also there wasn't a lot to parkour on, so a lot of that just felt wasted.

Black Flag is a 2013 game. I don't know how well it holds up in 2022.

Rogue is the follow-up, isn't it? I have a copy but haven't gotten around to it yet. Did some of the tour mode on Origins. It's pretty chill if you can ignore a little revisionist history (well discussed elsewhere), but never got around to the game aspect. I got the Greek one for really cheap on sale. Set until like 2035 at the rate I get around to these kinds of games.
I've had that on my wishlist for a while since it came out. Seems it could be pretty fun to play with a group of friends, but could be quite tedious on your own.
Zomboid is one of the most customizable games out of the box I've ever played, even before adding mods. You can make it about as grindy, or not-grindy, as you want. Alone it might be worth a few weekends. With friends, more. If you enjoy survival PVPs, maybe even more.

I don't think I've seen many games with a character mechanic of depression. Mono-diet of rotten butter sticks, "you are now sad." lmao

It's had a ton of polish since it came out.
I just need to finish the British off and then I should be ready to start the civil war. I am big enough that I am producing more money than I have to spend.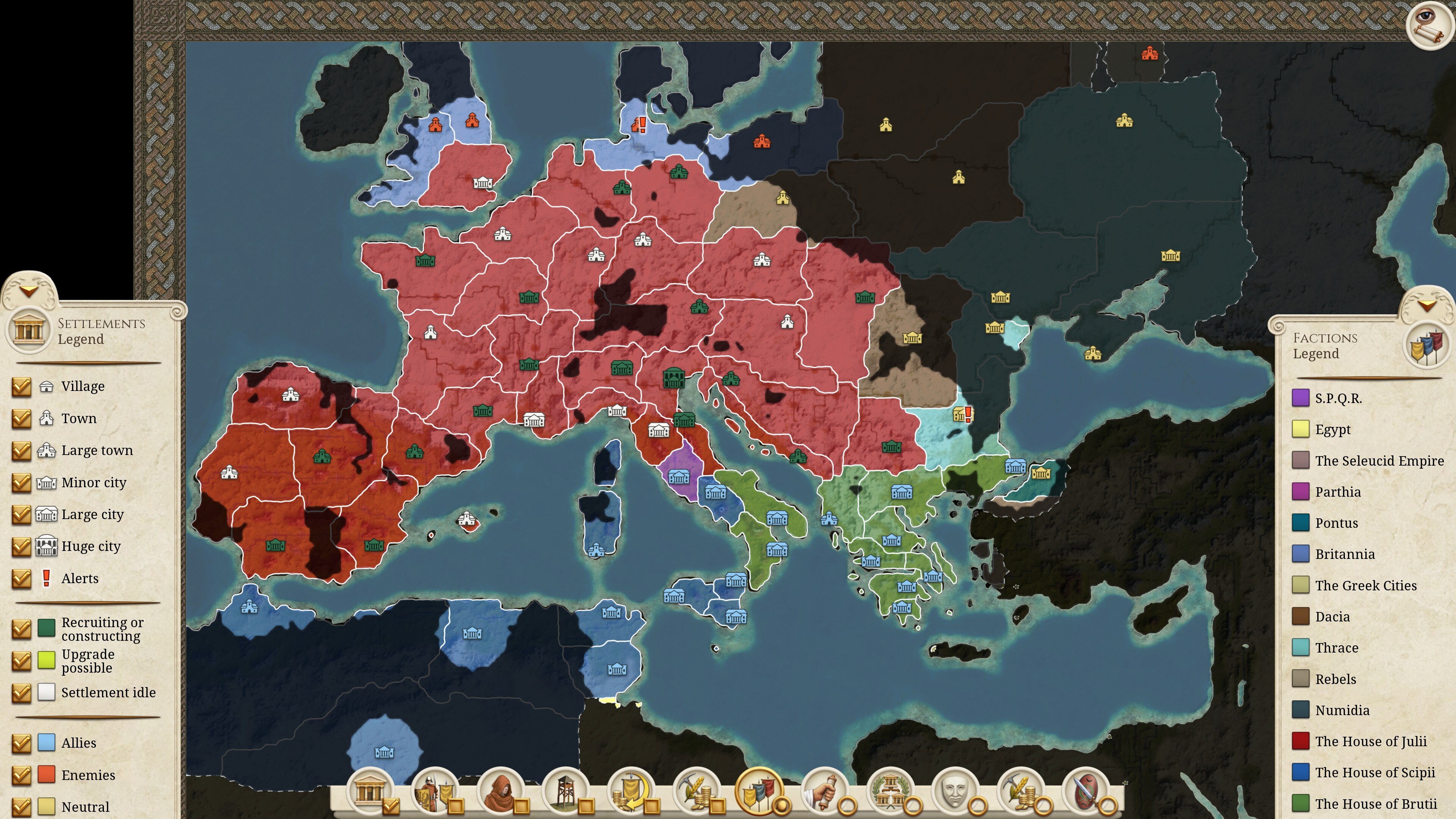 Shiny achievement.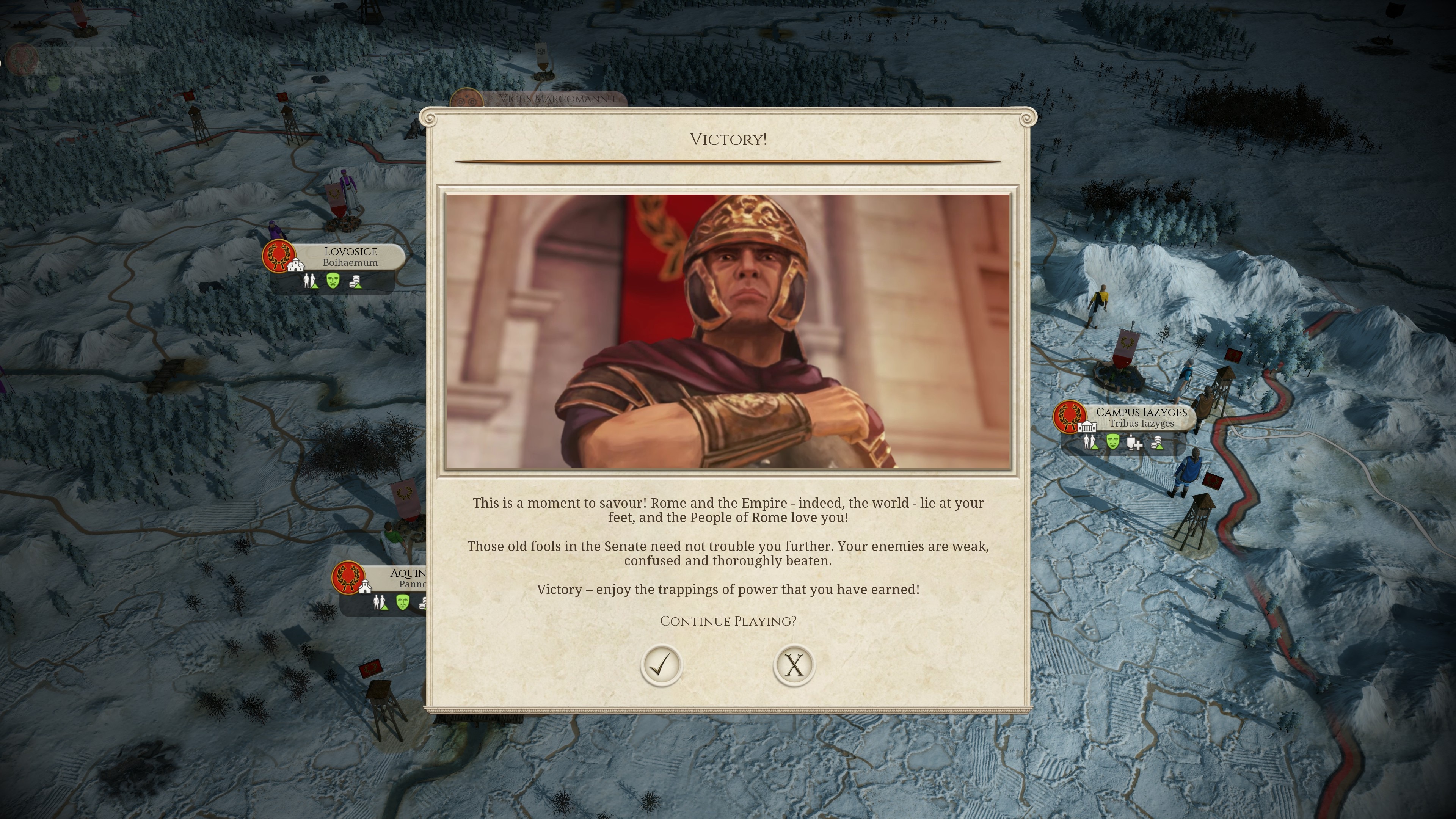 4x maps always remind me of petri dish mold.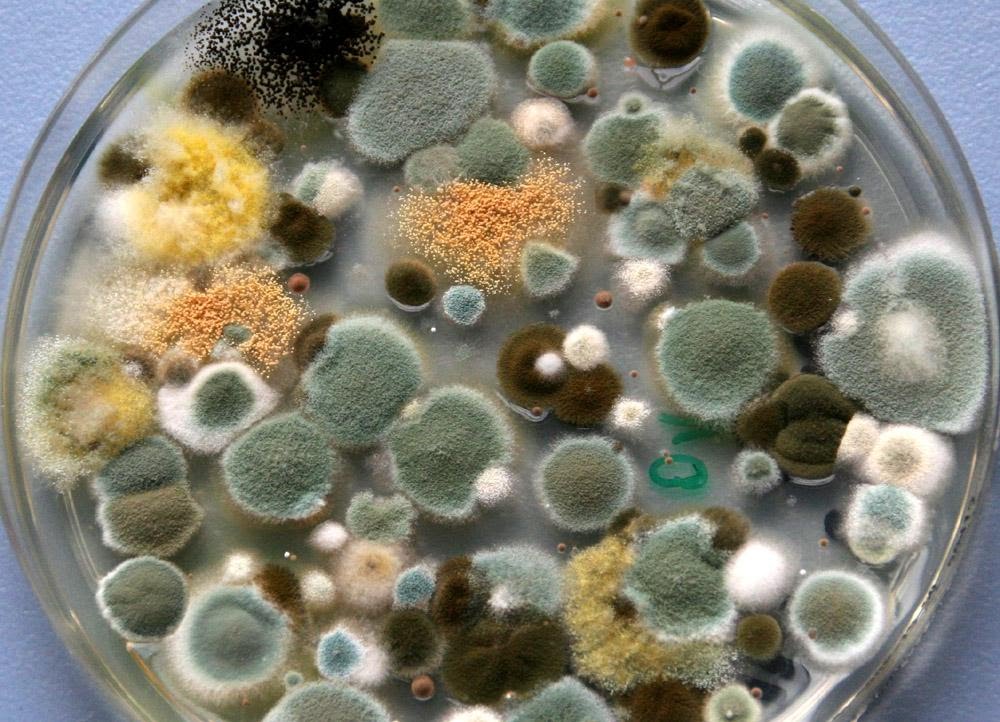 This screenshot doesn't do it justice but this is what max unit size + 4k ultra looks like on a map. 90% GPU usage.
Who remembers Titanic Adventure Out of Time?
Can you prevent the sinking? Can you cause the sinking? How many decades until the 9/11 game.
Can't stop the sinking, that's inescapable.
But you can prevent WW1, WW2, AND the russian revolution. So an equal tradeoff.
No moon tonight.

By Cyberflix of course. I very much enjoyed the apocryphal enigma decoding and boiler room puzzles, though.
Played a campaign of Rome Remastered. This is my Roman Empire at the end of the playthrough. The micromanagement at this size is a pain and the game's automanage is bad. It was a lot of fun though. Highly recommend it.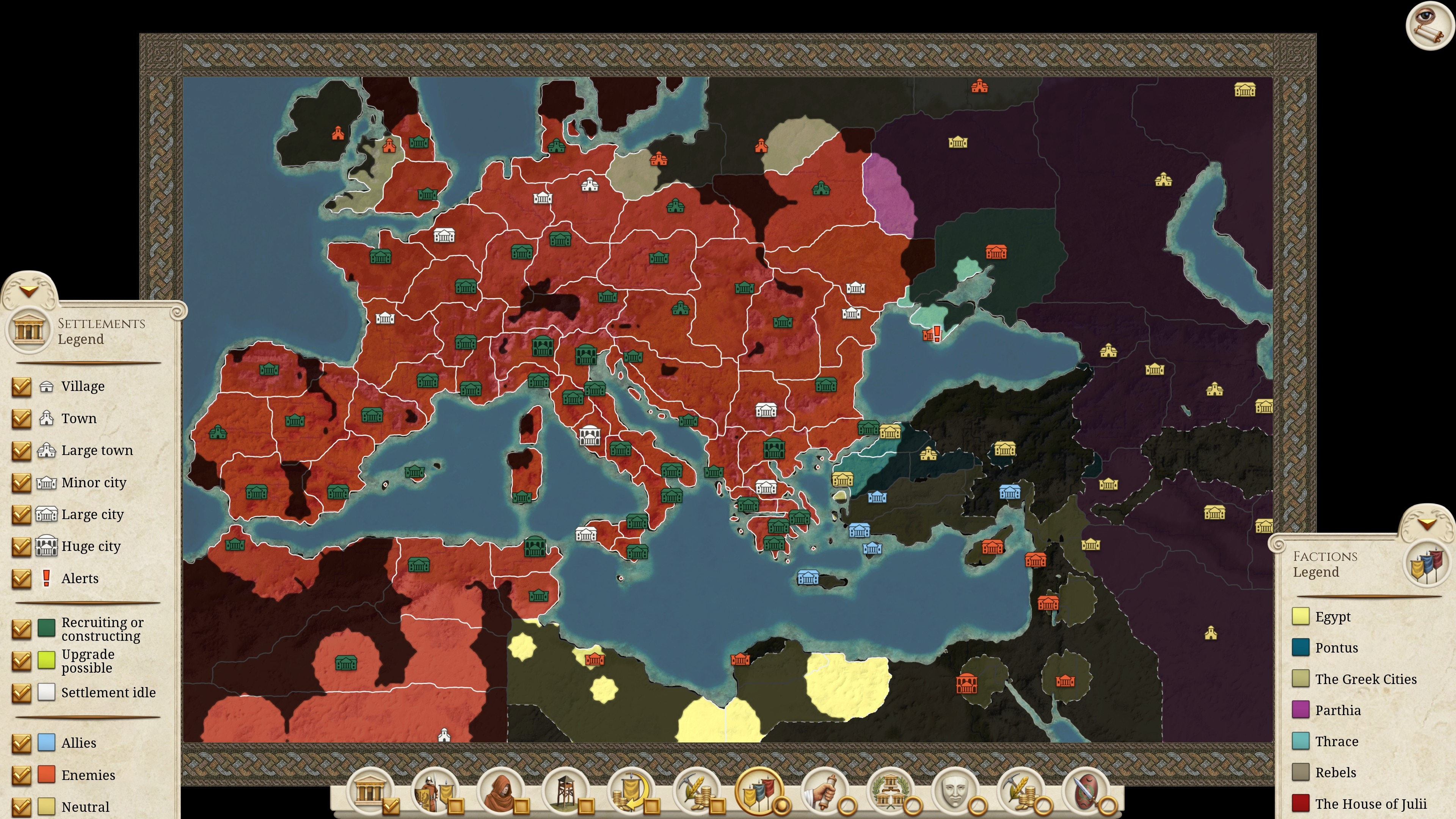 I bought all of the DLC for Stellaris. Winter Sale + Bundle Deal wasn't bad. This is my empire at the end of this playthrough and this is the game I want to bitch about.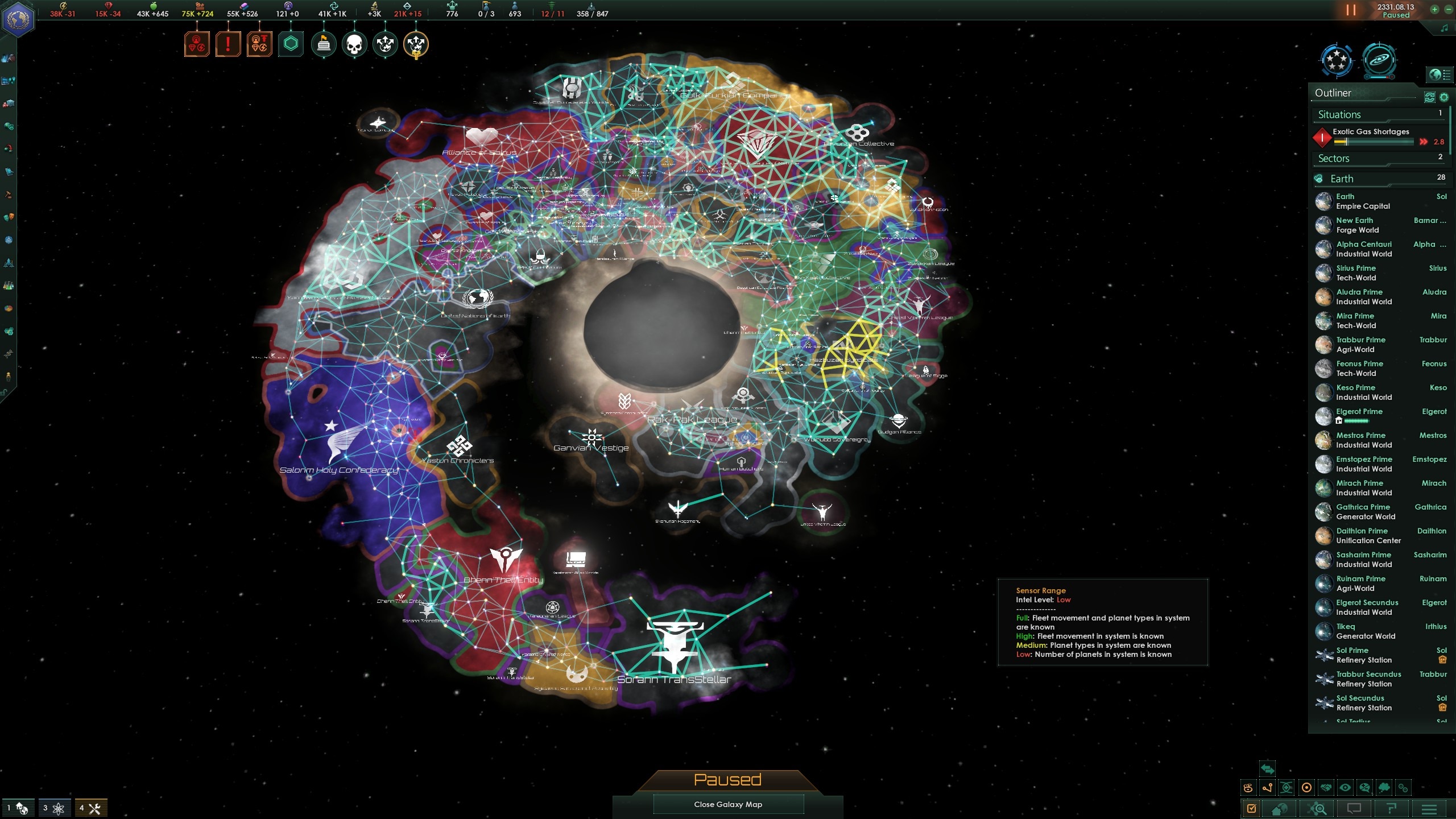 The micromanagement in this game is nightmarish. It is the worst of all Paradox games. Worse than Vic 2 in fact. They grafted complex economic management onto what should be a space conquest/exploration system. It seems like every new DLC added in more economic management. Worse, there is now a Federation system that prevents conquest or doing much outside managing planets and spamming habitats. You can't violently expand in any direction or else you will have to fight a bunch of different alien empires. And even if you do expand, then what? You will just get more planets to micromanage. The game allows you to automate some of the micromanagement but the game doesn't do it well.
There is so much micromanagement and resources management going on that I frankly can't be bothered to learn or take part in the space combat stuff.
Example: there are half a dozen "special resources" that are rare and you need the right tech to even exploit in the rare instances you can find it. To put anything cool onto your space ships, you will need to get these special resources which is a pain. You can't have a cool fleet without micromanaging special resources. At least half a dozen of them. I don't even feel like building up my fleet since I don't want to have to move resources around the game's "open market" just to build and supply the ships. I can't devote mental energy to learning the ship designer because I am burnt out micromanaging planets and all of the cool stuff is locked behind some micromanagement hell.
Finally, just starting a new playthrough is so hard. There is so much early micromanaging to do that I frankly don't have the willpower to fire up a new game. It will take hours just to get the ball rolling. And the game is still full of bugs, and "content" that can totally ruin an entire playthrough. I stepped away from the playthrough above because of not only the earlier mentioned problems but also because some DLC content just gave my empire an unfun albatross. I will make sure to never start that event chain again but the event chain is DLC. What a shitty situation.