Search results: 55 found, showing up to 50
wow that bomb at 30 seconds was awesome, great vid!
xombine wrote:

Aphex Twin - Come To Daddy
For such a high card as the X1900XT, yes you can see huge improvements with new drivers. Catalyst or ForceWare driver updates are directed and changes and tweaks for high ends cards anyway.
Awesome vid! Spectacular editing, great footage, very nicely done. Got a good lol out of the guy flying up in the air.
Towelly wrote:

The second was a map that was suspended above earth on a giant asteroid, 2 massive towers on each side and a load of stuff going on in the middle.
I remember that one..."Face Earth" or something like that?
NooBesT[FiN] wrote:

At 95 % of cases when patching up, Incrementals cause you the need to reinstall whole game again.
Well then I'm always the other 5%. ALWAYS. So I want a damn incremental.
Meh, won't believe until vid or at least screenie.
no problem

How's progress?
No one's in now, I'm going in...
Damn you're good! Good vids, liked the 2nd one's comment: "Silly Essex, it's a J-10!" Really great infantry ownage on the third, great shots with the AK-101 and M16, picking guys off. +1
With Infy only you need at least one Support for the nade spam.
To compress vids:
Download VirtualDub -
http://www.virtualdub.org/
Download xvid codec -
http://www.xvidmovies.com/codec/
1) Install Vdub and then the codec.
2) Open up your movie file in Vdub
3) Go up to Video > Compression
4) Scroll all the way down and you should see "Xvid MPEG-4 Codec"
5) Click that and hit OK
6) Go to File > Save as AVI
7) Pick location and make file name, hit OK
8) Watch it work
Firestarter by any chance?...

I wouldn't. Been used quite a bit.
There has been enough Crystal Method in BF2 vids!!

Like I said, and got support from EternalPessimist, you really need to use "Come To Daddy" by Aphex Twin. It's perfect.
Aphex Twin - Come To Daddy
Awesome vid! Loved the syncing of music to the TV kills. +1
That's...great...

Making a vid of actually killing him on the other team is respectable, though.
slicknic wrote:

wats wrong w/ u people lol.. cant u say awsome! and move on ><

i know ive never killed 9 people w/ one grenade.. and even if i had.. id do the same thing

i suppose some people have pride issues.

and even if hes lieing(which i dont think he is).. who cares! lol wats accusing him of lieing gonna do ><.

heh.. just my .02

oh and.. awsome!
Finally! Someone with brains. Everyone acts like it takes no skill and that they could easily do it.
Riddick: 1) No, you can't show more than 5. 2)
http://www.totalbf2.com/forums/showthread.php?t=95240
3) I'm not totally sure, I just downloaded Ringmaster's.
Adobe Premiere and Sony Vegas are the best. But they're damn expensive.

But then again, you can get anything free...
Hafey: Bahaha you have even more time on Kark than I do.

Karma: Why did you "loose" respect for me?
Heavy_Guns_91 wrote:

*sigh*
It's karkand...

But anyways, good throw.
So? You can go out and get a 9 kill nade easily?
lol the best part is "Is the water cold"
Todd: Because the other two nades didn't kill anyone, just the first I threw. And do you even know what the console is? The score screen isn't the console, the console is brought up with the ` key. It shows all the kills and chat messages.

Patton: Why? Because I can...and things look purteh with it on.
cr4zychris

Please pwn me, I'd love it.
c4_he_was_famous wrote:

professional settings which make ppl easier to see...so easier aiming for heads and stuff like that....it works
Aimbot?
rofl you nub.
ty for the comments everybody.
leetkyle wrote:

i think you have 8 not 9 kills.. as your total kill streak is only 8 so..
8? Err...it's 26. :S
Wtf are pro gfx settings lol?
RoosterCantrell wrote:

Lying about it would be pointless and lame. I believe you. Nice! Probably was 3 recently dead people and 6 raping medics in a vunerable little ball together.
Yep, that's what I figure. If you look at the minimap you can see the UAV sweeping over. I had just been killed trying to defend Hotel and then respawned at Square. I started running back towards Hotel and saw about a billion red dots from the UAV so just sprinted as fast as I could and chucked a nade.
c4_he_was_famous wrote:

i count 5...o and there is a way to take a acreenie with the window open...i saw sum1 have it b4...dont know how though
yeah if I had Fraps open I could have...but I didn't.
Obviously it only shows 5 in the upper left, but I opened the console and it was 9. I tried to take a screenie but I guess Print Screen doesn't work when the console is open. Anybody beat that?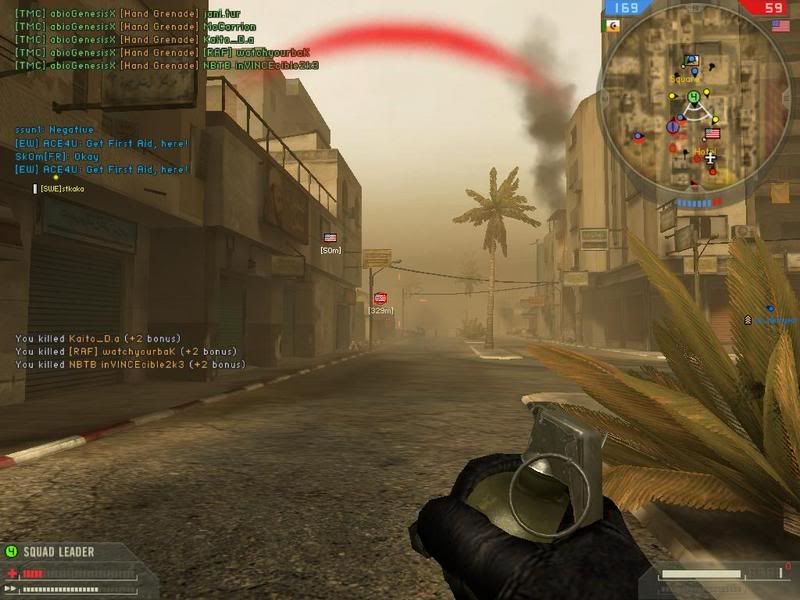 You get it after 50 Unique knife kills, and it's called the Dogtag Dagger.
Because one of the server's rules was most likely "If you're going to command, don't do anything else, command!"
Yeah it can, but you can't really call it "shock paddles" now because it's like a...little...shocky...thing.
Grr...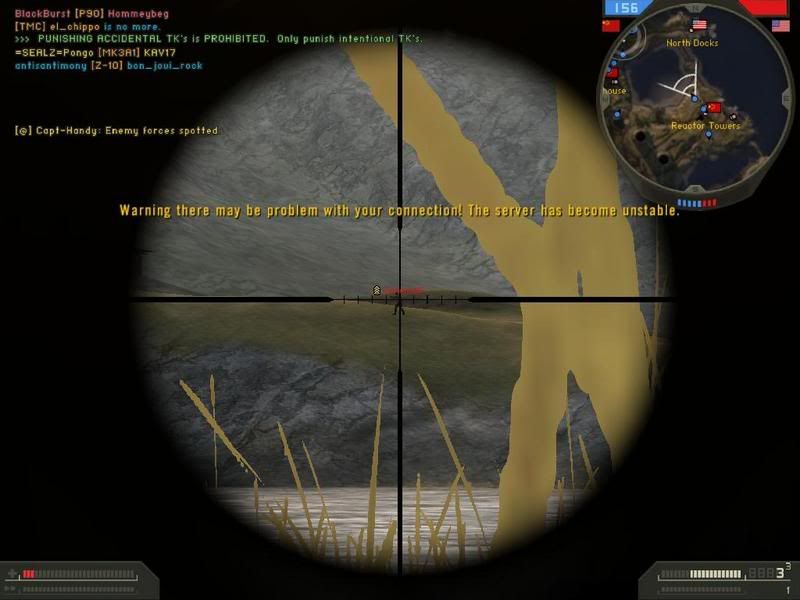 Paco_the_Insane wrote:

just grab one on wake and spend some time running over jet whores. then their like " o noes, i cant punish him for some reason"
You have to jump out before it hits them though, right?
Damn man that video rocks. It was sick when you went through that warehouse on Daqing, and I almost shit myself when you bombed yourself.
lol all those kills and you still don't have Vet Explosive Ordinance.

And Jesus man, 600+ hours and only 17 Golds?!
So I had to reinstall BF2 today and got everything up and running fine. The only thing is...my sensitivity when on menu screens or TV missiles is now WAY higher. When the spawn screen comes up I barely have to move my mouse and the cursor is across the screen. I fired a TV missiles and the little crosshair to guide it moves much quicker than before! It makes directing them successfully and hitting the target a lot harder now. I checked my settings and the sensitivity levels are all where they were before. Anybody know how to fix this?
No. You can't use PayPal to purchase SF as a download.
lmao that is a one of a kind screenie. Great job Sniper3.
Happened to me before. Was flying a Cobra on Wake and getting circled by a J-10. He went on another bombing run and sprayed the machine gun at me as he went by and shot me right out of the pilot's seat. No gunner so it just slowly plummeted all the way down.
Your face is gay.

Oh no I didn't!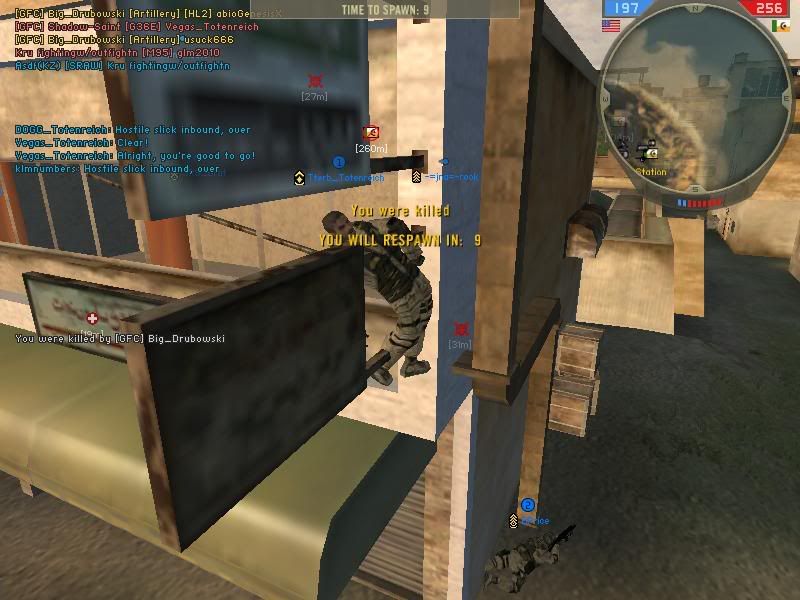 All he does is throw down ammo bags and just keep chucking nades.



And he' damn good at it.