Search results: 1,205 found, showing up to 50
a new copy cost 15 bucks....now.
**LiLp-DeFiNeD wrote:

I didn't get what they were actually doing, like what action?

You guys totally got pwntd by the Pyro's tho X(
-take your diguse kit out ( the cig, holder) but don't use it
-look up approximately 20 degrees upward
-crouch
-walk
-crab crab crab crab
YA love the pyro NOW. ...but man...now soldier is...lol.
mikkel wrote:

shift+delete
ALL the time...! so 0.
WOW yo man....the courts are like....got their priorties messed up...man YO man....15 years? for talking about it.....but don't like....people who actually do that stuff actually get a lesser sentence then that?
played it for a little bit.
for me the turn off is that there are not alot of people who play it.
also it tends to 'realistic' as only certain classes can drive a tank
maps seems large
you can put a bayonet on your rifle, iron sites etc etc
initally i did not like it but then again i only played for like 40 minutes or even less.
but then again i liked dod/dods off the bat...
three words: sliding supply crate
OMG HAHAHA you got me you got me....
You kill people....more of em...don't stop

or you medic whore on karkand......and don't stop doing it.
Thats FU*CK#$ UP MAN>! what the hell..you chopped your skin RIGHT Off.
oh god just joined in and damn all i have to say about sean...DAMNH and lol. the long hair type that is cocky and steals your girlfriend....you have to fight him...if not you can atleast salt his garden.
to be serious. no man i think you have let this one go....IN STYLE!


EDIT: to be serious


RIse of legends...ok game ...really liked the intro
DODS IS THE SHITZ!!! YAA! kar98 for the winz!
Wallpaper wrote:

Inconsistency spotted!

You said you hate furries, and then you say you CAME on the FF XII bunny girl!
touche...but that because that bunny girl BIG different between carebears lol
m4s3rchi3f wrote:

you a funny man... lil too much time on ur hands...but i appreciate it.
i don't have a t.v. nor do i want it....can't afford it...but i got a lot FLOPPIES THOUGh!
the internetz is my entertainment
<BoTM>J_Aero wrote:

Just what I suspected for the entire time, you're secretly jealous of all the cosplayers.
hey who not love to dress up and pretend? lol
Mitch wrote:

Any ideas of payback

.
OHh man....i know what you can do.....and its tottally legit too.
or EVEN BETTER!
Be prepared, this is a long post….of extreme sadness and gut hurting laughter.
I don't how many of these threads "omg bad cosplay thead" I had made already. But I make them and post them on bf2s forums …because… why?
Because bf2s forums will always in my heart as it is the forum that I use the most of all the forums in the world. 2nd place is neopets.com when I pretend to be a 15 year old girl. j/k.
I want to share with you guys (there are no girls on the internet ) one of my sick past times: searching the internetz, collecting pictures of poor sobs in their makeshift costumes, and lolling at their futile attempts. Ya I am a hater.
…..COME ON! You guys know and have to admit its hiliarious to make fun of people and the silly "hobby" they do, especially when they suck at it.
Know I am not an idiot. I know and admit the reason why we think a person who cosplay is bad is probably because they are not sexually attractive. At this point, it does not even matter if they don't' resemble the character
.
For those who don't know what cosplay is…
"Cosplay is a term that originated in Japan but is based on the English words "Costume Play," essentially play-acting in costumes. In Japan, CosPlay is not limited to anime/manga, but also a staple of many other entertainment industries such as science fiction and horror. In North America, the term CosPlay is reserved for anime/manga related costuming.
CosPlaying can be divided into two categories: basic cosplay and Masquerade. While basic cosplay only involves an attempt to look like a particular character, either in the halls of a convention or on stage, Masquerade is much more involved. When masquerading, CosPlayers attempt to act as the character would. They often have prepared skits with memorized lines, and the more advanced masqueraders can easily ad-lib their character's personality."
For those who hate to read: cosplay is dressing up as an anime or video game character and posting yourself and your friends on the internet so that an Asian guy who nicked name himself as "agent146" who is NOT a Nazi spy *shifty eyes* finds your picture and post it on bf2s to lol at you.
Another definition of cosplay is: PRETENDING that you are someone who you are not.
Picture not related to the above statement
Alright lets start it off…:
These sob destroyed pokemon for me.
I give props for lol. I also will back a way slowly.
OHH god Rinoa and yuna from FF game…WHY!!?
I told you guys; cosplayers are freaks.
Link from ocarina of time: the coach potato era
I will not make fun of him because he is still young…
DUDES!! GUYS, I MOTHER#$%King laughed at this pictures for over 20 minutes. This orange thing is not from a game or anime is it? OMG lOOK AT ITS FACE!
DUDES GUYS I MOTHER F#%king laughed at this picture for another additional 20 minutes.
….touche touche.. good cosplay. I can't say much.
THE TOWER FROM LOTR…IS FAT. He also looks like a sun flower.
SO you want to be black now? Barrett from FF-white version. Lol
Narutard
….i shivered…
…I CAME!
So you know there is going to be a Solid snake movie coming out? Seriously !!
…SUDDENLY…MANY NARUTARDS
Mixed feelings …mixed feelings…never though toad (from Mario) can be this…ample.
DAISY>Peach….despite the fact daisy is a cross eyed
Peach is grown up and kicks ass in brawl.
NOOOO
DOUBLE NOOOO
Starwars: c3po and r2d2. lol look at the dorky c3p0
A condom…seriously I have no idea.
FENDER WOOHOO!!
Voted as the best worst cosplay at the anime convention
This guy is godamn sad. But from what I read the girl as raven is his girlfriend. LOL GEEKS!: "so where you put your extendable staff?" lol seriously…robin's weapon is an extendable staff in teen titans….
I am amused…I will let this picture pass with out ripping it. You guys know there is going to be new street fighter MOVIE!>?!?
Don't know…don't' want to know
This is cosplay. No joke. Anyone know what he is from? Answer: STALKER….. ya go live in Russia :p
I give the Filipinos (because I was told this cosplay was in that part of the world) two thumbs up. But I though matrix was better.
To good to be ripped.
OMG I HATE FURRIES WITH A PASSION. Sonic is dead to me.
I rub my sausage to this…. Lol (random bunny warrior)
PERFECT!!! to bad I am going to kill her to get my money back Remember cosplay is about video games also.
FOX is dead to me. Super smash is dead to me also.
I AM CHARGING MY LASERZ!!
I AM FIRING MY LASERZ at FULGY LINK
I STEALS FULGY ZELDA
*FULGY Link's hearts is down to half*
NUUUUU!
FULGY LINK SAVES FULGY ZELDA
MEGAMAN is intense
2nd version of shitty ass version of c3p0 and r2d2
This pictures truly shows what female cosplayers are…fat and sexual deviants. Look as she actually puts the tentacle monster into her mouth.
This is not COSPLAY this is..LARPing (live action role playing) its uses dungeons and dragons….none the less..still gai.
FULGY- true definition of a narutard.
Don't watch beach but I can tell you these guys look very similar to the characters they are portraying
Ditto above
A CHALLEGER APPEARS on brawl. Fox, yoshi, and blue thing….ARE ALL FAT. This is unbelievable.
Soo…you kinda noticed by now that US/Canadian cosplayers are not to good as their fellow asian counter parts…man wolverine has aluminum foil claws…and damit look a the blue thing. Shit this fat Asian guy on this next picture so much better then these jokers
He is fat and he is Asian and he is cosplaying PIkachu. THIS IS CUTE AND GREAT!! And lol
Now this is what I am talking about….this cosplayer strikes me with so much fear that I won't call him a narutard….to his face. Behind his back…maybe….maybe.
Otaku, anime freaks, weebos, japanophiles, what ever you call em…they sure do suck.
Final fantasy advent children…great action pack movie.
Googled "retarded cosplay" and this was the first thing that came up. WRONG WRONG WRONG.
Man…what the hell.
I believe this is the only decent pictures in my entire post. But I can assure you she won't be decent after I plow this "chobit"
Ultramarines from warhammer.
Cheap ass cosplay in jeans as a digimon. Sad sad poor son of a gun.
Bowser.
Do you really trust him to fix your plumbing? NONO not the fact he is black but the fact he is a cosplayer!
Can anyone imagine getting into a fist fight with this thing? I can.
IT'S THE COLONEL!
Vincent from FF Dirge.
At anime conventions you will see hundreds of over weight sexual deviant girls with these signs. I shiver…
Black Gai from naurto amuses me.
SOUTHPARK!
FINAL FANTASY FREAKS …AGAIN!.
YAAA!!!!! Sure she is not a looker but the point is that its PORTAL!!
So I told Emo link: "DO IT
[email protected]
! CUT YOUR SELF! I DARE YOU"
FOR NExT PICTURE…BRACE YOURSELF
OHH GOD I though I saw the worse…no…DORK METER just blew up.
Jesus is an video game/anime character?
The seller from resident evil 4?
I MANGED TO STEAL SOME FRAMES FROM THE UP COMING HALO MOVIE!!! ZOMG LOOK AT ITZ!!!
Lol no its taken off a site that have a bunch of guys who dress up like master chief and marines and ya…still great. And it give a good hype for the HOPEFULLY good Halo movie.
I though blacks suppose to be tough….man this guy makes Care bears look dangerous
THIS IS AWESOME…KILLZONE!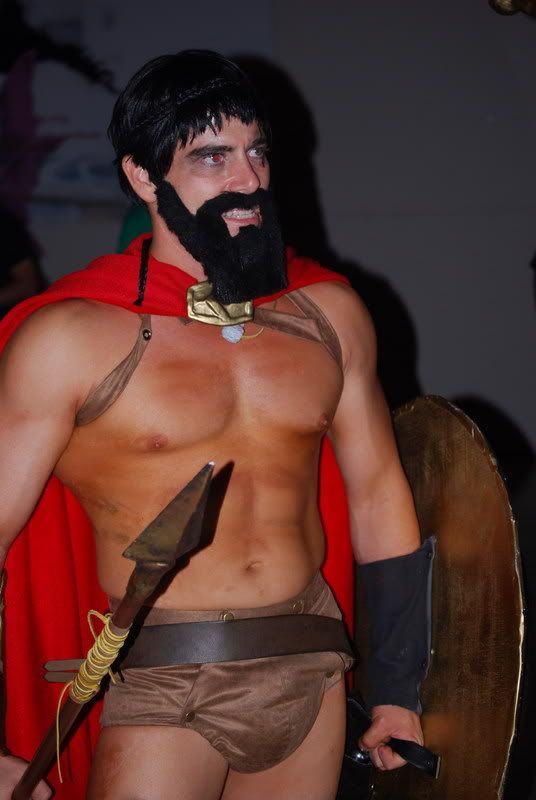 THIS IS SPARTA!
Its hippie version of Kingdom hearts.
So…you guys know that there is going to be a Gears of war movie right? LOl.
…………….
 they look cute.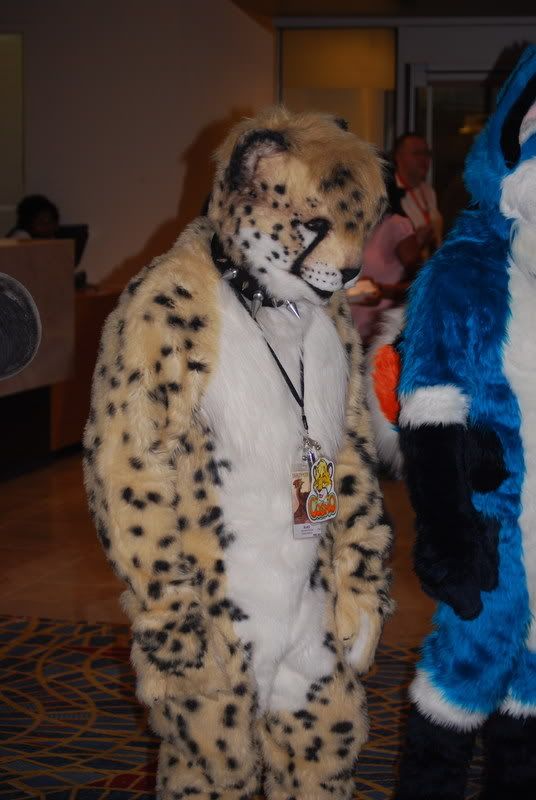 ….Nu…just nu.
Last one….
See this anime chick the next photo you will see her again and all her wacko friends.
Note the guy/girl looking freak on the far right. All I have to say is…"damn why the hell is the only normal looking guy (far left) have to have his face scrambled.
Look look guys I am no fool. I mean we have to give props and an applause for these people…I mean these "freaks" and "wierdos" take the time, money, and effort to make their costumes, go to a convention to have fun WITH their MANY FRIENDS (as one could see in these pictures).
And while WE are sitting in front of our computers in a lonely room to made fun of these people on bf2s forums. Which would probably not affect them at all even if they see this thread. ….so I admit in reality…we/ I am the loner…..
And besides I bet 70 percent of bf2sers would look like shit if they cosplayed any ways.
BUT BY GOD You HAVe to agree that the furries got to DIE.
hey hey i mocked these poor souls so that is why I am going to show you MY "cosplay"
I am going to cosplay this latino looking gangsta
I copied and I think I look more hardcore cuz I got more Floppies…BIATCH.
Now I
COSPLAY BATTLEFIELD 2
and I kick all the commies
WHOOO
I am preparing to bunny hop to victory.
please note these are not real rifles or pistols. in no way i could get an mp5 into canada.
but they do hurt alot when your hit...
for gun buffs or those interested:
kcw m9 berretta
uramax berretta px4 storm
ICs mp5a4.
csmag wrote:

agent146 wrote:

Mint Sauce wrote:

Having recently bought CS:S, just for the hell of it, it installed Steam aswell. I think it's ridiculous that you have to start Steam to play.

And from having used it the few times I have, 5 out of 6 times it has frozen and crashed. And when it's running "perfectly fine" it's buggy, unresponsive and takes ages to load.

Without a doubt the worst program I have ever used.

PS: Don't join me on CS:S, I fucking suck at it..

you know what? lol zomg my cs s and dod s had been crashing recently as well.

but it worked before for years fine but now...its ...freezes and crashes. and i am like...screw it i am goign to play bf2!

Do you have an ati card?
no...but i will be getting a new computer soon so ya.
but seriously i think it must be my graphic card that is over heating...only when there is big gun fight the game freezes.
it did not feel like the other indiana jones movies.
and the ending was like....so...why did the bad chick die? that was a crappy ass "gift"
lol like sheep to the slaughter house
Mint Sauce wrote:

Having recently bought CS:S, just for the hell of it, it installed Steam aswell. I think it's ridiculous that you have to start Steam to play.

And from having used it the few times I have, 5 out of 6 times it has frozen and crashed. And when it's running "perfectly fine" it's buggy, unresponsive and takes ages to load.

Without a doubt the worst program I have ever used.

PS: Don't join me on CS:S, I fucking suck at it..
you know what? lol zomg my cs s and dod s had been crashing recently as well.
but it worked before for years fine but now...its ...freezes and crashes. and i am like...screw it i am goign to play bf2!
Spider1980 wrote:

What about it? taping a bunch of crap to a gun?
ya was that a "scope" mouth wash bottle attached to it? damn.
lol i personal have a "epic music" folder.
from what i can tell epic music for you means (simliar to me) latin chants, quick beats with a sense of urgence, trumpets, etc etc.
mine to name a few (which i found ) and liked:
"what we need is a hero"-from beowulf movie sound track
"over the hills and far far away"-sung by Nightwish.
"Antrozous"- Batman Begins Soundtrack
Classical - Mozart Carmina Burana O Fortuna (Techno).mp3
Final Fantasy Advent Children - (guitar) one-winged angel.mp3
Hans Zimmer - Black Hawk Down Chant.mp3
Naruto_-_Raising_Fighting_Spirit.mp3
Tears of the Sun Soundtrack - Hans Zimmer - Kopano Part III.mp3
WWE Production theme Emergency Beat.mp3
WWE Production theme Global Empire.mp3
wwe-santino marella's theme- "victory is mine"
and ANYHTING FROM: X-ray dog. they are specialized in making trailer songs for movies like king kong,lotr, any epic movies.

youtube examples



1st video=he is the protype version of master chief
Mutantsteak wrote:

LIL, why did you download skins, thats just silly
i do it for -the uniqueness; that it is "your load out"
-some of the skins look quite incredible
-one gets bored with the standard m4 and ak
-you impress and confuse friends when they come over and say "OMG my ak47 is dual uzis?!" or "wtf the deagle i picked (which really is a glock) does 16 damage?"
"The Poor Man's James Bond"
i want to eatz it! lol

wait what the hell why the baby have hair already? !
Karbin wrote:

Sydney wrote:

But...aren't shotguns illegal to use in warfare according to some treaty IIRC?

Your thinking of the Hague Convention of 1907.

Art. 23 "In addition to the prohibitions provided by special Conventions, it is especially forbidden -

To employ arms, projectiles, or material calculated to cause unnecessary suffering; "
man i rather have unecessary suffering then dead.
\

Blasphemy Sandwich loil

but seriously my fave is what he is making...meat meat meat meat...on bread.
TSI wrote:

ZombieVampire! wrote:

The#1Spot wrote:


Semi auto is more deadly than auto anyways

How so?

More accurate, a skilled marksman can shoot 10 bullets in the time it would take a full auto to shoot 15. Thing is, he doesn't have nearly as much subsequent-shot recoil, and he can recentre the sights each time if need be. Plus, semi also means that his ammo lasts longer, as there is less waste.

That's why the US military developed burst shooting on the M16--a compromise.
ya..no wasted bullets
because titties and ass are bad and immoral as they will corrupt the young fragile minds of preteen and teen boys
but headshots from high powered rifles to enemy forgeiners are ok...
swearing is bad also
VicktorVauhn wrote:

agent146 wrote:

man i would be like ...pissed.

lol, "pissed" is like, when you asked for no ketchup but they put it on your burger anyways.
lol you got me there lol. lol
you should salt all her grass so nothign grows on it again....
lol
jeez christ i though there was an actually robot hawk that can fly and kill pigeons...
...i mean...why would one really want to fire ones' weapon near ear shot of the police though. in this case the guy was unlucky

and to me personal ...i mean semi auto rifles are just as dangerous as auto if the bullet hits.

pathetic..."Omg his gun fire..2 bullets instead of 1"
i like the movie acutally
and ya the ending was like.......
man i would be like ...pissed. i mean a single woman manged to make it out. and the point is that they (the army) comes in like...a few secoudns after you just killed your son.

and damn i hate the preacher woman..

i was half hoping and expecting Thomas jane to pull "the punisher" on her.
POKEMON!....the ....10th movie....j/k

its POKEMON...the 1st movie
Eye-GiZzLe wrote:

it's almost summer
....and the noobs come out?
am i correct becasue i recall... ya
well ummm...she can run that long but can she take a 9mm to the chest?
if not
I am not impressed.
you think your special know huh?



Lol happy birthday.
GReat!
BUT if her grenade kills are more then her rifle kills in battlefield 2......

gee i dont' know if i like her.
FallenMorgan wrote:

5 year olds are 5 year olds, they always act like that, and teaching them to fear and obey their parents isn't the answer.

I don't give a shit anyways, I hate kids.
hate em? gives yall all the more reason to beat em
its possible you forgot to delete the world view files thus it looks like a spas12.

its also probably your new skin now does not have a world view and thus you forgot to take out your old skin which is hte spas 12.

lol i rememeber when i had this situation before myself....
their trying to be famous.
sorry no i think your wrong.
trust me i KNOW i had been a shit starter when i was a little un and i will admit
"time out" does not work
spanking did

also there is a big difference between :
spanking,
going homer simpson on your child,
and going Chris benoit on your child.
Cross of iron

if you can find it.

EDIT: i also recommend ...POKEMON the ....11Th MOVIE!!
all i am going ot say is that....I hope....its in FIRST PERSON and violent.
Ryan wrote:

Her chin must have fallen in her cup.
Zimmer wrote:

No way. No. I just cannot picture that. NOOOOOO. I have no words.... I feel sorry for her. I really do.

No chin? No wai.
ya and both you guys forgot to rate for both pictures also .....lol
seriously i would feel bad if this girl every saw the shopped picture of herself....just wrong ...just...NOOO.