Search results: 1,608 found, showing up to 50
526kb/sec
USA

100mb connection.
I usually download at 1mb a sec. This is a okay speed considering the location.
Give the key out and see who downloads it faster.
_The.Don_05 wrote:

Ok thats it i have the 7 it ends at haffeysucks the hat pull will physically be done
T_T But I posted right as you posted. Not.Fair. RAWR. 10 names is fair. =P
I SAID I LOVED YOU DID THAT MEAN NOTHING? *weeps*
LOVELOVELOVE <3<3<3
You can be my best buddy.

T_T Please add me oh please.. 10 names.
I settled for Slay-Them. I suppose I'll just have two accounts.. I wanted a dogtag collector anyhow.
I LOVE YOU, _The.Don_05!!!
Well Dashes work... and a dash is "-" that character within the quotations.
So I have "Slay-Them" reserved.
They really need to allow name changes. Like -[Silver.Inc* stated, america's army is free, and is stats based and changing your name is as easy as typing in a new name and hitting OK.
Talon wrote:

@Slaythem - the clan prefix might only be 6 letters (isnt it now?)
Well They're going to screw a bunch of people. especially since they aren't allowing you to use special characters in this name reservation.. and only 14 characters? lame if you ask me.
Talon wrote:

Ah crap, I gave up.

I registered alon1579. I'll just add the T in clan prefix.
I wish we had some info on how big of a tag they'll allow...
I would register "them" and add "=[4th]=Slay" in the prefix.
I can't find any link to get some email technical support from EA.. anyone know where I can email them about this?
I get the bottom message, but it doesn't make sense that somebody would have it already.
Unless, what somebody else said is true.
If it is registered in BF2, you can't have it unless that registered name is yours.
That would make sense... But I don't want to have to lose my name because of soemthing that dumb. And the BF2 "Slaythem" has less than 100 points.
Viper007Bond wrote:

=[4th]=SlayThem wrote:

The "Slaythem" in BF2 is like a private I think.. is there any way to get ahold of EA/DICE and see since he's inactive to allow me to register it?

I highly, HIGHLY doubt it. Sounds like it's time for a new nick or to wait until October when all nicks are open for registration (and you'll be able to register "Slaythem" if he doesn't before then).
WEll this is meant for active BF2 players, he isn't active. I have been a supporter of Battlefield games since BF1942. I think I deserve a little bit of seniority. There's no way I'm going to give up a free rank and unlock just because of some asshat 13 yearold that registered a name and doesn't play it.
Plus, I will never change this name. I've used "slaythem" since MOH: Frontline on the Gamecube. I guess if I have to I'll wait and miss out on the veteran stuff, but ugh that's just lame.
Afew others on the EA forums are having the same problems. I think they'll have to do something about it.
Okay, I'm having trouble with this...

I enter all my stuff and it says this

"BF2 Soldier Name already used by another player"

That means somebody is using MY BF2 NAME to reserve a name for themselves, right?
I'd like to know how this was made possible.
And I see no technical support link on that page T_T


I jsut read the things Aruba-Prime(orwhateverhisnameis) typed up.
Looks like I'm screwed.
"SlayThem" is registered in BF2, so that means I can't register it in bf2142. and I can't do "=[4th]=SlayThem" because of the character issues.

The "Slaythem" in BF2 is like a private I think.. is there any way to get ahold of EA/DICE and see since he's inactive to allow me to register it?
Pretty sweet. I wish they would have left Rammstein playing though.
Somebody deleted 264:P
HAHAHAHAHAHAHA

Wii for the friggin win.
My 18th is coming up in a couple months and I'm going to be taking a trip up to Chicago, Il.
Yeah I saw that a very long time ago... It definitely was before '03.
Can't say that I've had any problems. I keep my ladies happy

Talk to them a lot, make them feel like they're a queen, and you're good to go like a crunchwrap supreme.

Maybe I just get lucky with non-moody girls.
Very nice!
I haven't decided what I want to get yet. Whatever it is, it will be something very personal/something that would help start a conversation about my belief in God.
It won't be very big, and it will be easy to hide, but also easy to be uncovered and seen (mainly for my future career as a network administrator... I'm sure they wouldn't want my tattoos in plain view).
I'm not about to type down everything.. I use WMP so I can't just copy and paste.

My play list consists of these bands...

Necrophagist
Origin
Soilwork
Unearth
With Faith Or Flames
The Showdown
Martyr AD
Lamb of God
Finntroll
Extol
Dragonforce
Children of Bodom
Brain Drill
Blind Guardian
Abysmal Torment

That's my metal playlist (which is only some of my metal)... it's 12 hours worth of stuff.
We should use battle recorder...
Ooo DS love!

I have MPH, MKDS, ACWW, etc etc.
PM me if you want to play on Wi-fi.
is there going to be a demo?
I think it would be fun to make a new account, go into a P&K server and then glitch the hotel and own with the LMGs xD JUST to piss them off. watch them say "zomg ur
[email protected]
!"
cablecopulate wrote:

Just offering another choice.
Just offering my opinion... but thanks for the link to a new map... I'm bored of everything else.
I think Wake Airshow would be a better choice simply because of the skins on the jets.
Nope, no idea. Sorry, I'm having trouble with my PMs.. won't let me send any.
It's okay, you have a link to the DL so it's all good I didn't feel like looking for it xD
We should definitely use "BF2CWake Airshow" for the map.
They have 6 carriers full of jets with nice skins on them.
this is a screen of the mig: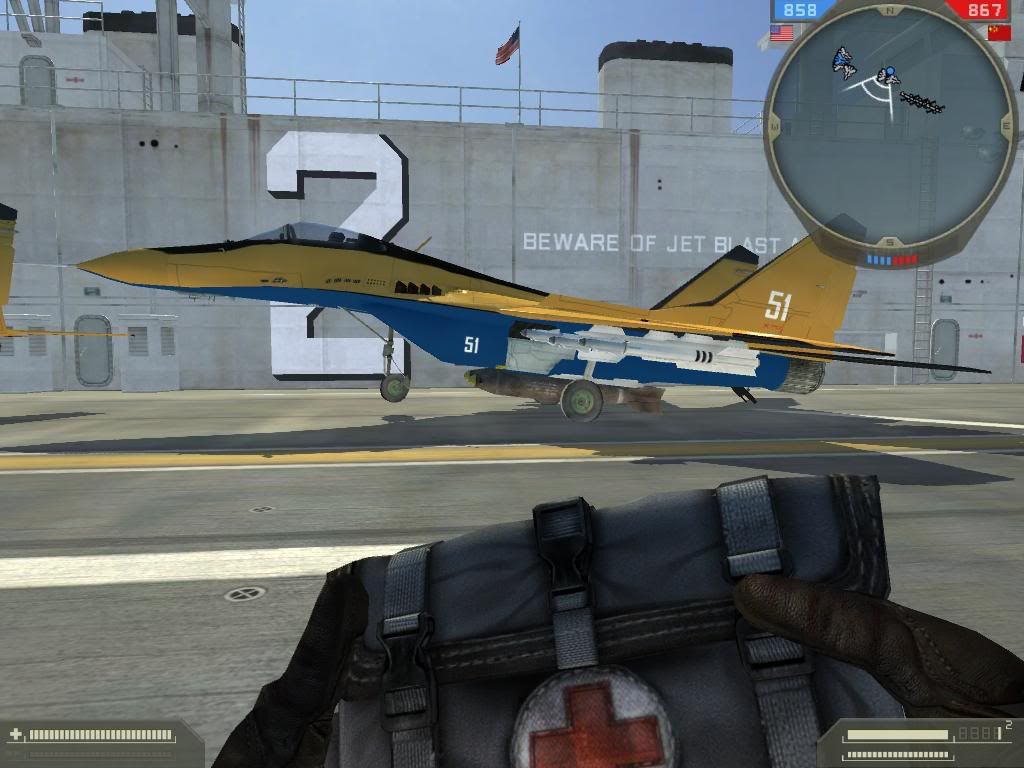 Wow... that's all I can really say. I'll be praying for you and his family.


We should really make a bf2 video with the missing man formation and also the 21-gun salute. I'd love to participate... I didn't really know him but I saw him around.
I'd like to see you guys get in front of millions of people and see if you don't stumble on your words.
Soldier-Of-Wasteland wrote:

Metallica x4
Hanker x4
Slayer x3
Gamma Ray x3
Megadeth x2
DragonForce
Helloween
Stratovarius
Iron Maiden
Judas Priest
Dream Theater
Anthrax
Kiss
Damageplan
Cannibal Corpse
Children of Bodom
Lamb of God
Mastodon
Corrosion of Comformity
Jag Panzer
Forgotten Tales
April Wine
Heart
Pat Benatar
Lynyrd Skynyrd
Steppenwolf
Toronto
Peter Frampton
Foreigner

and a bunch of others

Comin up by the end of 2006:

Blind Guardian
Stratovarius for a 2nd time
Helloween for a 2nd time
Testament
I envy you... CoB, Lamb of God, Dragonforce.... *drools at them all* I want to see Blind Guardian so bad!
Excuse a bunch of the crappy ones...
As I Lay Dying
Underoath 3x
As Cities Burn 2x
The Showdown 4x <--- one of the best live shows ever
Becoming The Archetype 2x
Crimson Moonlight <---- Just beautiful
MxPx
Relientk 5x <---*gag* I couldn't help but see them 3 of those times(music festival)... 2 of the times was when I liked them... *wonders what in the heck he was thinking*
mewithoutYou 3x <---another great live show
With Blood Comes Cleansing 3x
Chasing Victory 3x
Staple
Mortal Treason
Sleeping At last
Aletheian
Anberlin 3x
Bloodlined Calligraphy
Bradley Hathaway
The Chariot 2x <----*gag*
Copeland
Flyleaf
Gasoline Heart <--*gag*
Showbread 2x
Maylene And The Sons of Disaster
Mercury Radio Theater
The Rocket Summer
The Working Title
With Faith or Flames
DC Talk
The W's
Broken
Scarecrow & Tinmen
I can't think of any more. I've seen a lot... too many to remember. A bunch of these were before I got into metal, so they're kind of crappy. But oh well.
Seeing The Showdown (southern rock/Metal) 4x, Crimson Moonlight (Black Metal), and Becoming the Archetype (really good Metalcore) 2x, makes up for all the crappy bands that I've seen.
A mere Shadow|= wrote:

ME want

TEH OPTIMUS KEYBOARD!!

Heh the keys change depending on what you want so you could set the keyboard to russian (as shown) and the keys change accordingly
Yeah, I saw that when it was first announced... I would like one of those as well.
DaReJa wrote:

A 1337 Lit - Up Keyboard?
Indeed.
Some people need to read the thread before posting.

Anyways, if you watch the full video, you can see them with weapons. And it's obvious they weren't for "self defense".. . The guy looks around, grabs (what looked like to me) an RPG, ran across the road, threw it in the field, and ran back. Then they waited for the tractor(or whatever it was) to come, the guy gets off the tractor and starts off towards the guy that dropped the weapon, and that's when they begin to smoke them.

I believe (and agree with others in here) that these pilots were simply doing their job and doing what was right, heck if you watch the full video, you hear guys saying "smoke 'em" before they men had even done anything. The pilots waited until they had proof that they did something. Also, if they had not killed those men, who knows what could have happened the next day. They could have gone off to kill some of our troops.
I'll be your pwnorer. (kinda like emporer)
SiMSaM16 wrote:

Im not gonna watch the video, I think ive seen it before.

Is it an Asian kid?
Yes.
I watched them about 5 times
So amazing. I wish I could move like that.
Haha, my friend just made First Sergeant and had those exact choices. I think he went with L96A1 and the MG36
shice wrote:

=[4th]=SlayThem wrote:

I voted no.

2. he works at home (so I'm told) and Commanding doesn't take that much attention, so every couple minutes he can look away from his work and do a scan, accept the supply requests, drop a car, drop a UAV, and drop arty and get back to work. That's why he can play so much.

Don't judge somebody before you know the facts.

Some1 told you shit. Do you work or go to school or what? I tell you:

If he still goes to school - he's repeating every grade.

If he's a student - he wont get any far but studying goes on and on whether you do somethin or not.

If he works (i mean really WORK, be payd for some labour) he cant be very successfull (rofl). Working @ home doesnt mean you dont have to do anything (scan, arty, uav - then work 2 minutes - scan, arty, uav - then work ...blablabla) this wont bring you far - seriously.

So dont believe everything you're told. I personally think he's a student, wasting his time and his future on a videogame (whether its fun or not).

I dont get why you all care that much about him? Just b/c he's got more points than most of us?
You must not know what "work at home" means.
Say he is in realestate. He could own his own realestate company and work for himself, and not really have to do much at all.
All I know is there was a guy from his clan that came in another one of these threads(a while back) and said that he works at home and is able to sit on BF2 (adminning and commanding the server) and work at the same time.
I'm sure a guy from his clan would know about his position more than you.
NOOOO! They're getting rid of C4 throwing
SargeV1.4 wrote:

Dudes, you use both...

Man, what's happened to all the pilots since 1.2
No, no, no. What has happened to pilots since BF2 came out? No skill at all.
Bf1942 pilots were the shiznit.
ToXiC888 wrote:

Hmmmmm, grammer is your friend.
*Grammar maybe?